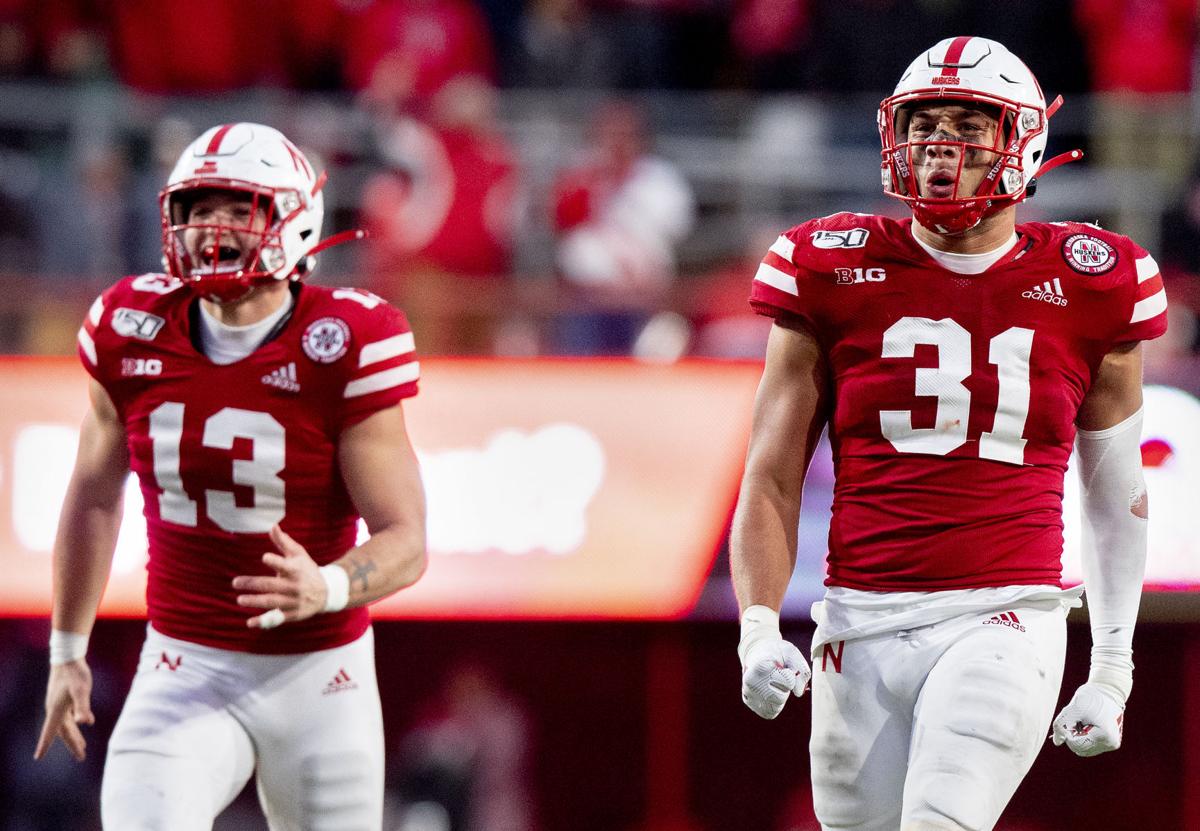 Two days after laying motionless on the Memorial Stadium turf for several moments, Collin Miller was back with his teammates and coaches on Monday.
Nebraska football coach Scott Frost gave him a big hug.
"We're going to be careful with him and make sure that he's going to be OK long term," Frost said. "His health is the most important thing."
Miller suffered a spinal concussion injury, Frost was told. He was taken off the field on a stretcher in the second half and spent Saturday night at Bryan West Campus for precautionary reasons.
Since the NCAA is allowing football players to retain an extra year of eligibility due to the COVID-19 pandemic, it's possible the Fishers, Indiana, native is back with the Huskers in 2021.
"It sounds like everything down the road is going to be fine," Frost said of Miller, who has 27 tackles.
With Miller out, the Huskers likely will turn to some young players to step into his spot.
Frost said sophomore Luke Reimer is OK after he left Saturday's game with an injury. Redshirt freshman Garrett Snodgrass took snaps at inside linebacker late against the Illini, and Frost said redshirt freshman Nick Henrich could move back inside.
Senior Will Honas is the other veteran in the middle.
"We still got some guys that we feel good about there," Frost said.
Defenses slowing down Wan'Dale: Wan'Dale Robinson acknowledges that defenses have neutralized some of things he was able to execute last year, including taking away the edges.
The sophomore wide receiver has been heavily involved in the Huskers' offensive game plan — in large part because of an injury to senior running back Dedrick Mills — but has yet to put up big numbers, though he did have a 32-yard run against Illinois.
The lack of a vertical passing game also is a factor.
"We have a lot of people near the line of scrimmage against us right now until we're going to be able to push the ball down field better," Frost said.
Robinson, who has 267 all-purpose yards, is not discouraged.
"Whatever I have to do to win, that's what we need to do," he said.
Raising the physical bar: Following a humbling 41-23 loss to Illinois, the Huskers raised the physicality level Monday in practice, senior linebacker JoJo Domann said.
Frost said the energy level was "way better" as the Huskers prepare for Iowa, Friday's opponent.
"Other than trying to get guys to play hard and practice hard, we didn't do as well as I wanted last week and the execution wasn't what we wanted," Frost said. "We didn't change practice. I just think the intensity is better and that's what we need when we're playing any game, especially Iowa."
A shorter week: Outside of a nice meal on Thursday, Frost said the Huskers will treat Thursday like a normal Friday.
Frost also spoke on the challenges that come with the Thanksgiving week contest.
"We're (looking) through right now how many guys we can let go home, (but) if we go home and get some guys with the virus, that could put the rest of the season in jeopardy," the third-year coach said. "I'm sure our guys after this long haul are ready to go see family, but we've got a couple more games to play, so we're trying to work through that schedule right now."
True freshman Ronald Delancy, who did not suit up for the game, tweeted, "We pose (supposed) to be way better than that as a team wasting talent." True freshman linebacker Jimari Butler tweeted, "Good game my boys but damn Illinois though ... can't be losing the easy ones."
Frost acknowledged the challenges that come with being a freshman athlete. As a highly touted quarterback recruit who didn't start until his fourth year of college, Frost can relate, too.
"Freshman years are hard if you're used to being the star of the show in high school," Frost said. "You come and very few freshmen are capable and able to start their freshman year.
"At the end of the day, a lot of kids need to learn to be patient and if they persevere, things are going to work out better for them. Not everything happens easy, or right away or how you want it to."