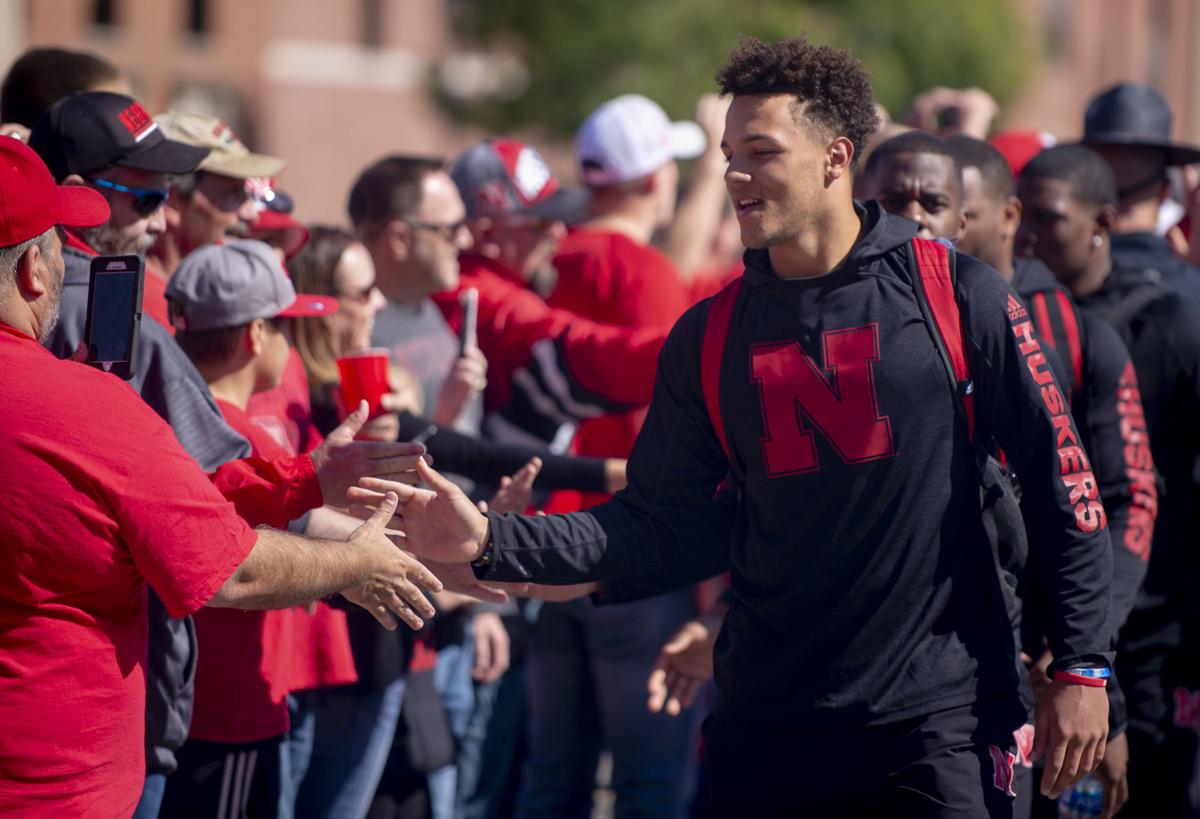 Adrian Martinez will make the trip to Minneapolis for Nebraska's Saturday date against Minnesota.
Whether the sophomore quarterback actually plays against the Gophers remains to be seen.
Nebraska coach Scott Frost was mum Thursday on who would take the snaps for the Huskers once kickoff arrives Saturday evening, saying only the team would have confidence in whoever lines up behind center.
"We're in a lot better place at the quarterback spot than we were a year ago at this time. We feel like we've got several guys that know the offense and are talented enough to go make things happen," Frost said following Nebraska's Thursday workout. "So we'll see who's up there playing, but we feel good about several guys. The team will rally around whoever it is."
Head football coach Scott Frost talks about the team's preparations for Minnesota on Oct. 10, 2019.
Frost said Nebraska's top four quarterbacks — Martinez, Noah Vedral, Luke McCaffrey and Andrew Bunch — would all make the trip. That's unchanged from Nebraska previous road trips to Colorado and Illinois.
Weather watch: Nebraska will practice outside Friday before hopping on a charter flight to Minnesota in an effort to give the Huskers a taste of the weather they'll likely face Saturday night.
Friday's forecast calls for temperatures in the mid-40s with winds gusting to 37 mph, which isn't too far off what's expected in Minneapolis.
Temperatures will be in the mid-30s at kickoff, with a good chance of rain or snow and plenty of wind.
"I think it's just going to depend on what it's like when we get up there. I think the weather could be the biggest factor in this one," Frost said. "Thirty-two degrees, playing football, that's beautiful. That's football weather, unless it's raining and blowing wind too, and that changes things. So we're prepared for whatever the environment is, and we gotta adjust and adapt to however the game's going and whatever the weather's like.
"We're not too concerned about it, but we definitely wanted our guys to be ready no matter what type of game it turns into."
You have free articles remaining.
Cornucopia of kickers: Nebraska's kicking conundrum will continue into the sixth game of the season. Starter Barrett Pickering once again won't be available, leaving three walk-ons to battle for the starting job.
Parker Gabriel shares insights from head coach Scott Frost on the unknown factors that may come into play in the game against Minnesota.
Despite Lane McCallum knocking through the game-winner last week against Northwestern, Frost said Thursday that Matt Waldoch, added to the team in September, will travel with the Huskers to Minnesota. Both he and Kearney walk-on freshman Gabe Heins have gotten work in practice.
"We haven't decided who's kicking again this week. Seems like we have that conversation every week. It's been interesting," Frost said. "But (Waldoch) has done a good job, Gabe Heins has done a good job. Obviously Lane (McCallum) did enough for us to win last week. So we're just trying to piece it together."
Washington responds: Frost said sophomore running back Maurice Washington responded well this week after being benched for the first half of last Saturday's game and struggling in the second half against Northwestern.
Washington's production has dipped considerably in Nebraska's last two games, with six touches each against Ohio State and Northwestern going for just 18 total yards.
"Maurice has had a good week. We need him to be ready to go for a whole game," Frost said. "He obviously makes us a better team when he's out there, so we need him out there more often."
Barry, Jackson nominated: Mohamed Barry and Damian Jackson were both announced as contenders for national awards Thursday.
Barry, a senior inside linebacker, was announced as one of 20 quarterfinalists for the 2019 Lott IMPACT Trophy. The award recognizes the player who makes the biggest impact on his team both on and off the field. IMPACT stands for Integrity, Maturity, Performance, Academics, Community and Tenacity. The winner will be announced Dec. 15.
Jackson was one of 33 nominees for the 2019 Armed Forces Award, presented by the Football Writers Association of America.
Jackson was one of 12 current players nominated for the award from all divisions of college football, and one of only four players from the FBS level. Coordinated by the staff at the Lockheed Martin Armed Forces Bowl, the Armed Forces Merit Award presented by the FWAA was created in June 2012 "to honor an individual and/or a group with a military background and/or involvement that has an impact within the realm of college football."