Having spent the past four years at Oklahoma State, Nebraska graduate transfer defensive lineman Darrion Daniels obviously possesses keen firsthand knowledge of Big 12 quarterback play during that span.
Does Husker sophomore quarterback Adrian Martinez remind Daniels of anyone?
"Adrian's got a good arm and he's fast," the lineman said. "The only one who really comes to mind is (Patrick) Mahomes. Just Mahomes."
Yeah, just Mahomes, the reigning NFL Most Valuable Player, who played at Texas Tech.
Mahomes and Martinez both have "the ability to adjust to a collapsed pocket and be able to be mobile and still deliver a perfect ball," Daniels said.
Daniels said Nebraska's offense would "most definitely" fit in the Big 12, especially because of the speed.
"I feel like it would fit in pretty well if not take over at some time and point," he said.
Full day for Washington: Sophomore running back Maurice Washington was full-go at Nebraska's spring practice on Wednesday.
"We're going to try to keep him on as close a schedule to normal as we possibly can," Husker coach Scott Frost said. "He had a full day of practice today. He's been limited. He has bigger fish to fry right now than worrying about this, but we want to keep him on a schedule, so he's been a part of practice but not a full participant."
Washington missed at least one practice earlier this spring to make a court appearance in California, where he is facing two charges.
On Wednesday, Washington appeared to roll an ankle on a goal-line run during an open period, but only missed a few plays. When he returned, he got wide open on a route to the flat, but sophomore Martinez missed him with an errant throw.
"When he's been out there he's been doing a good job," Frost said.
Receiver pair standing out: Frost said Wednesday that redshirt freshman wide receiver Andre Hunt and senior Jaron Woodyard have been among the players who have made strides over the past few practices.
"Those guys need to keep going," Frost said. "We have a bunch of guys that are capable of making the plays, we just have to do it consistently. It's gotten better, but we still have a ways to go."
Hunt and Woodyard formed a "No. 1" trio with JD Spielman during a period open to reporters on Wednesday. Frost was quick to point out, though, that competition is wide open at every position and they don't put together an official depth chart until late August.
Call him dad: Nebraska senior cornerback Lamar Jackson beamed as he talked about his son, Legacy Jackson, who was born Monday.
"I'm loving it," he said. "It's life-changing. Honestly, it's just hard to explain."
The experience has sharpened his focus, he said.
"I feel like I was going to do what I had to do this year anyway — it's my last year," he said. "Now it's mandatory. It's time to turn it up a little bit and just keep going."
Freshman DBs will get early shots: In Travis Fisher's mind, there are no solidified starters in the defensive backs room.
Even with experienced players such as Dicaprio Bootle and Jackson, "it's open competition," the NU DBs coach said of his spring and fall philosophy.
For that reason, Fisher isn't getting caught up in arranging a pecking order at cornerback and safety, especially with many new faces not arriving on campus until the summer.
That list includes Noa Pola-Gates, Myles Farmer, Javin Wright and Quinton Newsome.
"I told those guys same thing, all gas, no brakes," Fisher said of the 2019 freshmen. "Come in and don't just stick your toe in this thing, put your whole leg in this thing and jump in and let's roll.
"The group that you saw here in the spring might not be the group you see in the fall."
As for the players here, sophomore Cam Taylor, who is working at corner and safety, continues to make strides.
"He probably is, right now, the most impressive kid I think this spring so far," Fisher said.
Frost lauds Bounds: University of Nebraska President Hank Bounds played an active role in Scott Frost's hire here. After Monday's announcement that Bounds is stepping down from his role this summer, Frost not surprisingly had high praise for the veteran administrator.
"In my experience, there's a lot of leaders and very few really good leaders," Frost said. "I can't say enough about Hank Bounds. I think he's a good man and he's one of the best leaders I've been around. We're going to miss him, but I'm happy for him and wish him the best. We have enough other good leaders around here that I know we'll be fine."
Robinson still on the mend: Freshman all-purpose back Wan'Dale Robinson isn't fully recovered from a hamstring that Frost categorized before spring break as minor. 
"He's been full-go this week," Frost said. "I wouldn't say he's 100 percent yet, but he's still looking pretty good at 80 percent or whatever he is." 
Robinson was in pads Wednesday and worked through all the drills during the practice session open to reporters. 
Backup QB job will be open into fall: Frost said the Huskers aren't in a rush to determine who their No. 2 quarterback is behind Adrian Martinez. 
There are redshirt considerations, too, considering freshman Luke McCaffrey can play in up to four games without burning his redshirt. 
"I think it's pretty clear who our No. 1 guy is, but it's an ongoing competition at every position," Frost said. "Noah Vedral has been doing a really good job, I'll highlight that. We're glad to have him clear and eligible. But the other guys have been doing really well, too, and that's a competition that will keep going through fall camp." 
Spring Football Practice, 3.27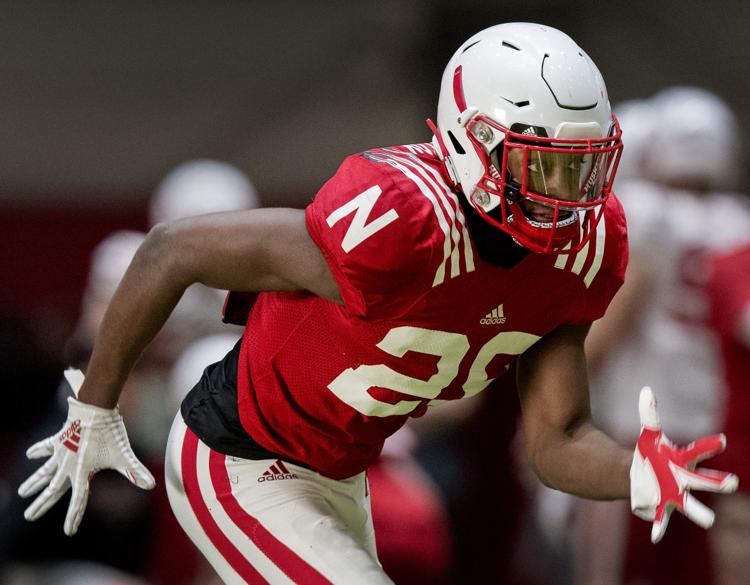 Spring Football Practice, 3.27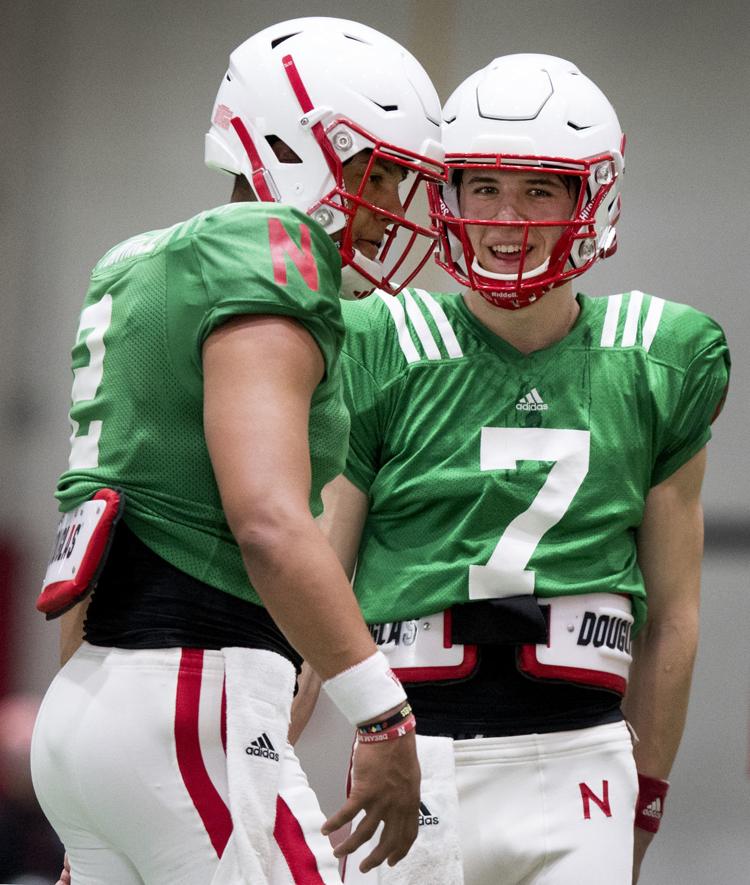 Spring Football Practice, 3.27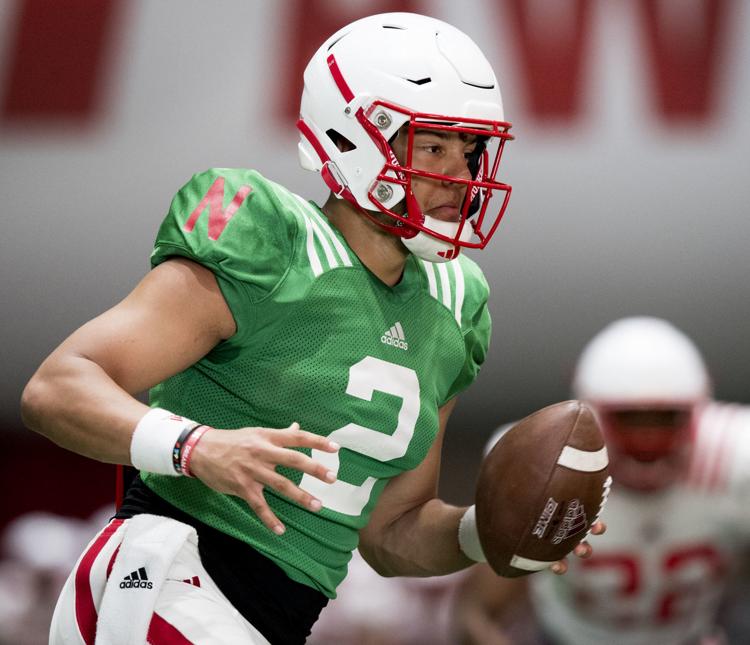 Spring Football Practice, 3.27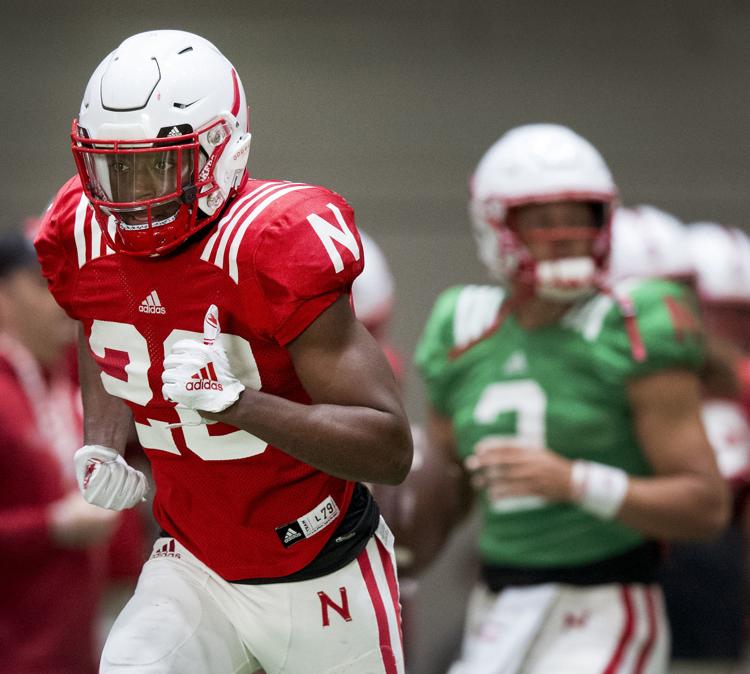 Spring Football Practice, 3.27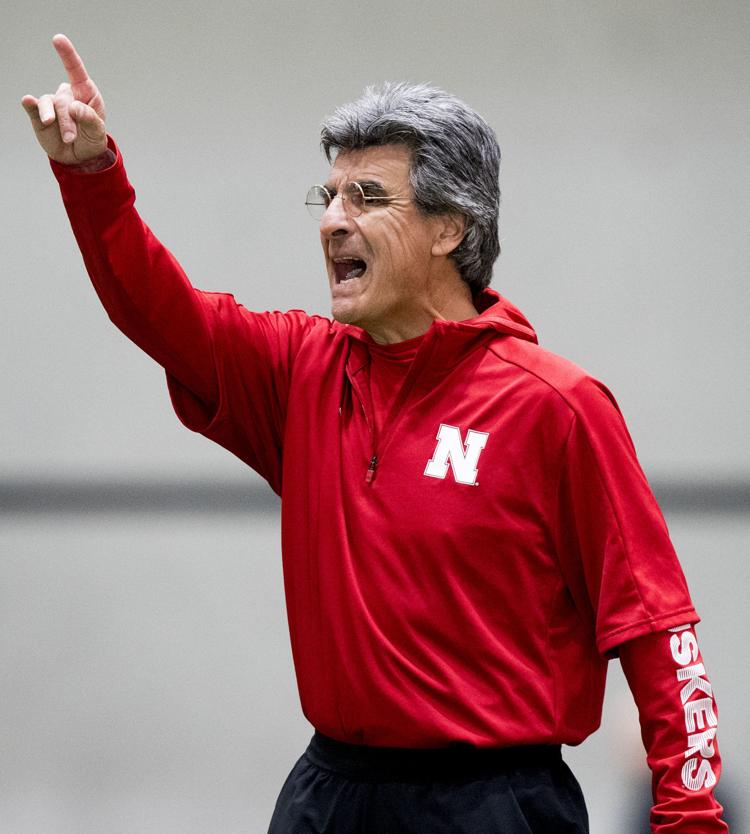 Spring Football Practice, 3.27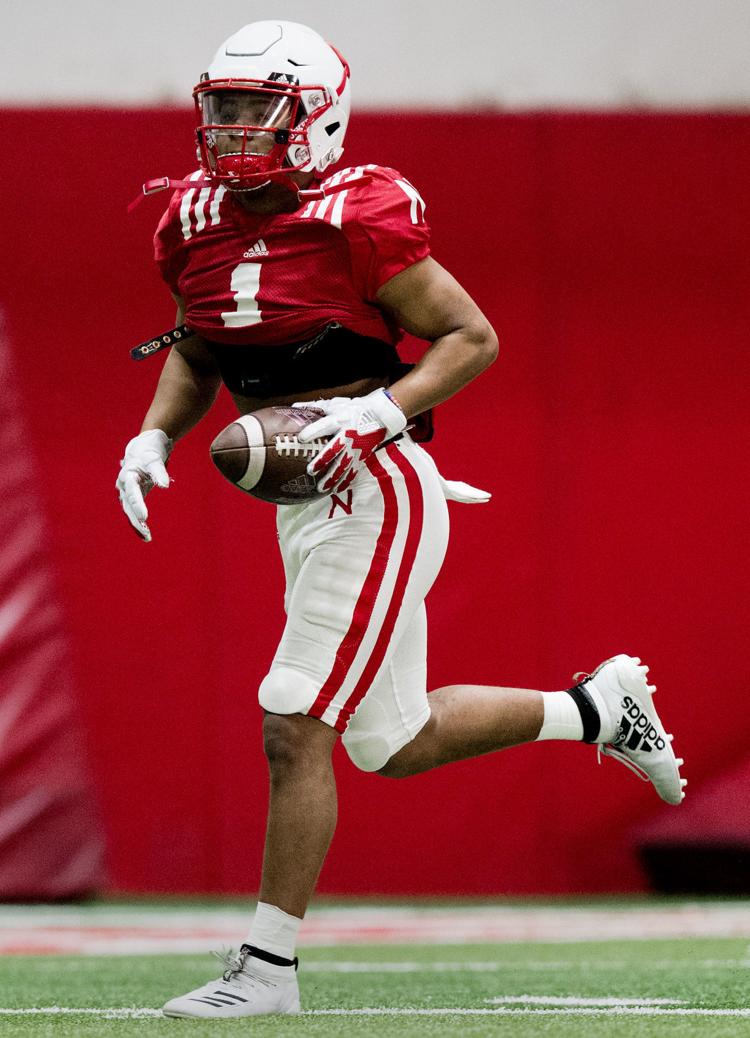 Spring Football Practice, 3.27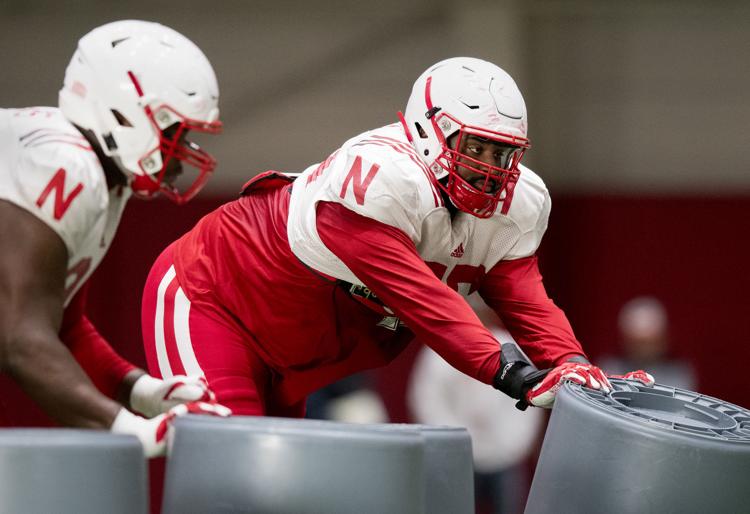 Spring Football Practice, 3.27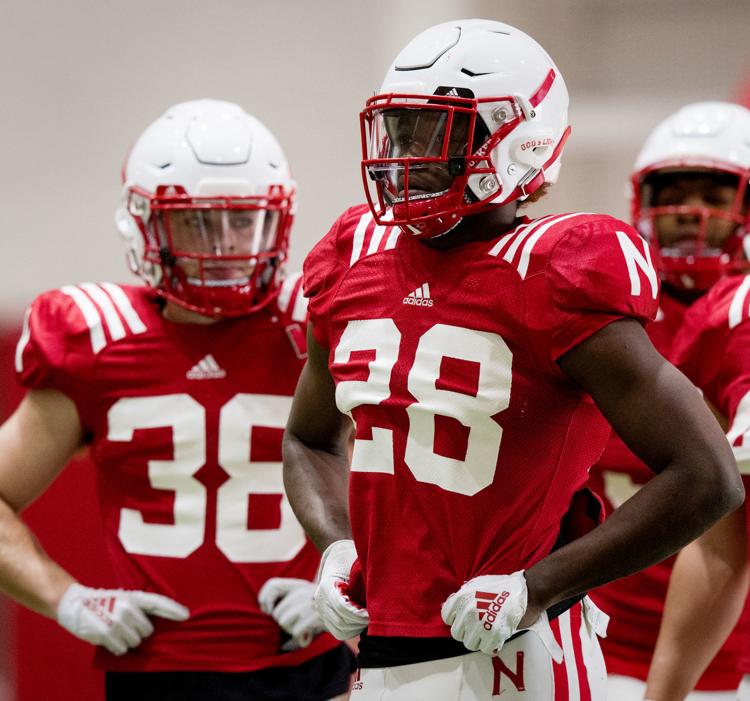 Spring Football Practice, 3.27
Spring Football Practice, 3.27
Spring Football Practice, 3.27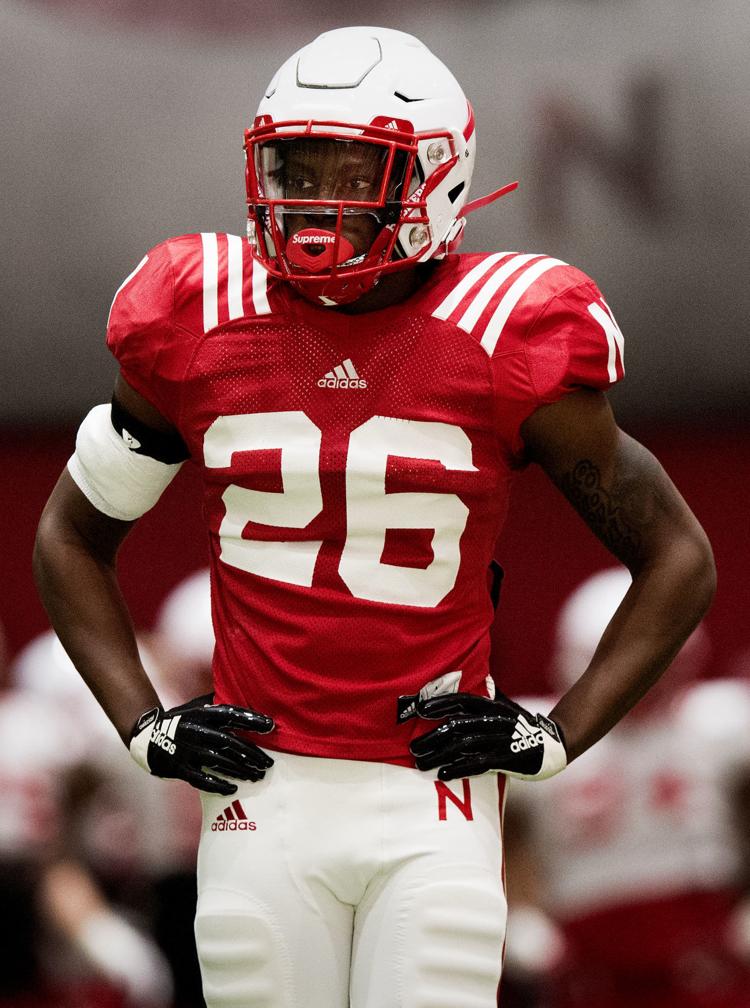 Spring Football Practice, 3.27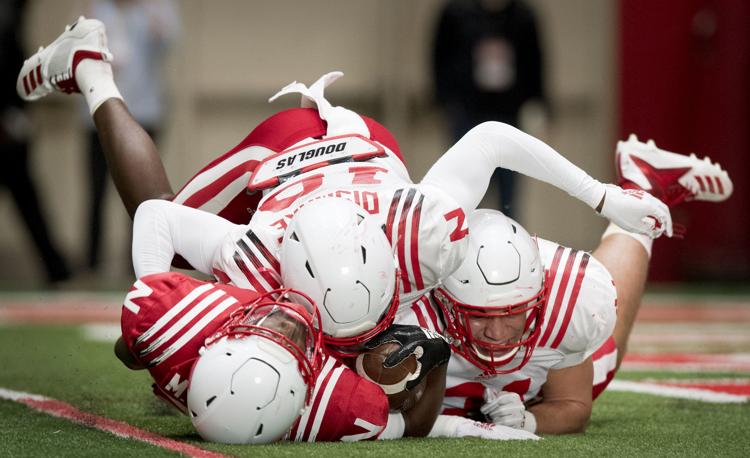 Spring Football Practice, 3.27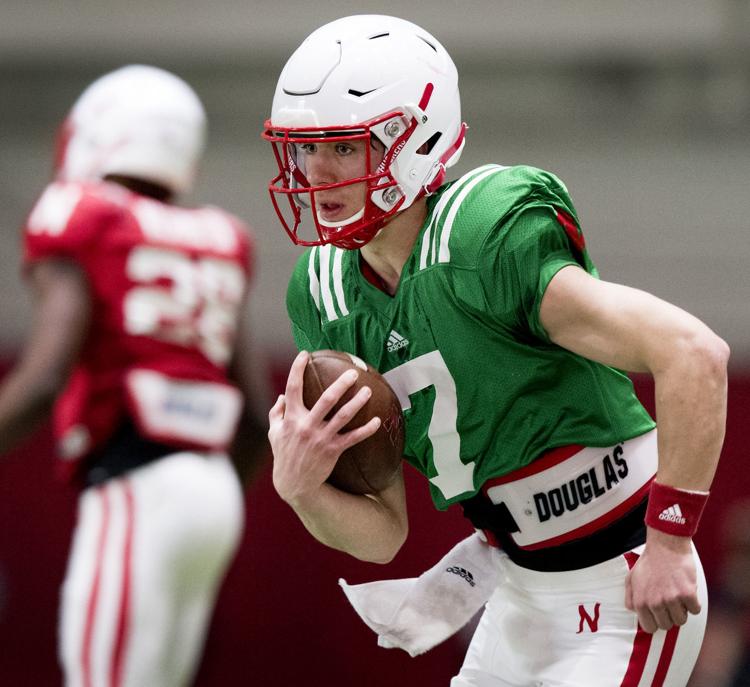 Spring Football Practice, 3.27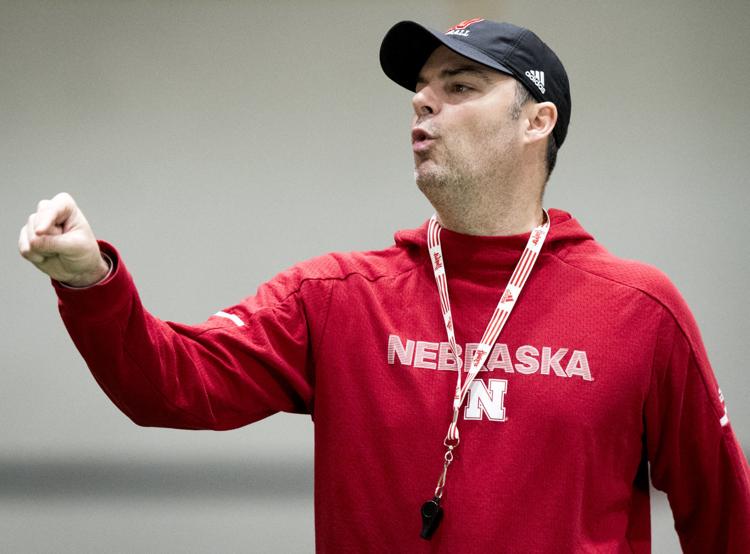 Spring Football Practice, 3.27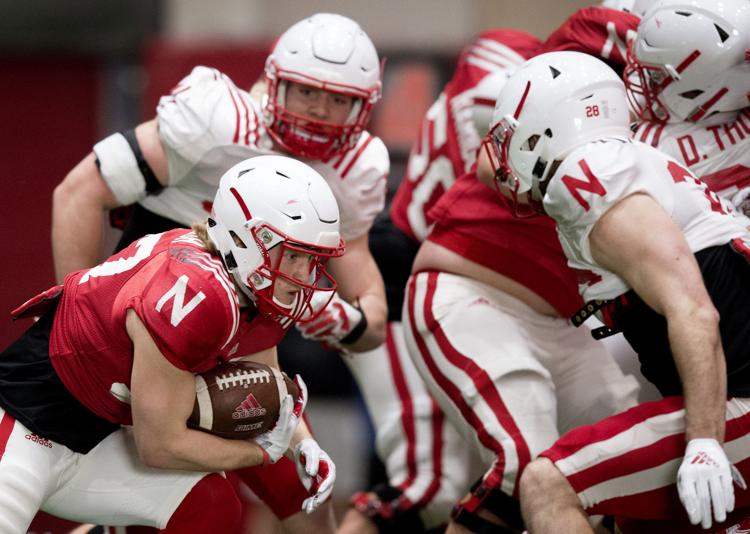 Two-Minute Drill: Parker Gabriel and Steven M. Sipple talk Husker football
Watch: Coach Scott Frost on team improvements and post-spring break practice
Watch: Defensive coordinator Erik Chinander talks about improvements on the defensive line