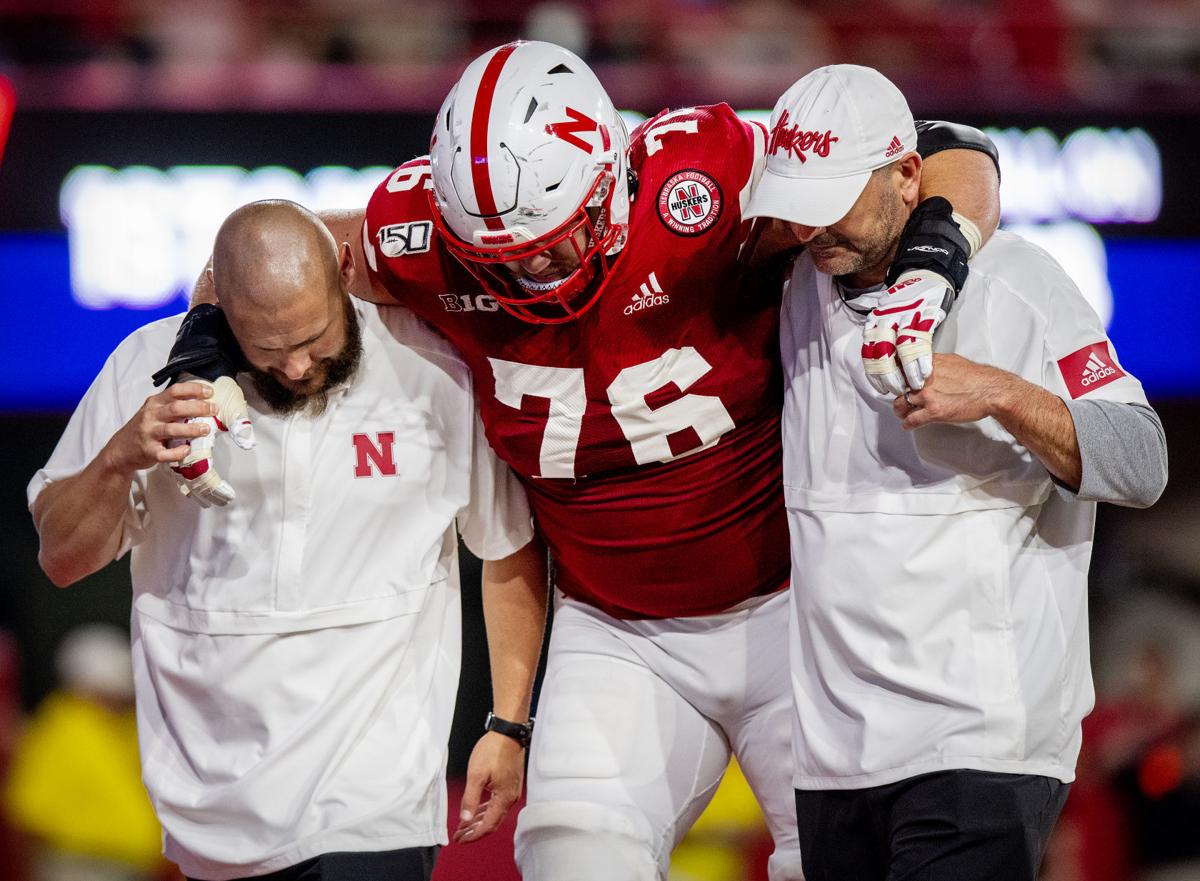 Nebraska head coach Scott Frost typically doesn't comment on injured players unless a player suffers an injury that would knock him out for the rest of the season.
So perhaps that means at least a glimmer of good news for offensive lineman Brenden Jaimes, who went down on Nebraska's first drive of the fourth quarter in a 44-8 win over Northern Illinois on Saturday.
The left tackle was tended to by trainers for several minutes as line mate Matt Farniok looked on before being taken straight to the NU locker room.
"That's my brother. That is plain and simple. I mean, my brother is down on the ground and I want him to get back up, regardless of who it is. We have suffered together and we strive together," Farniok said. "So, when any one of them goes down it is kind of like, 'Come on, get up, get up.' And that is all that really goes through your mind, I was just waiting for him to get up. I hate seeing when one of my brothers is down. I just want to see him get up."
Jaimes was still listed as Nebraska's top left tackle on Monday's depth chart, which has Lincoln native Broc Bando in the No. 2 spot.
"We have a depth chart, and the next guy up will be the next guy up," Frost said Monday.
It's also unclear how much time defensive back Cam Taylor-Britt will miss after going down with an apparent right shoulder injury in the second quarter against the Huskies.
The versatile Taylor-Britt was also still on the depth chart Monday, and Sunday was a part of the Husker Heroes event at Memorial Stadium.
"It's a testament to (defensive backs coach Travis Fisher) and all the guys in that room on how many guys are playing well right now," Frost said. "We've got some pretty good depth there. There's a lot of positions though where we can't afford to lose too many guys."
Numbers game: Nebraska's uniforms had a small change Saturday, as the area codes that normally adorn the bumper above each player's face mask were replaced with a script "Huskers."
Frost was coy about why the numbers were removed and when or if they might return.
"I just kind of made the decision to take them off," the coach said, adding that they likely wouldn't return for Saturday's game against Illinois.
You have free articles remaining.
The area codes on the helmets date to Frost's time as the head coach at Central Florida.
Feeling prepared: Backup quarterback Noah Vedral was steady in leading Nebraska's No. 2 offense to a late touchdown against NIU. Vedral capped the march with a 3-yard scoring run.
The Bishop Neumann graduate admitted to feeling more settled than last year, when he was granted a waiver for immediate eligibility midway through the season after initially expecting to redshirt.
"I felt ready to go. I thought the twos did a really good job; I thought they executed well," Vedral said. "Frost kind of told us at halftime, when we get our chance, we want to know whose twos are better. So I think the guys did a good job."
Benhart gets a taste: When Nebraska's initial depth chart came out before the season opener and had Bryce Benhart listed as the No. 2 right tackle, most figured it was probably just a matter of time before the touted recruit got onto the field.
That time came Saturday when Benhart and the rest of the Huskers' No. 2 offense came on late against Northern Illinois and drove for the game's final touchdown.
"The nerves got there, but there's always going to be a little nerves," the soft-spoken Benhart said of his first college snaps. "But once you get rolling, they fade away. The first snap, I felt confident."
The 6-foot-9, Benhart, who says he's up to 310 pounds on the scale, said it's been an adjustment going from the high school level, where he could "kind of just run people over" to lining up across from guys like 340-pound defensive tackle Darrion Daniels every day in practice.
"I'd say probably after that first practice (of fall camp) it was like, 'It's football here. It's no joke," Benhart said. "I'm not the biggest one out there — I might be the tallest, but I'm not the strongest. There's faster guys, there's bigger D-linemen, there's guys like Darrion Daniels. Those guys are just ginormous."
Watch: Frost on Stovall
Watch: Miller on Darrion Daniels
Watch: Darrion Daniels on brother Damion
Watch: Martinez on Big Ten, road games
Watch: Frost on offense
Watch: Miller on road wins
Watch: Daniels on offensive yards
Watch: Frost hits on several topics at Monday news conference
Watch: Cook at Monday presser
Two-minute drill: Reasons why NU isn't looking ahead to Ohio State