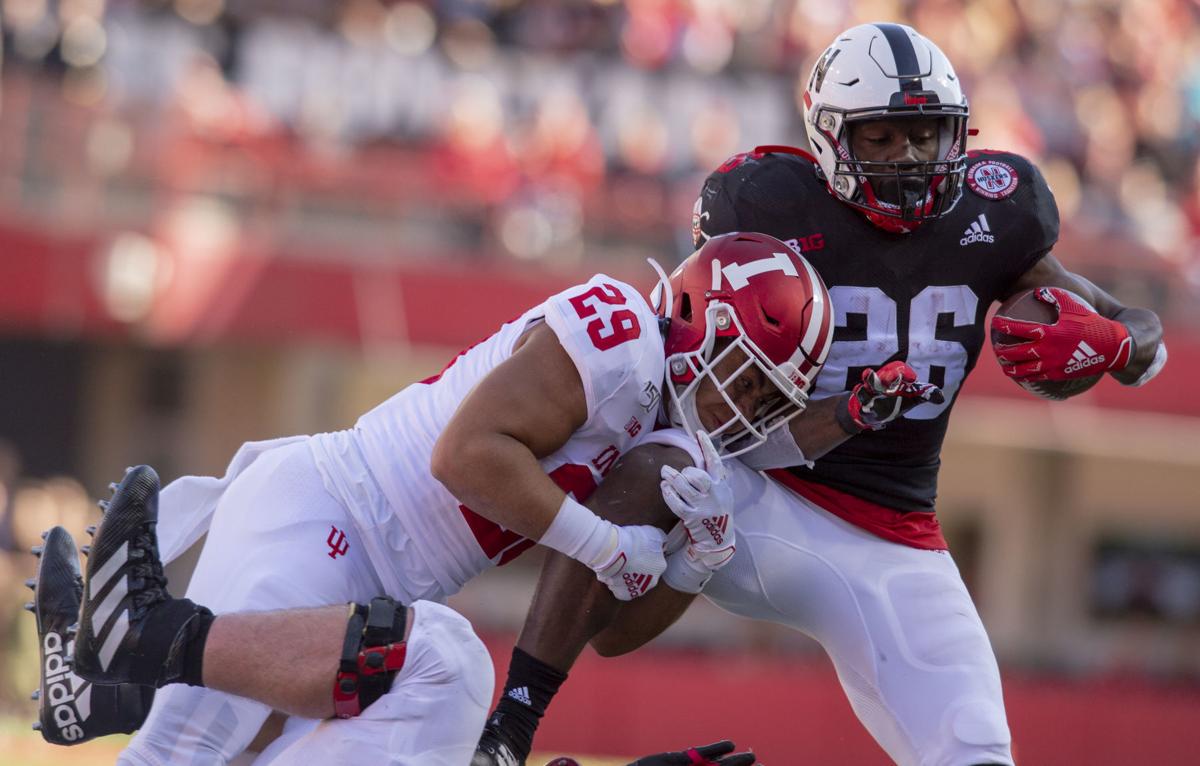 Nebraska's indoor practice facility didn't get much use on Wednesday morning.
Instead, the Huskers practiced outside in the snow with temperatures in the mid-20s and the wind-chill factor in the teens as they prepare to play Purdue this weekend.
Saturday's forecast high temperature in West Lafayette, Indiana, is right at 40 degrees and, as NU coaches indicated after practice Wednesday, there's a tone to set, too.
"We've got to be tougher," running backs coach Ryan Held said. "To win in this league, you've got to be tough. You've got to be detailed, doing the little things. You can't be turning the ball over, you can't have the catastrophic big plays against you. You've got to reduce those, both sides of the ball. You've got to be tough, no doubt about it.
"It was good to get out there the last two days and go with the elements. You've got to be able to go in all kinds of weather."
Tuesday and Wednesday represent the Huskers' most physical days of work during a game week, too, while Thursday and Friday are quicker walk-through settings.
"You find out how competitive they are," offensive line coach Greg Austin said. "If you're a guy that really loves football and you want to be out there with your brothers and you want to get better, then the cold is not something that's going to slow you down."
RB depth dwindling: With sophomore Maurice Washington absent from the team for the foreseeable future and senior walk-on Wyatt Mazour sporting a boot on his left foot, Held's group is getting pretty thin.
That means freshman Wan'Dale Robinson, who had a career-high 22 carries on Saturday against Indiana, will likely continue to see a lot of snaps in the backfield against Purdue.
Robinson is NU's most versatile skill-position player, but Held said NU still has to make sure it tracks his usage.
"We knew when we recruited him that he's a dog and he embraces that," Held said of Robinson's big workload. "He wants the ball. He wants to be in there. We've just got to be smart not to be pounding him up there 30 times a game. That wouldn't be doing him justice, but he's a guy that just gives you multiplicity of options with matchup issues, and we did well on screens and different things we can present with him out there.
"Dedrick's (Mills) fine, he's a guy we're counting on, and so those two guys and then obviously we have Rahmir (Johnson) has two more games he could potentially play in, so we want to be smart with his redshirt situation."
Held also said freshman walk-on Zach Weinmaster came up from the scout team and got a few reps this week.
Johnson redshirt situation 'week to week': Ideally, the Huskers would like to be able to identify set games for freshman running back Johnson to play in and retain his redshirt, but the lack of backfield depth has made that a challenge.
Instead, Held said the Huskers are trying to preserve games in case the depth reduces further.
"We're kind of playing week to week. I wish we could (pick games), but we just aren't able to do that just due to injuries and this, that and the other," Held said. "Every week he's ready to go for everything and then last week, he was prepared to go depending on Wan'Dale's situation and obviously Wan'Dale was able to go, so we were able to save another game.
"It's kind of a week-by-week situation, and we'll see how it goes. He'll be prepared every week."
Hixson playing multiple spots: When junior right guard Boe Wilson went down on Saturday against Indiana, sophomore left guard Trent Hixson flipped to the right side and sophomore Broc Bando came in at left.
"We trained it last week," offensive line coach Greg Austin said. "We trained it and he's been training for the past couple weeks, so he was prepared for the swing role, being the left guard and going over to right guard. He did a pretty good job at both parts. I want a couple plays back, but overall he did a pretty good job."
Hixson had been benched Oct. 12 against Minnesota and got run over on his final play of that game.
"One of the things I said to him was, 'I'll never give up on you, bro, but I need more,'" Austin said. "And he practiced better and consequently he played better."
Wilson was back in pads on Wednesday.