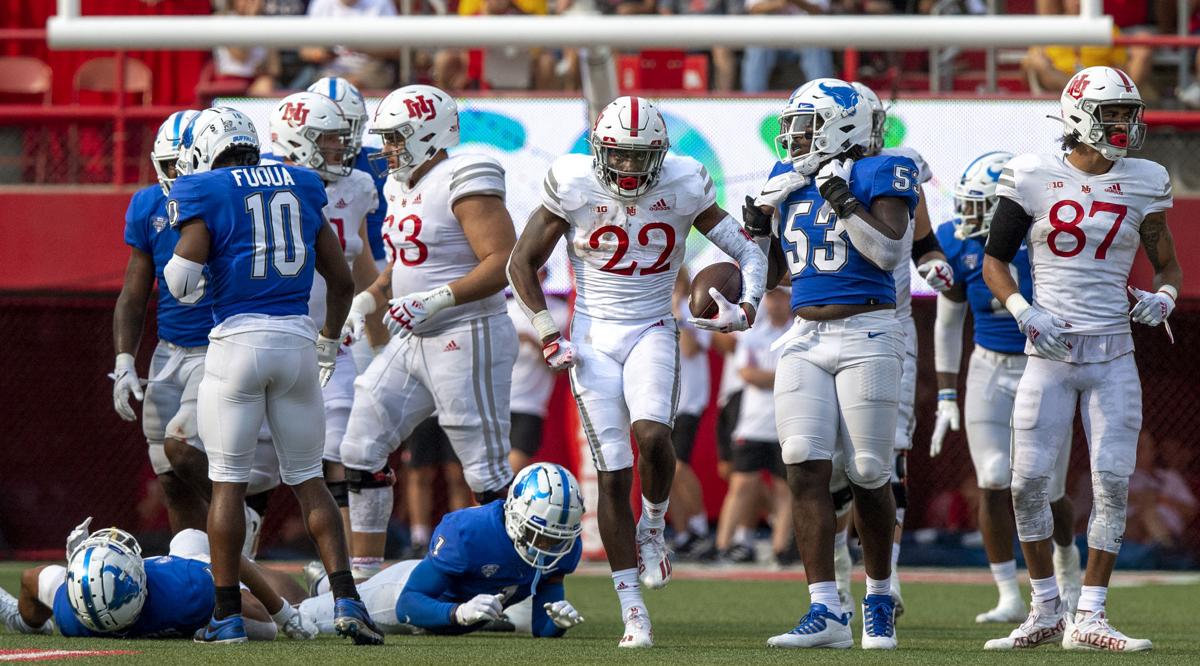 Markese Stepp is no stranger to a running back rotation.
The Nebraska junior operated in one the past couple of seasons at USC and now finds himself in a similar carousel although it is a much different offensive system.
In each of the past two games, NU running backs coach Ryan Held has given each of his top three backs — Stepp, Gabe Ervin Jr. and Sevion Morrison — a series early in the game and then charted the course from there based on who produced and who got into a good rhythm.
"It's just, when you get your chance, making the most of your opportunities," Stepp said. "That's what we all kind of try to preach to each other. You may not see the carries you want, but you get an opportunity, you've got to make the most of it because you don't know when it's coming again.
"When you make the most of your opportunities, that's when you're going to get into a flow, and the rest will take care of itself."
Stepp found the flow against Fordham (18 carries for 101 yards), and then Ervin's turn (10 for 56 and two touchdowns) came in the second half against Buffalo.
"I think he's getting more comfortable," NU offensive coordinator Matt Lubick said Tuesday of Ervin, the 6-foot-1, 200-pound freshman from Georgia. "I think there were some better holes and I thought he took advantage of those holes. He probably took some unfair criticism, especially in the first game, where there wasn't a lot of room. He's getting more comfortable in practice and he found some of those holes and it showed.
"Then, he's pretty good when he gets in space. He did a good job of getting the ball and running downhill."
Backup action: For the second straight week, Nebraska backup quarterback Logan Smothers saw action late in the game Saturday.
On a third-and-5, with his team leading 28-3, Smothers rolled to his right and gunned a 54-yard completion to tight end Chris Hickman, pushing NU deep into Buffalo territory.
"That was fun," Husker quarterbacks coach Mario Verduzco said Tuesday. "Coach (Scott) Frost wanted him to go out there and get some meaningful snaps within the framework of the situation, so it was good. It was good for Logan."
The previous week, against Fordham, Smothers apparently battled nerves before finishing 4-for-7 passing for 50 yards.
"The first time he went in, his knees were stiff as telephone poles," Verduzco said. "So, as a result, his ball was pretty low. But he loosened up and did pretty good. He handled himself really well."
On the field: For only the fourth season in 35 years of collegiate coaching experience, Verduzco is spending Saturdays on the sidelines instead of the coaches' box.
Frost requested the move, Verduzco said, and starting QB Adrian Martinez seems to like it.
"It's good having that face-to-face communication with him on that constant level," Verduzco said. "When I'm in the booth, we talk, boom. Now I see him all the time, and if there's something I need to remind him about, then it's always immediate."
Verduzco talked about a critical moment this season — when Martinez lost a fumble late in the second quarter during the opener at Illinois. Calvin Hart returned the dropped ball 41 yards for a touchdown, giving the Illini a 16-9 lead en route to a 30-22 triumph.
If Verduzco had it to do over again, "I would have reminded (Martinez), 'Hey man, we're right before the half, something happens, pass play is called, whatever it is, just cover it up and let's get into halftime,'" the coach said. "But it was a matter of getting used to being back down on the sidelines. I feel pretty good right now about where I am right now talking (to him) about those things. Don't let yourself get frustrated."
Martinez must work to limit mistakes, something they discuss constantly, Verduzco said.
"Do his job, do whatever it takes to get it done, but play within the framework of his job and not try to do somebody else's job," the coach said. "Because you're playing Oklahoma, there's good, there's bad, there's frustration, yadda, yadda, yadda — can't let that get to you at all."
Speed prep: It's no secret how Oklahoma will try to beat Nebraska Saturday: spread the field and try to burn the Huskers with their speed.
For its part, NU thinks it has the wheels to match.
"Speed is speed. They have a great football team. I think those skill players and those receivers are fast," NU defensive backs coach Travis Fisher said. "But I also think we're fast. And I think we got guys in the secondary and we got guys on our defense that are fast as well. So I think it is what it is for that."
Inside linebacker Chris Kolarevic, who along with Luke Reimer and Nick Henrich played perhaps the best game at that position this season, agreed with Fisher.
"That's how the Big 12 is," Kolarevic said. "The Big 12, they like to spread people out and play with speed, but I think we've got the speed to match it."
Showcase game: Games like Saturdays are part of the reason Kolarevic transferred to Nebraska from Northern Iowa, he said.
"It's not just this week, but it's every week — it's going to play a Big Ten schedule, it's going to play in Memorial Stadium every week," Kolarevic said. "This is a big game, but that's how it is every week around here. That's a big part of why I came here, for sure."