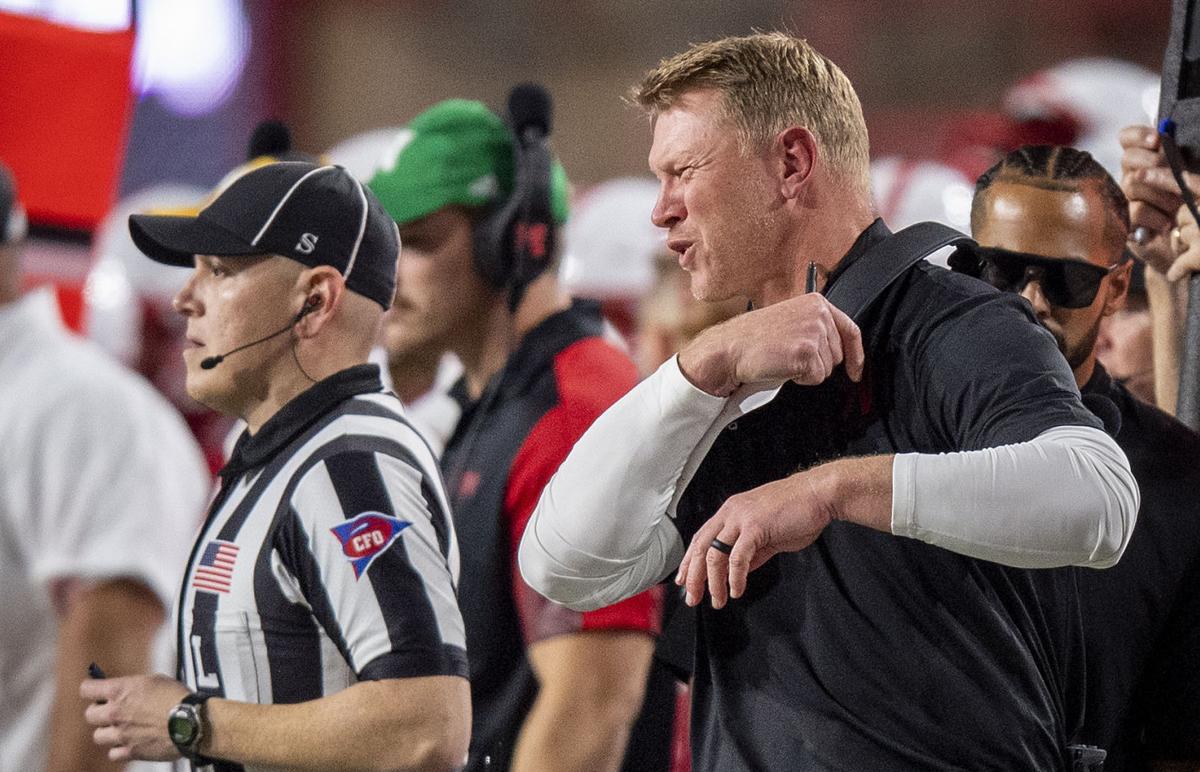 Nebraska coach Scott Frost on Saturday night credited running backs coach Ryan Held with spotting a key moment — Michigan quarterback Cade McNamara's knee touching the ground before a handoff on a called touchdown run — quickly enough to prompt a challenge.
He credited offensive coordinator Matt Lubick with some schematic adjustments that he thought helped Nebraska get its offense rolling in the second half.
On Tuesday, Lubick said he thinks the overall communication and gameday operation for the Huskers' offensive staff has improved from last year to this year.
"I think being two years into the system and everyone just being more comfortable around each other, because it's not just (me)," Lubick said. "Coach (Mario) Verduzco gives great input from the sideline. Coach (Greg) Austin gives great advice in the run game. Sometimes there's one voice for the actual play call, but there's a lot of input before that play comes out. Everyone's really involved as an offensive staff in the adjustments and what's going on for the next play. … Each coach on the offensive staff had a major suggestion that helped us in that football game (against Michigan)."
The second-year coordinator said Nebraska's second-half production — including all 29 of its points against the Wolverines — isn't about saving bullets for the second half but rather about adjustments and situations.
"You go into a game with anywhere from 55 to 75 plays, and a lot of those plays are specific to the situation, so sometimes a situation comes up. Like, the one play that we hit Levi (Falck) for a touchdown, that was a specific red-zone situation where we had a tendency for the coverage they were going to be in and felt pretty good about it. So when that situation comes up, it's just reaction and knowing, 'Hey, that situation, this is the play we practiced, call it.' But you can't call that play until you get that situation because it's designed for that situation.
"We want to call our best stuff first. The (fourth) down that we hit to Omar (Manning), going into the game, I thought that was our best fourth-down play. I wasn't going to hold that back. First fourth down or third-and-medium, that play was coming up and we hit it."
Lubick said NU also uses some plays early in the game to get an idea of how a defense wants to align to formations, react to motions, handle different elements.
"Which lets us figure out, OK this one might work and this one might not work," he said. "… It's situation-specific, you still want to call your best stuff first but then also have stuff on your play sheet that, if they're doing this, you can go to this. That's kind of where the adjustments come in handy."
Castro-Walker's impact (and shades): This winter, Nebraska hired Marcus Castro-Walker as its director of player development. Frost called it an "all-encompassing role" that includes being a resource for players, helping them build connections and being somebody they can relate to.
As it turns out, Castro-Walker has also become Frost's "get-back" guy on gameday. Castro-Walker, who came to NU from Arizona State and worked with Frost and company at UCF, rocks dark sunglasses, even during night games.
"Apparently Marcus's role is to get on social media for standing behind me at games," Frost joked Monday. "He does a great job. I was always dehydrated during games before because I never thought to drink anything, and he's always handing me a water bottle, which has been nice."
He's got more extensive duties away from the bright lights.
"Marcus is great. He's great with our kids and our kids trust him. He's able to help them with a lot of things on and off the field. You need guys, when kids come from a long way away to go to school somewhere, — not guys, you need people — in the kids' corner, many of them, multiple of them, to help them navigate football and life.
"Marcus is a big piece of that for us."