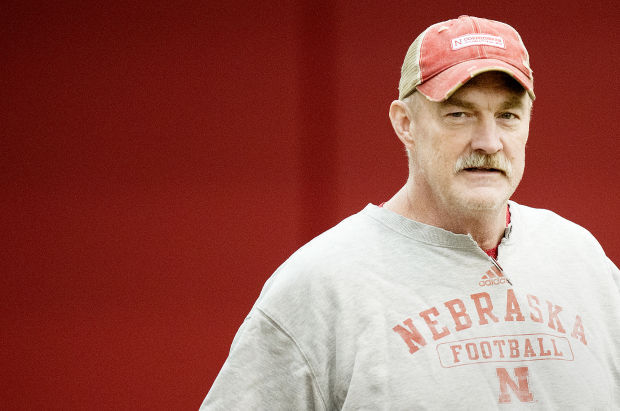 The Holiday Bowl's associate executive director was in Lincoln on Wednesday, wearing what you might expect from a high-ranking bowl official.
Make that a nice red blazer.
"You like that?" Mark Neville asked a cluster of reporters. "It's always friendly fire wearing the Holiday Bowl red when I come to Nebraska, that's for sure."
Nebraska (9-3) will face USC (8-4) on Dec. 27 in San Diego. It will be the Huskers' fourth trip to the bowl, having also played there in 1998, 2009 and 2010.
"I've got to tell you, when we realized that we got Nebraska and USC — truly two of the most storied, tradition-rich college football programs in the country — we were doing high-fives and yelling," Neville said. "It was great. On Dec. 27, at Qualcomm Stadium, it's going to be a big-time showdown."
As one might expect from a bowl official, Neville offered high praise for Nebraska's fervent fan base. He also noted that USC will make its first appearance in the Holiday Bowl's 37-year history. The Trojans likely will have plenty of fan support for obvious reasons.
Neville, though, noted the Big Ten has a huge alumni base in Southern California.
"You might think USC's going to have a much larger crowd there because of proximity," he said. "But I don't know if that will be the case, because there are just so many Big Ten folks who live in Southern California."
Neville said it's too early to get an accurate read on ticket sales, although Nebraska reported Wednesday that a little more than half of its 6,000-ticket allotment has been sold/distributed.
As for the players, Neville noted many will be experiencing San Diego for the first time. They'll see the San Diego Zoo and Sea World, among other activities.
"A highlight of bowl week, and something that's very unique to San Diego within the bowl industry, is players will be going on an active Navy ship," Neville said. "They'll have a luncheon on board the USS Essex. … They'll be dining with sailors and Marines.
"If you think about it, it's really cool, because they're the same age. And there will be a tour of the ship afterward. Everything we've heard from alums of the game is that's a highlight."
Oh, and one other bonus: A lot of the players haven't seen the Pacific Ocean.
* STAFF MOVES: Dan Van De Riet, Oregon State's associate athletic director for football operations, is joining Mike Riley's staff at Nebraska, The Oregonian reported.
Van De Riet has spent 14 years at Oregon State, first as the assistant director of football operations before being promoted to director of football operations in 2008. He was promoted again to his most recent role in October. Van De Riet was responsible for managing the Beavers' travel, budget, summer camps, bowl arrangements, other team events and overall day-to-day operation of the program.
In other words, a role similar to Jeff Jamrog, who held the title of assistant AD for football operations under Bo Pelini.
You have free articles remaining.
There's been no official word on Riley's hirings, including whether he will retain anyone who worked under Pelini.
Meanwhile, Oregon State director of player personnel Ryan Gunderson, who has largely organized the Beavers' recruiting, is also following Riley to Nebraska. Brian Crist had the same title under Pelini. What's more, Hilary O'Bryan reportedly is coming to NU as assistant director of football operations.
Beavers receivers coach Brent Brennan, who has been mentioned as a possible member of Riley's staff at Nebraska, tweeted Tuesday morning that he was heading out on the road to recruit for Oregon State.
* UPBEAT: Wednesday's practice lasted just 65 minutes, but Husker interim head coach Barney Cotton liked how his team approached its first bowl workout.
"Good practice, very high tempo. Very serious conditioning session after practice. Upbeat practice. Proud of them today," Cotton said.
"One practice down. We're trying to build a little house. We've got 17 floors to build before we get to San Diego and play that game."
The coach said players have been working hard away from the field, too. Cotton has been checking in with strength coach James Dobson and has received "great reports from the weight room."
Cotton said the team will practice again Thursday and Friday, with introduction to USC beginning Friday.
Next week, Cotton plans to have the team practice Tuesday through Friday as if it's a normal game week.
Cotton plans to have short practices, but with a heavy emphasis on the weight room and conditioning.
He also tried to keep things light with a scooter race.
"We had three injured offensive linemen … race after conditioning and stretching, which Mark Pelini won by the way," Cotton said. "I think he weighed the least so his cart went the fastest. We're trying to make sure we're having some fun doing that."
* SIDELINED: Those three offensive linemen are Pelini, Ryne Reeves and Zach Sterup. All will miss the bowl game, Cotton confirmed.
That means Paul Thurston, Nebraska's third center who came into the Iowa game in the third quarter, is the top guy at the spot right now, although Cotton said Zach Hannon and Dylan Utter (who has mostly been a guard) will get looks there.
"We'll kind of figure out what that pecking order is as we get to next week," Cotton said.
Other notable players who sat out the practice included defensive end Randy Gregory and Trevor Roach. A senior linebacker, Roach was on crutches and had a foot in a walking boot.
Cotton said he's hopeful Gregory would be available for the bowl game, "but that has not been cleared up yet."
* AMEER IN ORLANDO: Running back Ameer Abdullah missed Wednesday's practice. He's in Orlando, Florida, for Thursday's "College Football Awards Show." He is up for the Doak Walker Award.
— Steven M. Sipple and Brian Christopherson