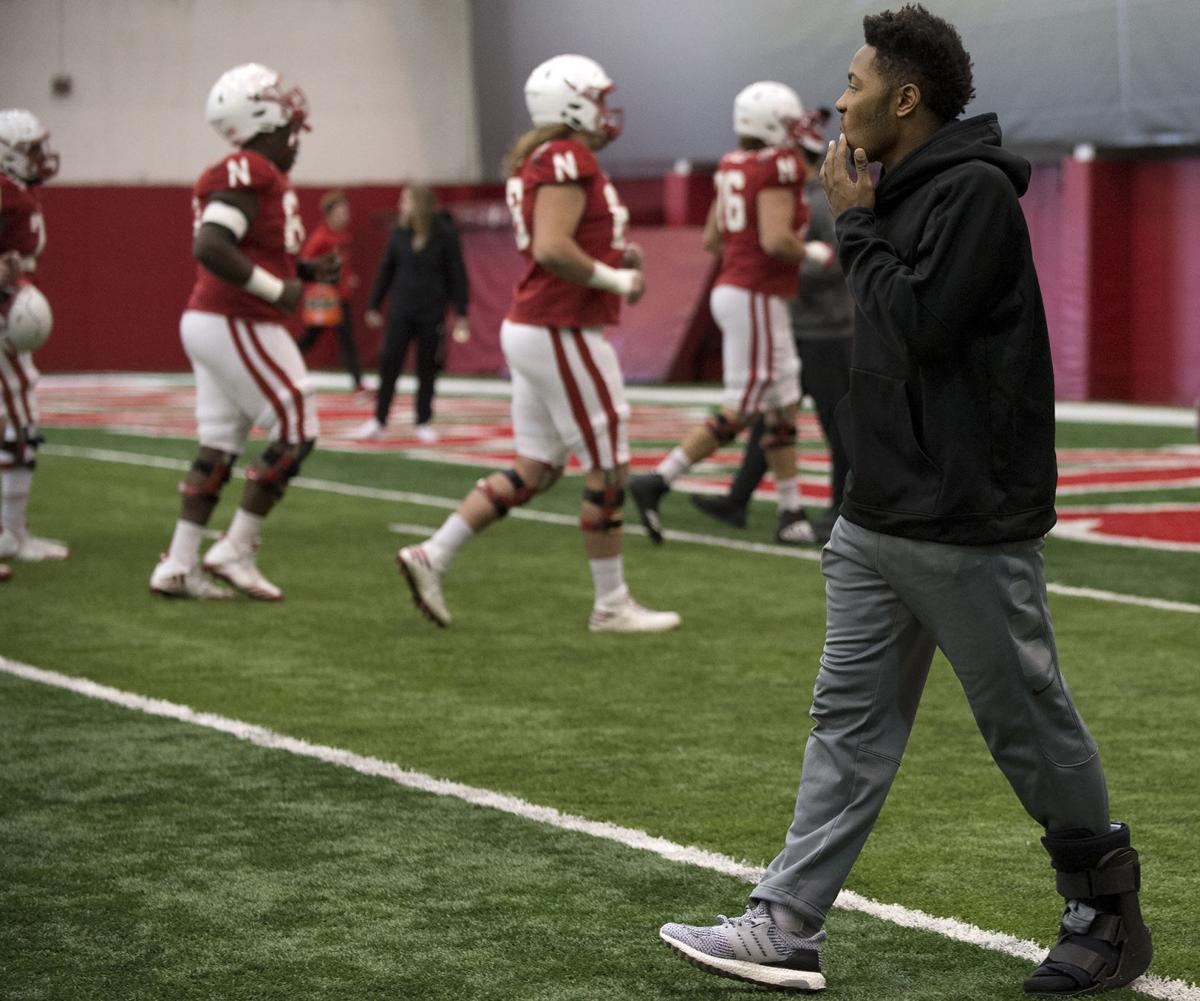 The Huskers will again be without their defensive leaders on Saturday when outside linebacker Luke Gifford will miss his second straight game due to a hip injury, according to coach Mike Riley.
Riley also said that freshman running back Jaylin Bradley is likely to miss the game against Northwestern due to an ankle injury suffered against Purdue.
"Jaylin Bradley has an ankle from the game that hasn't responded very well and hasn't done anything yet," he added. "That's too bad."
Asked if that ruled Bradley out for sure, Riley said, "We'll see. The lack of practicing during the week is hard, but perhaps he could be an emergency guy." 
Sophomore cornerback Eric Lee also is poised to miss the game. As of Thursday evening, he had not cleared concussion protocol after taking an accidental hit from teammate Marcus Newby against Purdue.
The Huskers will have safeties Aaron Williams (neck) and Antonio Reed (knee) available, but Riley said both would likely be limited and it was possible neither would start.
Williams had not practiced until Thursday, while Reed earned praise from his position coach for working throughout the week despite a brace on his left knee and a plaster cast on his left hand and wrist.
"Tough kid. He's not going to let a cast (keep him) from playing," safeties coach Scott Booker said Tuesday. "He's not going to let things that may keep other guys from playing keep him from playing."
Senior right tackle David Knevel (right foot/ankle) has continued to practice this week, and Riley said he should be available on the offensive line if needed. He did not say, though, whether Knevel would start in place of freshman Brenden Jaimes.
Big recruiting weekend on tap: Nebraska has program uncertainty aplenty. Its highest-rated verbal commitment for 2018, Brendan Radley-Hiles, decommitted Tuesday night.
Still, Riley's program has at least seven high-caliber high school prospects slated to arrive in town this weekend for the Huskers' home game against Northwestern.
"This is an interesting weekend because you've got three guys that are top-275-ish type players," Huskers Illustrated and 247Sports recruiting analyst Mike Schaefer said this week.
* Huskers verbal commitment Mario Goodrich (Lee's Summit, Missouri), a four-star athlete by 247Sports' composite ranking system and the No. 249-ranked player overall.
* Long Beach, California, wide receiver Jalen Hall, five-star, No. 25 overall.
* Detroit cornerback Kalon Gervin, four-star, No. 180 overall.
* Las Vegas defensive end/outside linebacker Elijah Wade, four-star.
* Plymouth, Pennsylvania, offensive tackle Chris Bleich, three-star and UCLA verbal commit.
* Cordova, Tennessee, running back Jeremy Banks, three-star.
* Bradenton, Florida, safety Andre Cisco.
"Elijah Wade has spent a lot of time talking with the defensive coaches," Schaefer said. "He's a really intriguing piece, maybe the most intriguing of the seven visiting. He can play defensive end, can play outside linebacker. He's not Micah Parsons, but he's on that level of athleticism where this is the kind of guy Nebraska doesn't have on its roster currently."
Banks' recruiting profiles has exploded recently.
"You're seeing a rapid rise," Schaefer said, adding that Huskers running backs coach Reggie Davis visited Banks over the bye week. "USC offered him the day after Nebraska. That tells you a lot about Jeremy Banks right there that a program that doesn't have to probably go 10 miles to find three guys that can play is that intrigued."
UCLA, Central Florida, Virginia Tech and several others have also offered Banks.
"He's a guy who is really what you always refer to as a senior film guy," Schaefer said. "People knew of him, but they really didn't have a great sense of what he could do as a player, but then he went and put a strong senior season on film and really impressed the Nebraska coaches."
Hall is the third five-star prospect to visit Lincoln, joining Parsons — the Harrisburg, Pennsylvania, outside linebacker was here Oct. 7 — and Corvallis, Oregon, athlete Talanoa Hufanga.
"(Hall) doesn't have necessarily a favorite at the moment and he's really close with (wide receivers coach) Keith Williams," Schaefer said. "This is going to be his first time coming out here. They've got a really good opportunity to really sell the offense and sell that they need another wide receiver to join Cameron Brown and Joshua Moore," Schaefer said. "He would be a tremendous fit. He's a big-bodied wide receiver, which this team doesn't have. … They've been trying for years and Jalen Hall's as good of a bet as they've had of getting a real impact version of that kind of bigger-bodied wide receiver."
The Huskers' big recruiting weekend comes despite many prospects around the country wondering whether Riley and his staff will be here past the end of this fall.
"It gives credit to the professionalism of the staff," Schaefer said. "Some people scoff at that and say, 'Yeah, that's what they get paid all that money what they do,' but you can certainly find staffs that know if they're on the outs that they won't put forth the recruiting efforts and do what this staff has done.
"Ultimately, you can't really expect any of these guys to commit and that's kind of a killer because that's what you're working toward," he added. "At this rate, how can you expect anyone to jump on board when they don't know what will happen next?"
Carousel continues at running back: With Bradley likely out of the picture against Northwestern, the workload will again fall to juniors Devine Ozigbo and Mikale Wilbon.
Bradley, though, will likely become the third back to miss at least one game due to injury.
Tre Bryant had 299 yards over nearly two games to open the season before a knee injury ended his sophomore campaign. Wilbon averaged 5.1 per carry against Rutgers and Illinois before missing Oct. 7's loss to Wisconsin with an ankle injury.
"It's been interesting," Riley said. "That's the best way for me to say it. I don't want to talk about it too much or I might jinx it even more. That one's been interesting. It looked like Tre was emerging and then Jaylin goes in and has a good game. But they'll all be back, hopefully."
Offensive line trying to build new chemistry: The Huskers had to adjust their offensive line plans on the fly against the Boilermakers and now are hoping that a week of practice helps a rebuilt front group.
"It's really important that chemistry now develops with that group," Riley said. "All of a sudden, almost half of them are gone and one of them changed positions, so it's real important that they work together and communicate and basically then can perform."
Redshirt freshman Matt Farniok will start at right guard and junior Cole Conrad at center, replacing Tanner Farmer and Michael Decker, respectively. Farmer has a high ankle sprain and Decker suffered a knee injury and was slated for Thursday surgery.
Miller earning his time: Redshirt freshman outside linebacker Collin Miller earned his first defensive snaps last week and appears to be in line for more work against Northwestern.
"I've got real high expectations for him and I'm glad that he's playing more," Riley said Thursday. "He's done a nice job on special teams and he's playing more on defense."