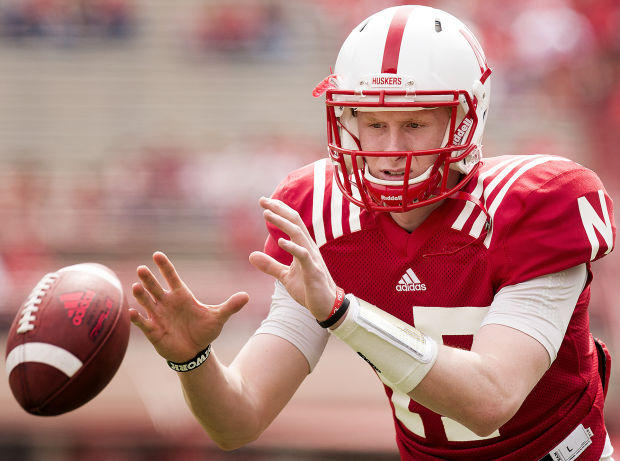 All of Nebraska's quarterbacks are, in the words of Tim Beck, "swimming a little bit" three days into fall camp.
The Huskers are in the midst of installing offense, and the defense they're going against is flying with confidence.
But sophomore walk-on Ryker Fyfe had his moments Wednesday, getting some reps with the top offense and showing some nifty footwork on one scramble, eluding defensive end Greg McMullen. He later threw a beautiful strike to Kenny Bell, hitting the senior receiver in stride for a long touchdown.
Fyfe is aware Tommy Armstrong is considered by many to be the favorite for the starting job because of his experience, but said he wants to make the decision as tough as possible on coaches.
"Yeah, Tommy is getting the majority of the first reps, but Coach said it's going to be a battle, you're not guaranteed anything," Fyfe said. "Just go out and act like you're the No. 1 quarterback."
The 6-foot-2, 210-pound product from Grand Island has definitely impressed some teammates.
Wide receiver Brandon Reilly said Fyfe is "really putting a name out there for himself and that he deserves to get a shot for the starting job, I think."
"I think it's just how calm he is in the pocket," Reilly said. "To see him throw the ball, he can throw it a mile and as accurate as anyone, I think. I think he's probably got the best arm out there."
Senior wide receiver Jamal Turner praised Fyfe for his delivery and accuracy.
"He doesn't have much experience. He's still working on the plays," Turner said. "But other than that, he's up there with Tommy when it comes to delivering the ball."
Fyfe knows he'll have to keep progressing. Wednesday was only the first day with pads, and it was half pads at that.
"It's going to come down to who can process quicker on the field and not get rattled and make the right checks," Fyfe said. "Tommy's been doing a good job. I feel like Johnny (Stanton) has been doing OK, and just what I've got to do is keep getting better at that."
* JACKSON INJURED: Husker junior nickel back Charles Jackson, praised for his offseason work, spent Wednesday with his leg wrapped and a brace covering his left knee. Jackson seemed in good spirits, walking around, even coaching up Byerson Cockrell and Josh Kalu, who worked at the nickel spot in his place.
Husker coach Bo Pelini said via text that the injury is day-to-day and Jackson was going to undergo further evaluation Thursday.
* TOUGH COMPETITION: Turner said there's plenty of talent to go around at his position.
"We're really deep," he said. "I don't know who's going to start. Who's going to get how much playing time. We have a lot of good receivers. ... I would hate to be a coach."
Aside from hoping to have a prominent role as a receiver, Turner said he's hungry to be on the punt-return unit, whether that's as a return man or even a blocker.
"If I don't run out there as a punt returner, I definitely want to be that right blocker, because receivers, we tend to block a lot, so I think I'd be really good at that. Before I got here, I was like, 'I just want to be the returner.' But I'm to the point now where I just want to be on the field. I want to help the team."
* IMPRESSIVE NEWBIES: Don't run too far with anything three days into fall camp, but three defensive backs who have made strong first impressions are Kalu, cornerback Chris Jones and safety Kieron Williams.
Jones and Kalu even had some reps sprinkled in with the top defense Wednesday. And Williams, running with the second unit, has been impossible to miss with his energy at safety.
The 6-foot, 185-pound Williams is from Shreveport, La., and was a late addition to the 2014 recruiting class. He's seemed to hit the ground running, laying a big hit on running back Terrell Newby on one play.
While those three defensive backs are making some noise, Beck also likes three of his new receivers.
He said true freshmen Demornay Pierson-El, Glenn Irons and Jariah Tolbert are all getting a long look from coaches.
* FREAK OFF THE EDGE: The Huskers' starting defensive line was in control for most of the time it was out there Wednesday, and Randy Gregory looked how you'd expect he would look.
Said offensive tackle Zach Sterup: "He's put on a few pounds, as you can see. He's a terror coming off the edge."
* SMACK TALK: Nebraska safety LeRoy Alexander told the media last week that a starting five of him, Ameer Abdullah, Jonathan Rose, Randy Gregory and Greg McMullen would beat the Nebraska men's basketball team's starting five.
At least one member of the basketball team denies that would happen. It's last year's leading scorer in the Big Ten, junior Terran Petteway.
"I can guarantee, they can give their best five, and we would probably beat them every time," Petteway said with a smile. "Put that in the paper. Our best five against their best five, we'd beat them every time. I guarantee you that.
"We win 10 out of 10 times. They are not ready for that, at all."
Petteway offered a point spread of six or seven points (likely playing to 21, although he didn't specify). He's also played against Alexander on the basketball court and admits he's a formidable foe.
"LeRoy can really play. He's a real good ball player, to be honest with you," Petteway said. "But he ain't ready for it."