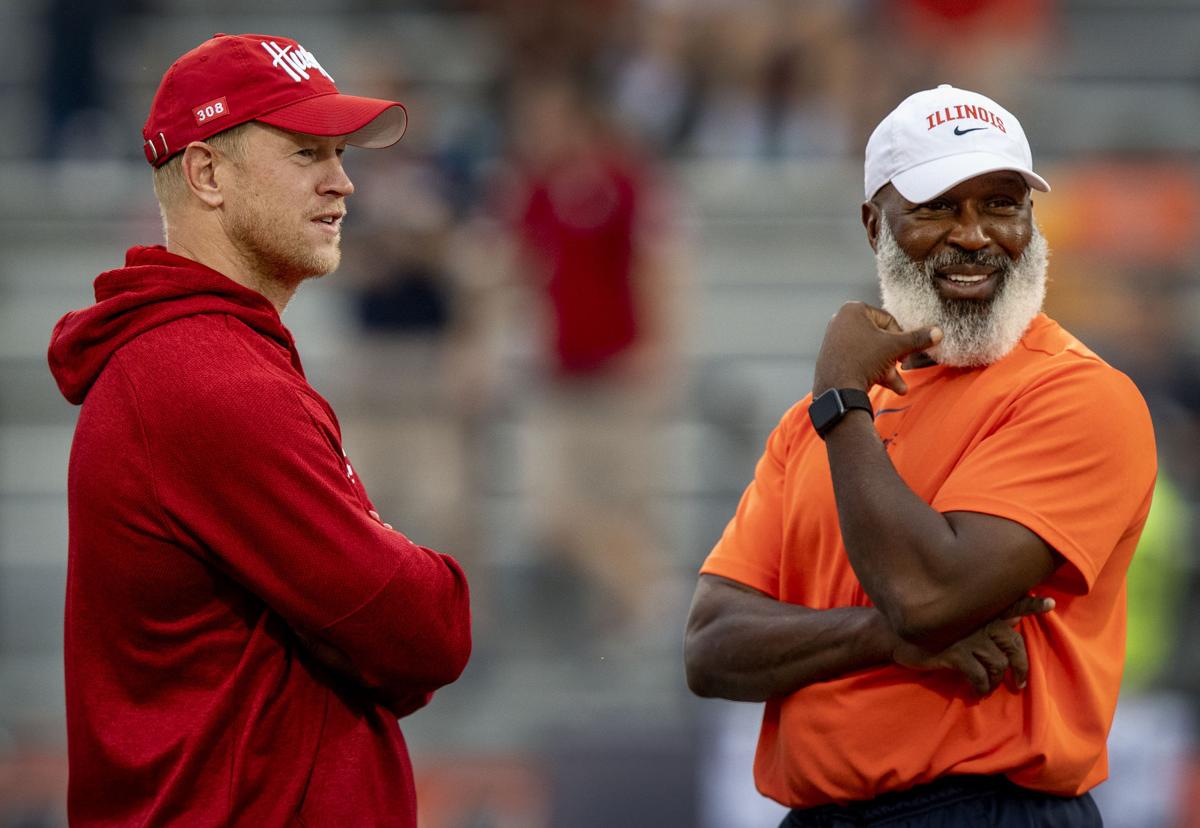 After Week 1 went off without a hitch, the Big Ten has had games canceled each of the past three weekends since.
Illinois has had its own trouble with COVID-19, but that hasn't kept the Illini from playing.
Lovie Smith's program opened the season with a 45-7 loss to Wisconsin, then had two players — quarterback Brandon Peters and redshirt freshman tight end Griffin Moore — test positive before its second game of the season. Not only that, but 12 other players were held out due to contact tracing.
That group of a dozen returned last week in a 23-20 win against Rutgers, while Peters and Moore are eligible to return to action this week.
"They're dealing with a lot of contact tracing and stuff because of state rules that maybe some other people aren't dealing with," Nebraska coach Scott Frost said Monday. "I give them credit for playing the games they've played despite missing some guys. I think that says a lot about who they are and who Lovie is."
Allen building trust: Luke McCaffrey's first completion on Saturday came in traffic, down the field to junior tight end Austin Allen.
Allen, an Aurora native, has been among NU's most consistent pass-catchers this season. He's second on the team in receptions with eight and leads the Huskers with 98 yards. Only sophomore Wan'Dale Robinson has been targeted more frequently than Allen. Those two are the only players with multiple receptions in each of NU's three games so far this season.
"A lot of times, us tight ends are telling the quarterbacks, we're 6-foot-8, 6-7, just throw it up and we'll go get it," Allen said Tuesday. "We'll go make a play. We have big bodies, we're open when we're not necessarily open in the quarterback's eyes. We tell them, just throw the ball and we'll use the frame, use the body to go make a play. If it's up, we like it up."
Special teams a plus: Connor Culp made all three of his short field-goal attempts on Saturday against Penn State. Five of his six kickoff attempts resulted in the Nittany Lions starting at their own 25 or farther back. Of William Przystup's four punts, two were inside the 20 (one inside the 10) and one was a booming 53-yarder that flipped the field during a critical fourth-quarter stretch.
Nebraska's coverage was good, pinning PSU on its first three kick returns at the 20, 18 and 21.
Put simply, it was a good day all around for the Huskers' special teams units.
"It was a step in the right direction from the week before," Frost said on Monday. "It was kind of similar to the other two units, offense and defense. We did some good things — some really good things — and some things we can get a lot better at. So I was pleased with the improvement, but still some things to fix.
"It's always better to do those after you win a game."
Culp said Tuesday that NU's kickoff operation was particularly good in the first quarter, even though he was kicking into a stiff wind. He used a high, short kickoff aimed toward the right sideline, which pinned the return man against the sideline and allowed the coverage team to envelop around and not allow the return to break back to the middle of the field.
"It's called 'Sky right,' and basically what I try doing is try to get the ball up really high and toward the opposite side of the field, about the 15-yard line," Culp said. "So it's a shorter field for our coverage unit to go down and cover and then also having enough hang time on the ball to get down there and minimize their return.
"Sometimes when you're going into the wind you can tend to hit it a little bit low and that can cause problems, so hitting it up and over to the right, not really worrying about distance, just helps the coverage unit."
Be the first to know
Get local news delivered to your inbox!