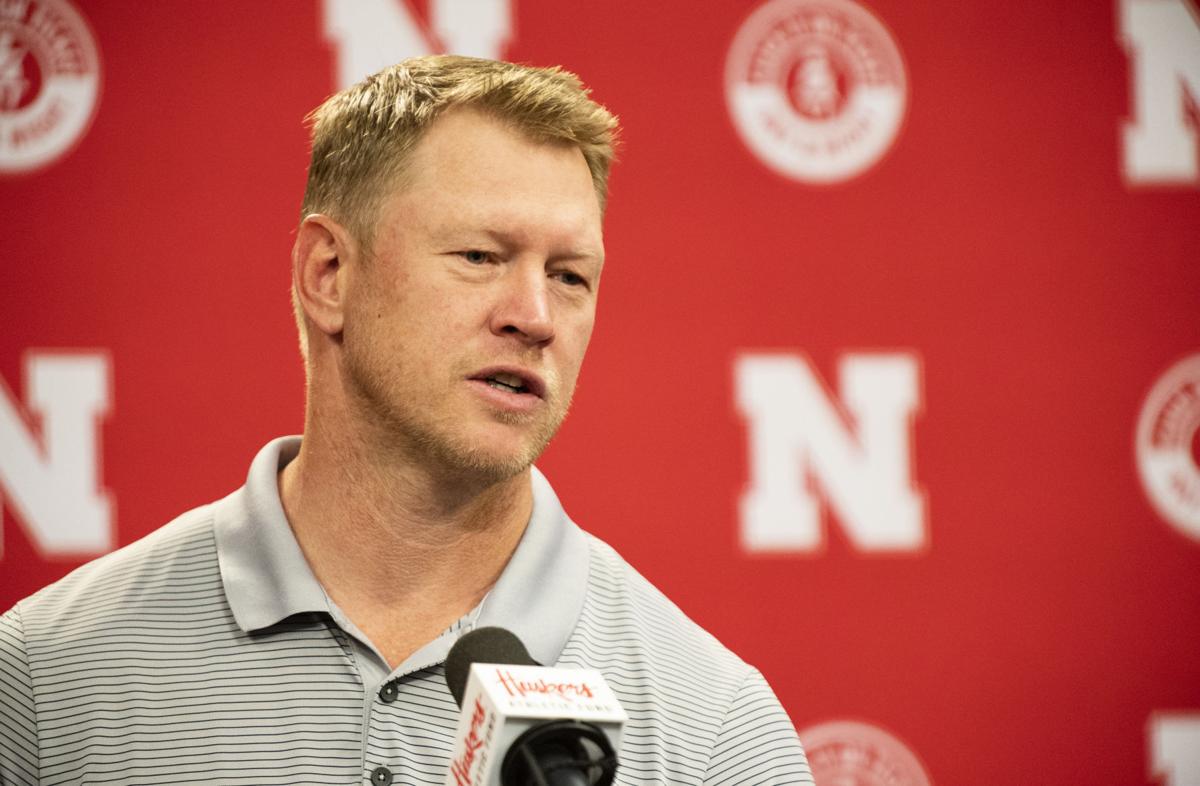 The Nebraska football program is still working to get its players vaccinated against COVID-19 on the eve of preseason camp.
Coach Scott Frost on Thursday reiterated what he said earlier this month at Big Ten Media Days: That the vaccinations are safe and that the program is trying to educate NU players about the competitive ramifications this fall.
"I'm not comfortable yet with how many I perceive are vaccinated," Frost said Thursday. "We're going to try to do our best to educate the guys on it and give them more opportunities to get there. Like I said in Indianapolis, I think vaccination is the best way for us to have an uninterrupted season.
"So we're going to do our best to educate our guys and try to improve that."
The fourth-year coach said he did not know what percentage of the team has been vaccinated and that, "we are really careful with FERPA rules around here and not giving personal information."
Earlier this month, Big Ten Commissioner Kevin Warren said the conference is still finalizing its COVID-19 and testing protocols, but that they are "decentralizing" the process to be more campus specific.
"Right now, to my understanding, a lot of it is going to be based on university rules and left to each campus to figure out protocols," Frost said Thursday. "I know the university, through (Chancellor Ronnie Green)'s leadership and (NU president Ted Carter)'s leadership have protocols and we'll certainly have to adhere to those. We'll see where it goes beyond that."
Fewer roster holes, quicker decisions: Frost said he has set a goal of making decisions on position battles more quickly over the next four weeks.
In the past, Frost's standard mode has been to give essentially equal repetitions for about the first two weeks of camp and then start the process of figuring out a depth chart. Not this summer.
"One thing I told the team and (I've) told the coaches is I want to make those decisions a little earlier than normal, at least in-house, to get a little continuity with groups on offense and defense," Frost said. "So guys better show up ready to go and compete for those spots that are up for grabs."
That is possible, in part, because Nebraska has a veteran roster and there are only a few positions where the majority of the playing time is truly up for grabs.
"I'd say we have fewer holes in our roster than we used to, but there's still some questions," Frost said.
RB up for grabs: One of the positions that remain wide open as camp begins is running back.
Nebraska has six scholarship players, and four of them — USC transfer Markese Stepp and freshmen Gabe Ervin, Sevion Morrison and Jaquez Yant — have never carried the ball at NU. Two others (Marvin Scott III and Rahmir Johnson) have less than 60 combined carries.
"I think we've got a ton of talent in that room, but I don't want it to be by committee, ideally," Frost said. "I want to have a main guy and a backup or two that are going to share the bulk of the carries. It's yet to be determined who those guys are. Those guys know at that spot and a few others that the competition is going to start on Day 1 and we're going to try to figure out who the main horse is."
Not a two-deep, but three: Redshirt freshman defensive lineman Ty Robinson was asked about his group's prospects for the year and how many might show up in the Huskers' rotation up front.
"I feel like we can go three-deep at every position and that we're pretty strong at each position," Robinson said. "I think the rotation this year is going to do pretty well and we're all pretty well-rounded players. With this fall camp, we'll be able to sharpen our tools a little bit more for this coming season."
In particular, the 6-foot-6, 305-pounder had high praise for walk-on Colton Feist and junior Deontre Thomas, who was limited to two games in 2020 due to injuries.
"Colton Feist, he really stepped up," Robinson said. "I don't even know how to explain it. To see him from two years ago to now, his skill level, his technique has gotten so much better. I feel like he's going to be a big, big-play guy in the rotation."
Huskers healthy overall: Frost reiterated that the only two scholarship players who aren't in position to be part of camp right away are senior inside linebacker Will Honas and freshman tight end Thomas Fidone, each of whom suffered knee injuries in April.
"Most other guys are going to be ready for Day 1 of fall camp, with a couple guys lingering a little longer than that," Frost said.
Fidone has a chance to get back and play some late in the season, while Frost is less optimistic about Honas.
Overall, 116 of NU's 155 players will be on the camp roster when it opens. That's the normal 110-man camp roster plus six super seniors that don't count against the cap.
The rest can join practice when school starts in late August.