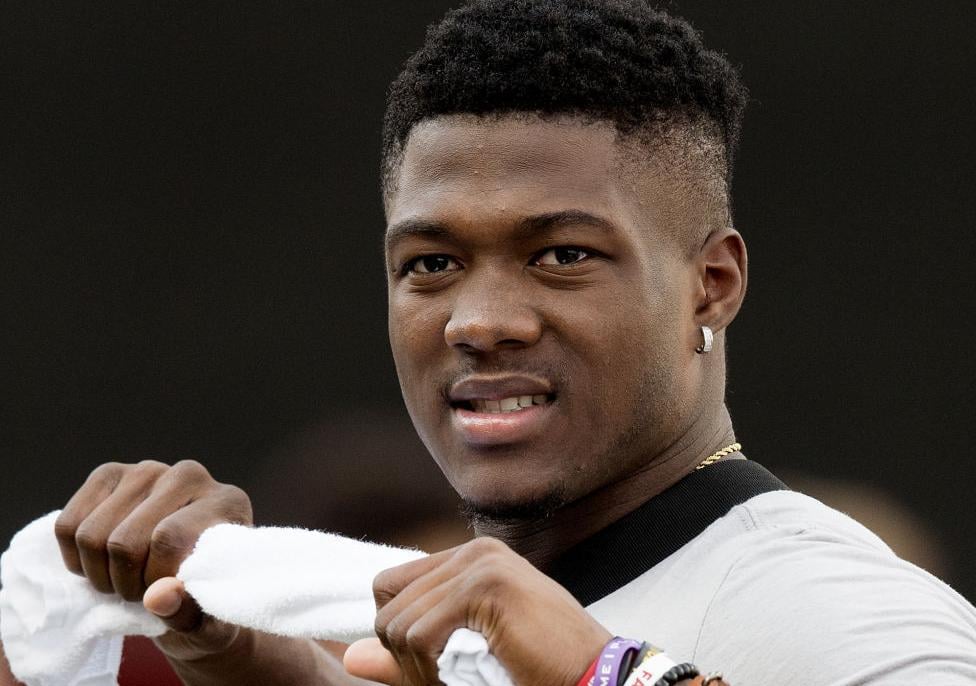 Nebraska football coach Scott Frost said Tuesday that he's hoping junior college wide receiver Omar Manning will be ready to contribute early this season but that he wants to see more consistency from the talented transfer. 
Manning has missed time since arriving on campus this summer due to both injury and personal reasons, Frost said. 
"That's still a work in progress right now," Frost said. "When Omar has been out there, he's been really good. He's been dealing with some health things that have kept him in and out. 
"We need him out there more consistently if he's going to help us the way we expect him to and hope that he will." 
Frost said Manning is not the only receiver who's been in and out of practice because of injury, noting that both sophomore Wan'Dale Robinson and freshman Alante Brown also have had minor injury issues, but that none are long-term worries. 
"I'm pleased overall with the depth and the play at that position, but that needs to work itself out pretty quickly who's healthy and who's available and we need to get it dialed in for the first game," Frost said.
Asked whether Manning will be ready to help the Huskers as early as the season opener against Ohio State, Frost said, "I hope so." 
WR Warner impressing: The name that's come up perhaps most consistently at receiver through camp is junior Kade Warner. Frost wouldn't confirm just yet what Warner's roommate Austin Allen said Tuesday — that Warner had been put on scholarship — but it's clear that the veteran receiver has impressed coaches and teammates alike.
"Kade's been a leader for us and the best thing he's done is he's been out there the entire time," Frost said. "I don't think he's missed any time. If you're going to play, you've got to be on the field and he's been out there the entire time."
Junior defensive back Cam Taylor-Britt reeled off a bunch of names at receiver that he's been impressed with and Warner led it off, followed by South Dakota graduate transfer walk-on Levi Falck.
"It's been very competitive," Taylor-Britt said. "You've got Kade Warner, Levi, Marcus (Fleming), Wan'Dale (Robinson), Alante Brown. We've got a lot of guys we're competing against. I feel like nobody's shying away from that."
Scrimmage insights: NU had a lively scrimmage inside Memorial Stadium on Saturday and Frost thought it was productive.
"We're trying to get a lot of live hitting in but in a manageable way where we can try to keep guys as healthy as we can," Frost said. "There's no substitute for that. Guys need to be hit and hold on to the ball and guys need to tackle in the open field. …
"I was fairly impressed with the running and hitting. I thought the offense moved the ball well and the defense played well at times. Some good things both ways, but some things we need to clean up."
Taylor-Britt called the scrimmage "fun" and "competitive," and a fellow veteran secondary member had another thought, too.
"It's been so competitive these past two weeks that we've started fighting ourselves," senior safety Marquel Dismuke said with a laugh. "So it's good that we have an opponent coming up in a week or so, so we can go out and take our anger out on them."
Steven M. Sipple and Parker Gabriel tackle the most notable comments from Husker HC Scott Frost, and four NU football players. 
Family members at Memorial Stadium: Frost said he was pretty sure the Big Ten is going to allow family members to attend Nebraska's home games this year. Some schools in the league — Wisconsin, for example — have said that even small groups won't be allowed due to COVID-19 concerns, but the last Frost heard is that it is an option at Memorial Stadium.
"They're going to be awfully lonely in our giant stadium if they're the only ones in there," Frost said.
Artificial crowd noise 'annoying': Frost apparently is not a big fan of fake crowd noise being pumped into an otherwise empty stadium.
"(The quiet) would take quite a bit off, you'd be able to think clearer," Frost said of his duties as a play caller. "Last I heard, they're going to allow us to pump artificial crowd noise into the stadium. I didn't vote on that. I think it's annoying to have fake crowd noise in your ear all the time.
"I hope it's regulated and monitored so people don't have speakers right behind the visiting bench. I hope it's conducive to at least being able to think. If we're going to pretend like there's fans in the stands and have fake noise, I hope we're actually able to function."
DB Joseph catching on: Taylor-Britt praised the work that the secondary's newest member, junior college transfer Nadab Joseph, has done in trying to get up to speed during camp.
"He's doing great, actually," Taylor-Britt said. "His attitude is great, he's always wanting to learn something and he's a good player."
Joseph only arrived at the end of the summer, but he comes highly regarded. The 6-foot-2, 195-pounder was a top-100 player nationally out of high school and was among the top-ranked junior college prospects in the country in the 2020 cycle.
Watch now: Taylor-Britt says Ohio State is all he has thought about following schedule release
Watch now: Stille said it 'doesn't matter' if it's Martinez or McCaffrey at QB
Watch now: Austin Allen name-drops players to watch, including Kade Warner
Watch now: Dismuke says practice's intensity is high — 'we're starting to fight ourselves'
Watch now: Scott Frost declines to name a starter 11 days before the season opener. Check out his full conference
Be the first to know
Get local news delivered to your inbox!