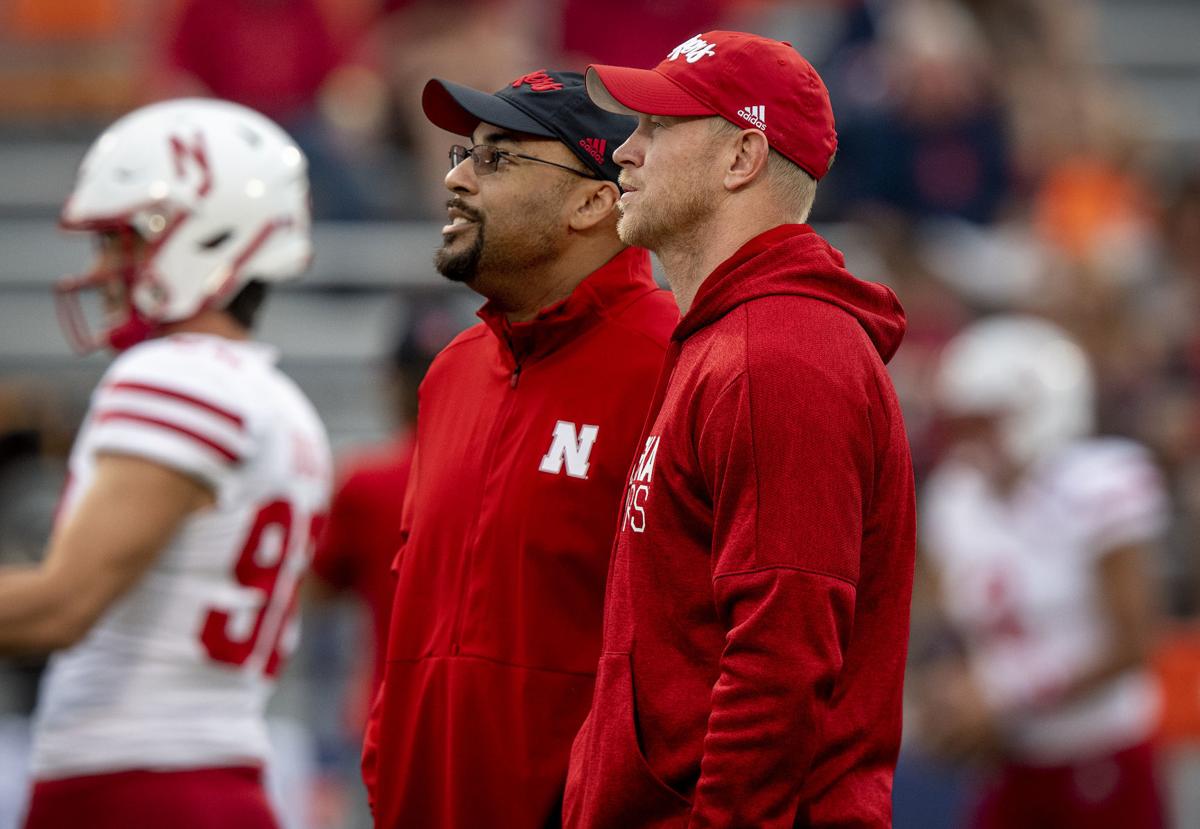 Nebraska football coach Scott Frost reiterated his support for Khalil Davis' one-game suspension following Thursday's practice at Hawks Championship Center.
The senior defensive lineman was suspended by the Big Ten for striking an Ohio State player, the league announced Wednesday.
Frost said the team was not fully aware of what happened — The Big Ten said Davis struck an Ohio State player after a play Saturday — until this week.
"If we had known something was going on during the game, we would have handled it during the game; we had no idea," Frost said. "We don't condone what he did on the field."
A wider camera shot of the play, which circulated late Wednesday, showed Davis slide over the top of Ohio State center Josh Myers at the end of a 15-yard J.K. Dobbins run. Davis appeared to wind up to throw a punch, and while the shot doesn't show a follow-through, Frost made it clear he supports the Big Ten's decision and that Davis will face internal punishment in addition to the suspension.
"The only thing I would say, and not a rebuttal, but I just want to make sure if that kind of thing happens in any game that it's handled the same way, and I'm sure it will be," Frost said.
Parker Gabriel gives the latest from head coach Scott Frost on Oct. 3, 2019.
Stille to start: In Davis' place, junior Ben Stille will make his first start of the season Saturday against Northwestern.
The 6-foot-5, 290-pound Stille will slide up and join seniors Carlos Davis and Darrion Daniels on the top line. Defensive line coach Tony Tuioti has for the most part rotated two trios roughly evenly.
Up until this week, Stille had been on the No. 2 group with sophomores Damion Daniels and Deontre Thomas. Whether NU rolls primarily with five or if somebody else joins the rotation — junior college transfer Keem Green made his debut last week and redshirt freshman Casey Rogers has impressed Tuioti with his progress — remains to be seen.
You have free articles remaining.
"I know Ben Stille is ready to be the starter at that position," Frost said. "He's capable and worked hard and is ready. Beyond that, Tony and (defensive coordinator Erik Chinander) and I are going to have to talk. Deontre Thomas has been doing good things for us and I'm sure he'll take some of the reps. We'll see beyond that."
A critical juncture: It's no secret that intra-division games are like gold in college football.
Frost, addressing his team Thursday after its helmets-only practice, imparted that sense of urgency on a group that's 1-1 in Big Ten play so far and is hosting on Saturday a Northwestern team that's at a crossroads after a 1-3 start to its season and 0-2 start in the conference.
"Looking at how this season has played out, I think this is probably as important a game as there is all year for them," Frost said, referring first to Pat Fitzgerald's Wildcats. "I just got done telling the guys I think it's the same thing for us. I know they're going to come in ready to play with where their season is. We have to be ready to play with where our season is."
Head football coach Scott Frost talks about turnovers and Khalil Davis's suspension on Oct. 3, 2019
RB Johnson "ready": NU coaches have been impressed with freshman running back Rahmir Johnson since he arrived on campus, and Frost said Thursday he thinks the 5-foot-10, 180-pounder is still going to help the Huskers this fall.
"Rahmir is ready," Frost said. "I think he's been close coming up to this game and I think he's ready now. He's done a good job continuing to work. His speed is a difference for us, it can be a difference-maker. We just had to make sure he was ready to execute every play, knew the offense well enough not to make mistakes, and his time is coming very shortly."
Sophomore Maurice Washington has played in every game but has seen his touches limited the past two weeks because he's been in and out of the game with some seemingly minor injuries.
One other note from NU's running backs room: Freshman Ronald Thompkins, who was seen last week on crutches and with a brace on his left knee, underwent a minor surgery, Frost confirmed, and is not expected to return to action until spring ball.
Thompkins had reconstructive surgery on each knee during his career at Grayson High in Georgia.