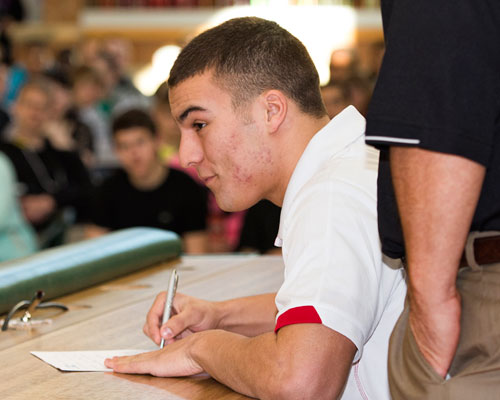 You can put Josh Banderas on that list of freshmen raising some eyebrows during this fall camp.
The linebacker from Lincoln Southwest is now working at the MIKE spot, along with sophomore David Santos. Banderas may have just arrived on campus, but coaches are challenging him with a lot of responsibilities.
"We're putting a lot on him, throwing a lot at him," Husker coach Bo Pelini said after Saturday's practice. "The thing I'm most excited about Josh, I know he can run, he's physical, he's showing tremendous instincts for the position.
"It hasn't been too big for him. For somebody who plays MIKE linebacker and has to make a lot of calls, do a lot of things, he's handled it extremely well. He's going to be a really good football player."
* ON THE MEND: While the loss of defensive tackle Kevin Williams for the season was the bad news, the Huskers do have some good news on the injury front.
Pelini said there were no other serious injuries to report after his team worked through one of the most difficult weeks of the season, taking on eight practices since the last off day last Sunday.
And two key young defensive ends who were out for many of those practices are now back on the field, or are about to be.
Newcomer Randy Gregory was practicing Saturday and Greg McMullen would return Monday, Pelini said.
He also was confident senior tight end Jake Long would be ready for the opener against Wyoming.
"He's way ahead of schedule right now. He'll be coming back any day now," Pelini said. "We're being smart. We got young guys at that position that need work. He'll be ready for game week, for sure. He'll probably be ready sometime this week."
Still sidelined Saturday were receivers Taariq Allen and Alonzo Moore, and linebacker Courtney Love.
* GERRY UPDATE: Call him a linebacker for now. After spending his first week at safety, Nate Gerry has been showing his stuff as a backer this past week. It sounds like he may stay there for a while.
"I think that playing safety has helped him at backer and vice versa," Pelini said. "That's been my experience. I think he can really help our football team if he continues to come.
"But like I tell our coaches, you have to temper your expectations a little bit at this point because he has a long way to go. But he's made a lot of progress and has really good physical tools. He has the intangibles that you'd want to see."
* O-LINE DEPTH: Pelini wished he had a piece of wood to knock on as he said it. But he's clearly optimistic about the depth on his offensive line.
You have free articles remaining.
"We haven't had this kind of depth … since I've been here," Pelini said of that unit.
He mentioned offensive guards Mike Moudy, Chongo Kondolo, Ryne Reeves and offensive tackle Zach Sterup among those making a push.
"Some of our young guys are really competing for playing time," he said. "The main thing with those young guys is consistency. They all have the tools and they're showing it at times. But it's got to be a consistent, every-down type of thing."
* IN-SEASON BATTLES: The depth chart could be a very fluid thing throughout this Husker season.
The starters you see Aug. 31 might not necessarily be the same ones on the top line by the end of September or October.
"I think that those position battles will go into the season," Pelini said. "There are a lot of guys that have earned playing time out there. It's going to be our job to try to play a lot of guys and see where guys are. We're deeper than we probably have been across the board, and that can be a good thing and a bad thing. But we have to handle that well. We have to figure out who fits best and see a lot of guys play, and see who can do it when the lights go on."
Pelini said he expects to shift from camp mode to game prep for Wyoming near the end of this week.
* HOLDING PATTERN: Potential offensive lineman transfer Alex Lewis recently had his court case in Colorado for an alleged assault postponed again to Sept. 20.
Lewis' new attorney, Gary Lozow, told the Boulder Daily Camera that his client was going to Lincoln to enroll in classes.
While that may be, Pelini said he has no update to Lewis' status with the football team, especially for this fall ahead.
"That all depends on the legal situation," he said. "I really can't comment on any of that. I don't know how that's going to play out or what's going on there. Until that gets resolved, it's not part of the conversation."
* MOVIE NIGHT: The original fall camp practice itinerary had Friday down as another two-a-day.
But players received a break from the grind Friday night.
"No practice. Surprise movie tonight," tweeted wide receiver Tyler Wullenwaber.
While maybe a surprise to players, the movie apparently had been on Pelini's itinerary for a while.
"That was the plan the whole way," he said.