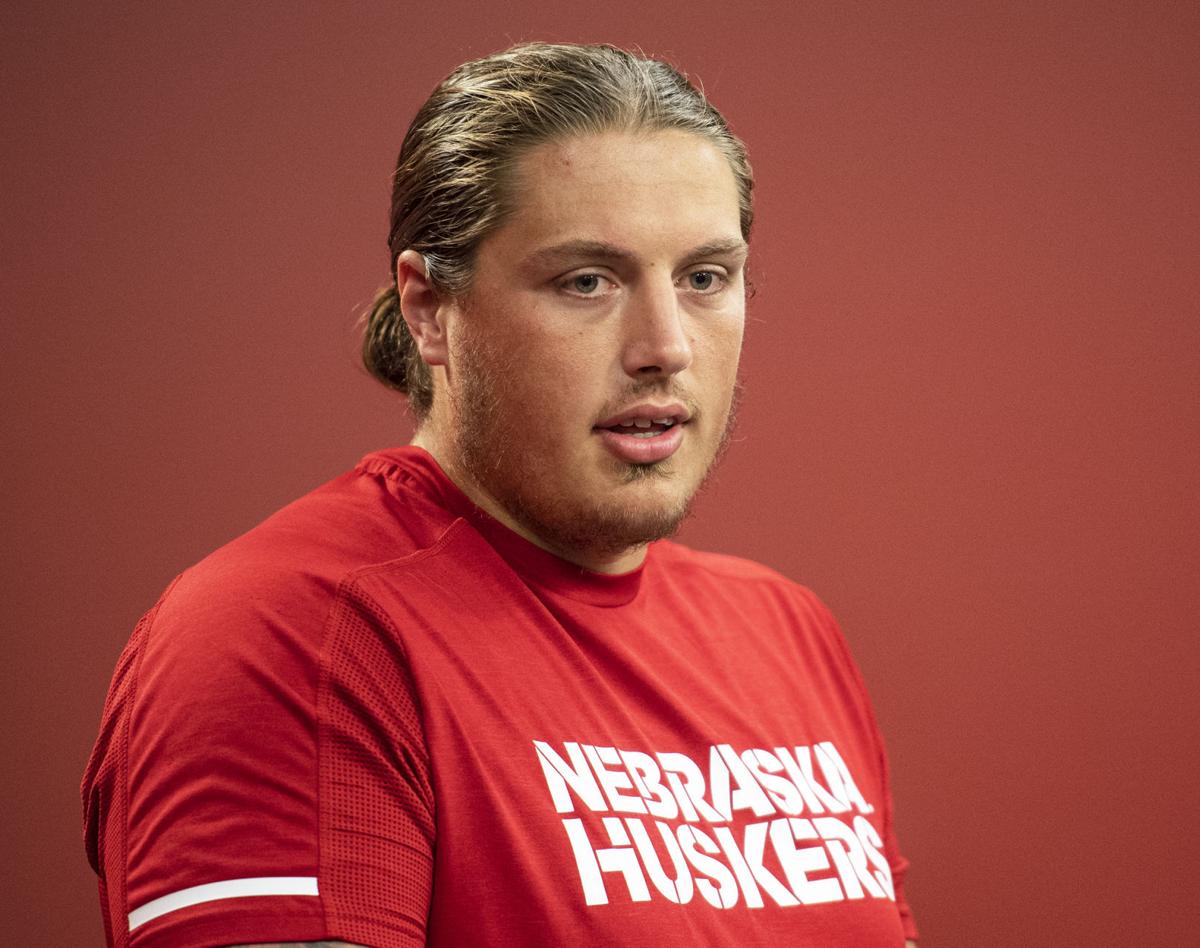 Nebraska senior Matt Farniok acquitted himself nicely at center Saturday, according to Husker head coach Scott Frost.
It's a good thing, too, because it might not be his last start there.
Nebraska starting center Cameron Jurgens' status is "day to day," Frost told reporters Monday.
The exact nature of Jurgens' injury is not known, but the Beatrice native has dealt with injuries to both of his feet over the course of his career. Against Ohio State on Oct. 24, Jurgens briefly left the game late in the first half but returned to action in the second half. 
The 6-foot-6, 335-pound Farniok made his first career start at right guard in the Ohio State game, then shifted to center in last week's 21-13 loss at Northwestern. A native of Sioux Falls, South Dakota, Farniok previously made 24 straight starts at right tackle. 
"I thought Matt played one of his best games as a Husker (against Northwestern)," Frost said. "I think Matt was our best offensive lineman in that game. It's a credit to him that he's able to do all those things. He's a team captain for a reason. I'm sure he'll be able to play whatever role we ask of him this week." 
Nebraska (0-2) faces Penn State (0-3) at 11 a.m. Saturday at Memorial Stadium. The game will be broadcast on FS1.
Focus on task: Nebraska senior safety Marquel Dismuke noted the Huskers often practice in the stadium, so having only family members on hand shouldn't be a big adjustment for the players.
"When you're playing a game, you don't even worry about the stands," he said. "If you're worrying about the stands, you're worrying about the wrong thing."
The focus has to be on winning, especially considering the program's struggles dating to last season.
"As men, we've got to keep our heads up and keep on evolving," Dismuke said. "We can never look down on ourselves or stoop down to the opponent's level. We have to keep going. We have five more weeks left, so we can't put our heads down and go half-speed. At the end of the day, we still have games to win." 
Looking inward: With another close loss, Nebraska players were doing plenty of soul-searching Monday.
"I definitely think one thing we need to get better at is finding ways to win games," Husker senior inside linebacker Collin Miller said. 
"When we have a team down, we have to figure out how to keep them down, put a foot on their neck and keep going. Don't look back. Don't give them opportunities to get back in the game."
Promising DL returns: Nebraska's defensive line has overall played well through the first two games of the season, and a cast of young and new players have had a hand in the progress.
Senior defensive lineman Ben Stille complimented the work in particular of sophomore Casey Rogers and redshirt freshman Ty Robinson.
"Honestly, I've just been impressed with their consistency," Stille said. "That's something I really struggled with as a young player and that's something all young players struggle with. It's really the hardest thing is just to be consistent. I think they've really just been solid at that and making their plays within the scheme of the defense.
"That's really what we ask them to do, and I'm proud of them for that."
Robinson had four tackles (one for loss) and a hurry against Northwestern, and Rogers chipped in with one stop. Both appeared to hold up well against the run.
The next challenge is against a Penn State team that will be desperate for a win, but which has struggled to run the ball. Through three games, PSU is averaging just 3.4 yards per carry and quarterback Sean Clifford is the team's leading rusher. The Nittany Lions have lost both of their top two running backs, Journey Brown and Noah Cain, to injury.
Scott earns chances: Marvin Scott's stat line might not jump out in the box score against Northwestern.
Three carries for 14 yards.
But for the freshman back from Florida, that represents a step in the right direction.
Scott found himself the No. 2 back behind Dedrick Mills in part because Ronald Thompkins missed some practices and didn't make the trip to Evanston, Illinois. Meanwhile, Scott, the former high school powerlifting champion, stood out during the week.
"We talk about competition, and at that position, we thought going into that game that Marvin had probably practiced the best, and we rewarded him," Frost said. "I was impressed with him in his first few carries. He ran the ball hard. He did a good job on some plays away from the ball.
"That is going to continue to be a competition."
Watch now: Here's what Frost, players are saying as Penn State week begins
Watch now: Here's what Scott Frost and players are saying as Penn State week begins
Watch now: Warner says team has to 'believe that the next step is coming or else you can't work any harder'
Stille says grade for defense vs. Northwestern is 'in the 'B' range'
Miller says team needs to learn how to 'put our foot on someone's neck' to finish wins
Watch now: Dismuke looks ahead, says 'we shouldn't want to lose the rest of the season"
Watch now: Frost declines to name starting QB, assesses Northwestern loss and looks ahead to PSU