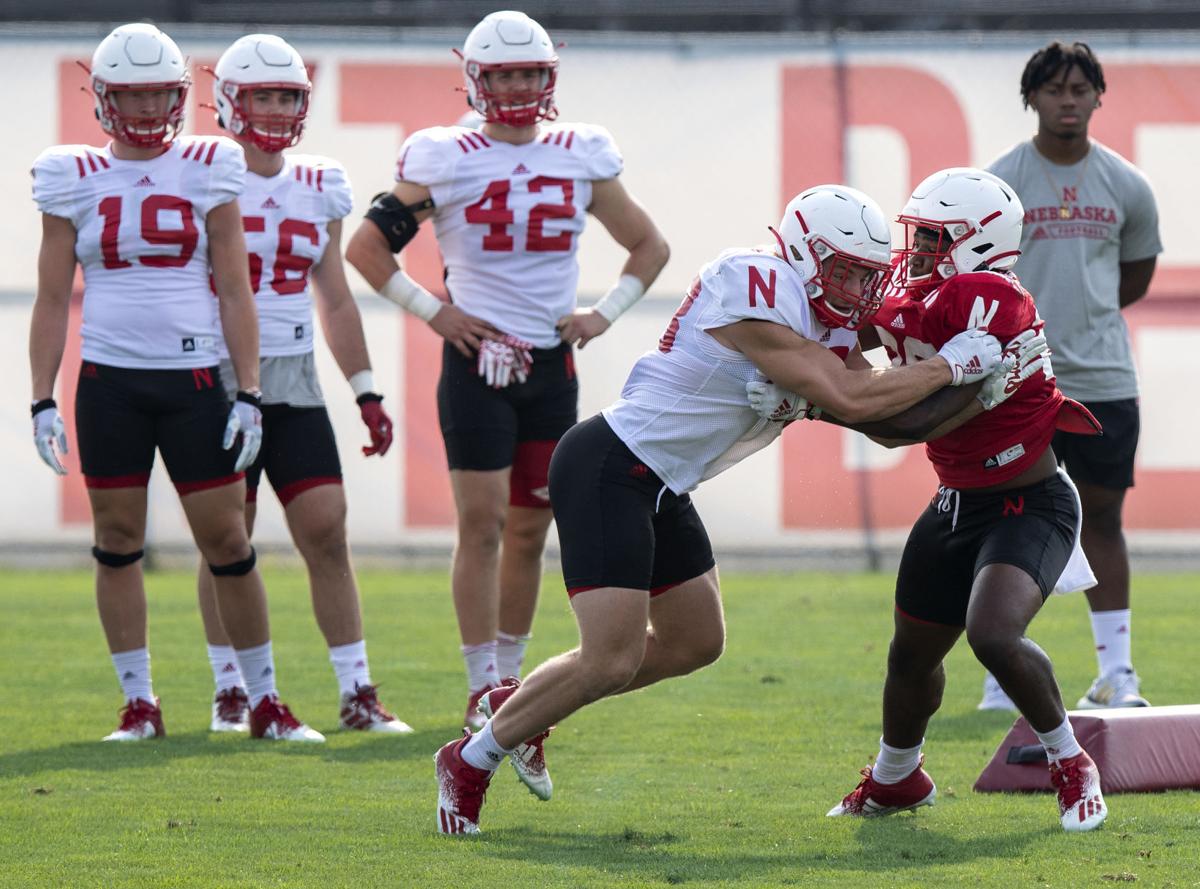 The Nebraska football team went into Memorial Stadium for its first big scrimmage of the season Sunday.
And while both sides likely found good and bad things to take from the workout, the defense on Tuesday got the first crack to relay what it saw.
"I think a lot more positives came out of it than negatives, but we can always get better and we can always keep working," sophomore defensive lineman Casey Rogers said. "I think we set a good standard during that scrimmage."
NU defensive coordinator Erik Chinander was pleased with what his veteran unit was able to accomplish.
The Huskers tackled well, Chinander said, which was good to see in a live situation early in camp. The unit also got put into a few situations that provided teaching points going forward.
"Coach (Scott) Frost put us in some good situations that we need to teach from and get that dialed in," Chinander said. "Because with this older group it's going to be a little bit more about getting lined up and executing the defense, more about mastering the situation as we move forward."
Hutmacher knocking on the door: The top six players in Nebraska's defensive line appear to be set.
But a highly touted freshman isn't too far away from being in the mix.
NU assistant Tony Tuioti said Tuesday that Nash Hutmacher has had a strong camp, and has separated himself from the pack of young players battling to fill in the spots behind NU's veterans up front.
"Out of all the young guys, he's a guy that I'm really excited about," Tuioti said. "These young guys are coming along, but Nash out of that group has been a guy that's ahead of the pack.
Hutchmacher arrived at NU last year with a big reputation, build on his prodigious exploits in the weight room, his dominance in South Dakota high school football, and his four state wrestling championships.
The 6-foot-4, 325-pounder played in just one game last season, the season finale against Rutgers
Tuioti has long expressed confidence in his top six up front — Ben Stille, Deontre Thomas, Damion Daniels, Jordon Riley, Ty Robinson and Casey Rogers.
The coach has also said he'd like to have seven or eight players in his defensive line rotation. Hutmacher appears to be next in line.
"We knew he was big and strong, he can be stout at the point of attack," Tuioti said. "But he's done a really good job of being athletic. He's improved his pass rush game as well, being able to collapse the pocket and win outside on the edge."
Johnson finding his place: Tyreke Johnson, the transfer defensive back from Ohio State, has fit in well through his first couple of weeks of practice, Chinander said. The former five-star recruit understands technique, and his experience with the Buckeyes has helped ease the transition.
"Obviously he's got some experience in the league, he's played in games, so the situation's really not too big for him like it is for a new guy sometimes coming in the program, whether it's from a smaller school or a freshman," Chinander said. "He's got a lot of confidence, he's got a lot of grit to him, and he also knows the technique really well. It's just learning a new language probably for him with the new defense.
"But he's a really good football player, he's got good movement skills. He's done some really nice things through nine practices."
High praise: As Tony Tuioti assessed the Nebraska defense's play in Sunday's scrimmage, the Husker defensive line coach took time to single out Damion Daniels.
"I think he's probably having the best training-camp practices that I've seen since I've been here," Tuioti said of the 6-foot-3, 325-pound junior nose tackle. "He's been doing a really good job leading the charge for us on the defensive line."
A native of Dallas, Daniels played in all eight games last season, with three starts. He set career highs in tackles (20) and tackles for loss (four).
But he's evidently pushed his game to a higher level. The main difference?
"He's in shape," Tuioti said. "And, mentally, he's in the right place. He's a guy (in the past) that I talked about only taking two or three reps at a time. Now I can push him to seven, push him to eight, and he's not asking to come off the field. He's got a really, really good mindset. He's done a really good job of taking care of his body, cutting weight down.
"He's going to be ready to go."
Revved-up motor: Now in his third year in the program, cornerback Quinton Newsome is in the midst of establishing himself as a key player on Nebraska's defense.
What has been the key to his rise?
"I would say it's my drive," the 6-1, 185-pound sophomore said. "I really have a motor in me that keeps me going. It's also about making plays and not making too many mistakes. You've got to get in the film room. I live here. I stay here 24/7. I never really go home. So when I make a mistake, it's a quick fix."
That's a good approach because competition in training camp is intense. For instance, Nebraska secondary coach Travis Fisher said Tyreke Johnson, who joined the team in the summer after spending three seasons at Ohio State, has fit in well in the secondary room.
Johnson has bolstered competition at the corner spot.
Newsome is comfortable with it.
"It's just a game," he said. "It's like I've said before, no matter where you go there's going to be competition. A new guy coming in, he's going to make me go harder. Even with Braxton (Clark), he makes me go harder."