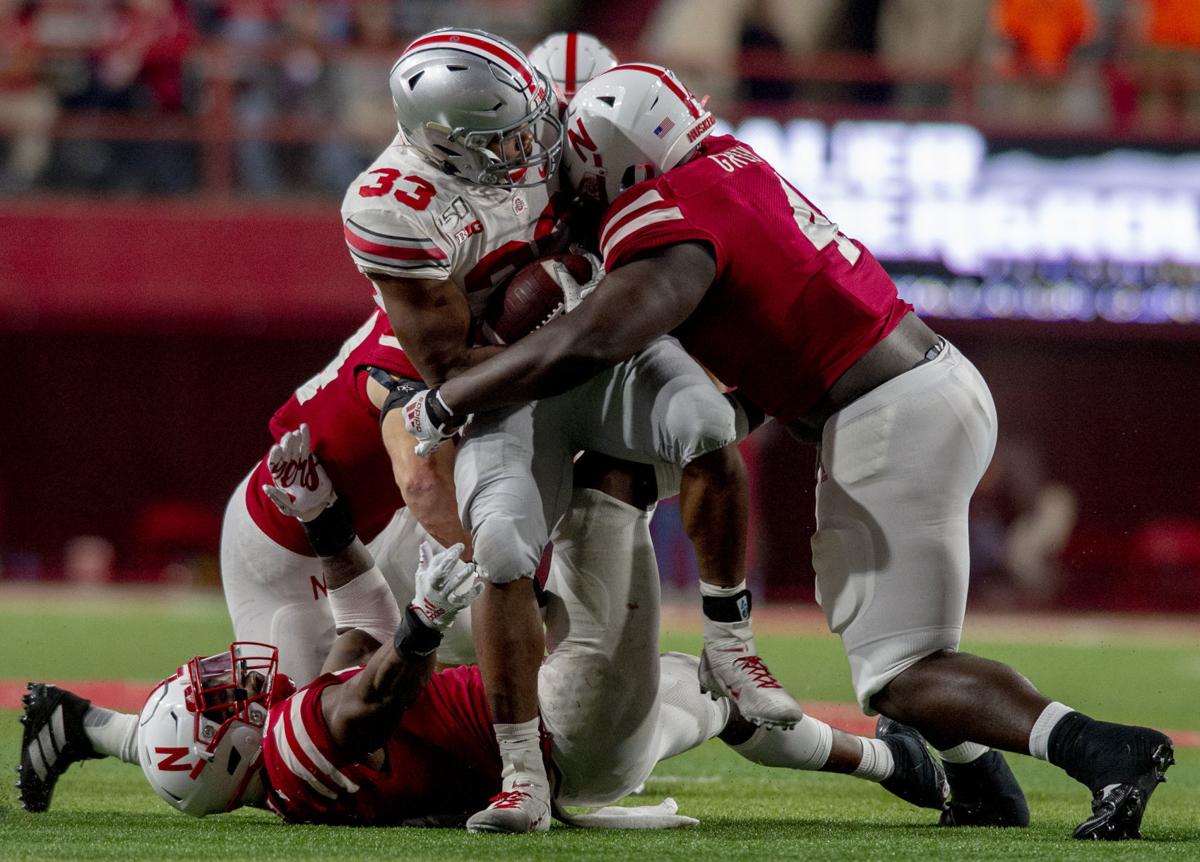 Nebraska is going to need all the help it can get up front against Wisconsin on Saturday — and down the stretch in general against Maryland and Iowa — and a couple of redshirt candidates are in line to potentially help.
Junior Keem Green and freshman Ty Robinson are both in the picture to help over Nebraska's final three games, defensive line coach Tony Tuioti said Tuesday.
"We'll see those guys out there this weekend," Tuioti said.
It's not hard to figure out why.
"Keem's going to be ready to go. He's going to be up and playing for us," Tuioti said. "We're going to need as many big bodies as we can, especially with the group that's coming in that's going to be big and physical."
Most junior college players don't redshirt, but Green (6-foot-5, 315 pounds) had a year available and didn't arrive until late in preseason camp from Highland (Kansas) Community College. Robinson (6-6, 315) was a four-star prospect in high school in Arizona.
They've been on similar plans this fall, available in case of a rash of injuries but in line to preserve a year of eligibility if possible.
"Those guys have been practicing, learning the playbook, so those guys will be up for us this week," Tuioti said. "It was mental, obviously they're doing a great job with (strength coach Zach) Duval getting bigger and stronger, but just wanted to have a plan for them in place on the back end (of the season) and save enough game so they can go out and play."
One other consideration: Senior captain Darrion Daniels did not practice on Tuesday. He's been playing through injury and was limited against Indiana and Purdue. 
Taylor praise: Entering the 37th game of his college career, Wisconsin running back Jonathan Taylor already has become just the fourth player in FBS history to rush for 5,000 yards before the end of his junior season.
You have free articles remaining.
Others who did it: Herschel Walker of Georgia, Ron Dayne of Wisconsin and LaMichael James of Oregon.
The 5-11, 219-pound Taylor, who has 1,259 rushing yards on 6.1 per attempt this season, reminds Nebraska inside linebackers coach Barrett Ruud of former Husker great Ahman Green.
"He looks at times like he's kind of gliding," Ruud said. "He's got a really smooth stride and I've never seen the guy get caught from behind. He's also a big body that has the ability to not only run through guys but also have a very subtle wiggle to get past them."
Do your job: A defense needs to be disciplined no matter the opponent. But Wisconsin's style of offense forces a higher level of focus than most, NU defensive coordinator Erik Chinander said. 
"When Bill Belichick came out and talked about, 'Do your job,' right, some people kind of bought in, other people kind of laughed — (but) that's what it is. Everybody do your job. If everybody did their job every play on defense, we probably win three more games. And I'm sure it's the same way on offense and special teams. But everybody needs to do their job every play," Chinander said.
"In this type of game, everybody needs to play in their gap. Everybody needs to execute, or that guy gets a crack this big and she's over. So everybody's got to do their job every play. It's not just Wisconsin, it's every single game. And we've seen that come to fruition in three football games so far. But obviously this week, it's critical."
Young backers impressive: Although they're not seeing playing time on defense, Nebraska true freshman inside linebackers Nick Henrich, Luke Reimer and even Jackson Hannah have been impressive behind the scenes with their work ethic, according to Ruud.
"I guess the number one thing I like about them — similar to Garrett Nelson — is they like the game. Love the game. They're into football," said Ruud, their position coach. "That's the biggest thing. They're up there in the (coaches' offices) even when they don't have to be. If you're not playing, sometimes it's hard to go watch a bunch of film and be around it.
"But that's what these guys like doing. They're up there. They're working. That's what I've been most excited about."
— Parker Gabriel, Steven M. Sipple and Chris Basnett
Watch: Domann on preparation for Wisconsin standout running back Taylor
Watch: Domann talks matching up against a 'big' Badgers offense
Watch: Martinez rehashes Purdue game, takes responsibility for loss
Watch: Taylor-Britt says there is "new spirit" in the locker room after second bye week
Watch: Frost looking for more consistency, decision-making from Martinez
Watch: Frost on awarding final scholarship to Mazour