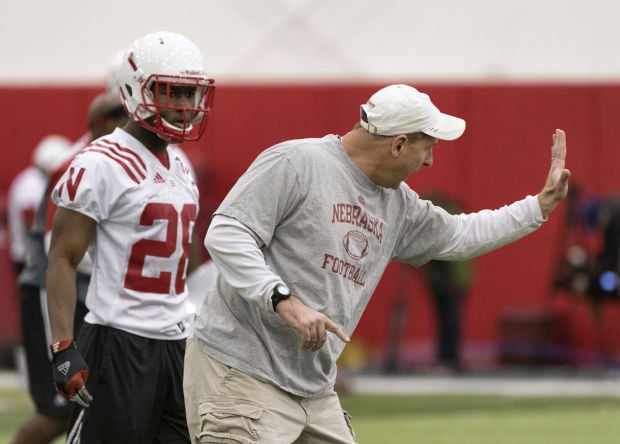 This newcomer isn't messing around.
Junior college transfer Byerson Cockrell continues to bolster his case for an important role on the Nebraska defense, working Monday with the first team at cornerback opposite Josh Mitchell.
Though the 6-foot, 185-pound Cockrell arrived at NU in January, he's positioned himself as one of the lead contenders to fill the void left behind by Stanley Jean-Baptiste. Junior Jonathan Rose has also seen time with the top unit.
"He's really picked things up well," Nebraska coach Bo Pelini said of Cockrell after Monday's practice. "He competes. He's fast and can change direction, and he's physical. He plays with an attitude. I like what I've seen so far. He's going to help us."
Pelini also likes Cockrell's versatility. The native of Columbus, Miss., played safety last season at East Mississippi Community College and had three interceptions, four pass breakups and 33 tackles, including two sacks.
Cockrell was among three members of the 2014 recruiting class to join the NU program in January. Since arriving in Lincoln, he's worked at both nickel and corner, although Pelini said Cockrell is working mostly at corner because Charles Jackson is playing so well at nickel.
"I think Cockrell can help us in a number of different ways," Pelini said.
* LEWIS MEETING REQUIREMENTS: Pelini said Monday the justice system threw Alex Lewis "a little bit of a curveball" recently when a Colorado judge sentenced him to 45 days in jail for his role in a fight last May.
"It wasn't the sentence probably anybody expected," Pelini told reporters after practice. "From the kid's standpoint, you deal with the hand you're dealt and make the best of it.
"I know he'll handle it the right way."
Pelini figures that will be the case because Lewis, projected to be the starting left offensive tackle, has handled himself well at NU, the coach said. The junior has been taking classes at NU since last fall and joined the football team this semester following his guilty plea in December to third-degree assault, a misdemeanor.
"Our administration on the other side of campus kind of (said), 'These are the parameters you're going to have to abide by and do before we put you on scholarship and welcome you in,'" Pelini said.
"They kind of laid out a plan for him — that I wasn't really a part of — and said (he) can't deviate from that plan. He's done that every step of the way. He's just exceeded expectations."
Pelini said Lewis has done well academically.
Boulder (Colo.) District Judge Patrick Butler said Lewis will be allowed to finish this semester before serving the jail sentence. The judge said he was encouraged by Lewis' work in school, but still felt punishment was necessary.
The 21-year-old Lewis will be allowed to complete the probation in Nebraska.
"He obviously made a mistake. He's paid dearly for that mistake. And continues to pay for that mistake," Pelini said.
* CHARGING AHEAD: Though Monday was the Huskers' first practice after a 10-day break, rust was not easily apparent.
"Coming off a break, I thought the tempo was pretty good, I thought the recall was pretty good," Pelini said. "But like I told our guys, 'We've got to pick it up and keep working here and finish this spring up the right way.' But I like where we're at right now."
* FIRING AWAY: While the defense has won more battles than it's lost this spring, the Husker offense came out of the break landing its share of punches.
Offensive players raced to slap Terrell Newby on the helmet when the sophomore running back got loose for an 80-yard touchdown pass from Johnny Stanton on a wheel route. The defense appeared to have a busted coverage on the play. 
Not to be outdone, walk-on quarterback Ryker Fyfe continued to make his case for the backup job, leading a touchdown drive while working with the No. 1 offense against the top-unit defense.
Senior running back Ameer Abdullah praised Fyfe's poise on the drive and his ability to get into the right plays to exploit the defense.
"He's really, really talented," Abdullah said. "He doesn't talk much. He comes out and he's about his business. When a play needs to be made, he's always making a play. Every time, every practice this spring, I can't remember when he hasn't made a play. I've seen a lot from him."
* INJURY UPDATES: Junior center Ryne Reeves was back at practice after an injury scare just before the break, when he felt a stinging sensation in his neck.
"Obviously, it was just precautionary when it happened," Pelini said. "Any time you get someone who has any pain in the neck, so we took him over to the hospital and he checked out OK. He felt good and I think the week off obviously helped him."
* VERSATILE COLLINS: Coaches continued to give sophomore Maliek Collins some reps at defensive end in addition to his tackle duties.
"Maliek can contribute in any set," Pelini said. "He's a very talented kid."
Abdullah took that another step, saying Collins has the ability to be the best defensive tackle in the conference.
"I'm telling you right now, he's probably going to be an All-American before it's all said and done," Abdullah said.
* TV DINNER: The April 12 Red-White Spring Game will be televised by BTN on a tape-delay basis the same day, with the broadcast beginning at 7 p.m. Kickoff is set for 2 p.m. Larry Punteney and Damon Benning will call the game for BTN.
The game will also be streamed live on BTN2Go.
Tickets for the game are available online at Huskers.com or by calling the Nebraska Athletic Ticket Office at 1-800-8-BIG-RED. All seats are reserved and cost $10. Youths taking the Drug Free Pledge will be admitted for free, but must call the Ticket Office to secure a complimentary ticket. As of Monday morning, 41,200 tickets had been sold.
* TWEETS OF THE DAY: Mitchell tweeted this after Monday's practice: "Just went to war with the wind outside smh." Quarterback Tommy Armstrong responded: "That's what happens when you weigh 160!!!!"
— Brian Christopherson, Brian Rosenthal and Steven M. Sipple