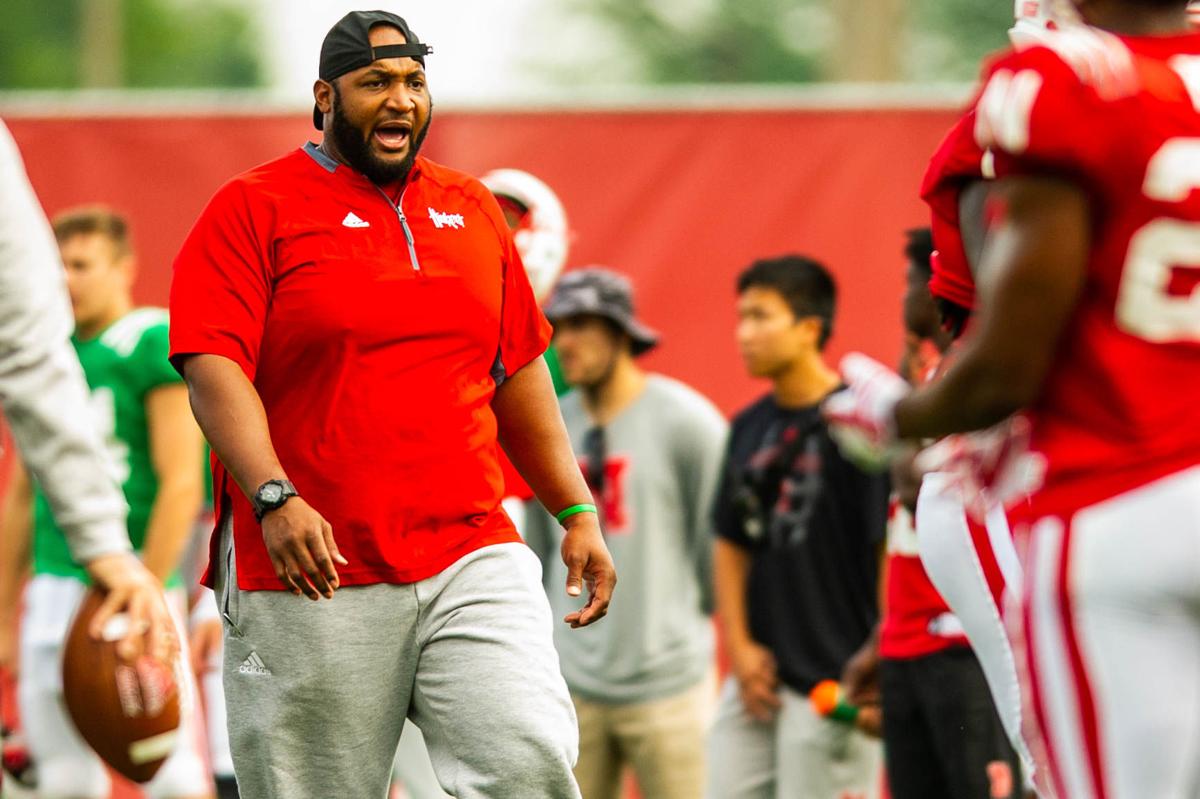 When Hardy Nickerson resigned as Illinois' defensive coordinator following a 63-33 loss Oct. 27 at Maryland, Illini coach Lovie Smith became the team's defensive play-caller.
That change has affected Nebraska's preparation this week significantly, Husker offensive line coach Greg Austin said Wednesday.
The teams square off at 11 a.m. Saturday in Memorial Stadium.
"It changes from the standpoint of numbers and metrics and tendencies in different situations like third down and even first and second down. What are they doing?" Austin said. "Everybody has a different vision of what they think it should look like."
"There's certainly a difference in philosophy (with Smith calling the defense)."
Illinois (4-5, 2-4 Big Ten) ranks 127th nationally in total defense. The unit endured a dismal three-game stretch against Purdue, Wisconsin and Maryland in which it allowed 158 points (52.7 per game) and 1,868 yards (622.7).
With Smith running the show in last week's 55-31 win against Minnesota, the Gophers gained 438 yards. But 152 of those came in their final two possessions of the game.
Because of the changes under Smith, Austin said, Nebraska coaches likely will be making adjustments as the game goes along.
"They have only one game under their belt with a new coordinator," Austin said. "They're just going to expand on the packages they have and add in some wrinkles here, there or wherever. It's going to be a little bit of a guessing game, but those games are fun."
Because Smith uses more defenders on the line of scrimmage, "they're going to take us off of some of our double-team blocks," Austin said. "I've been stressing to the guys that it's a man-with-a-man game, so know your matchup and, you know, destroy your matchup."
Miles Jones out for season: Freshman running back Miles Jones will miss the rest of the season after undergoing shoulder surgery, Husker offensive coordinator Troy Walters said.
Jones played only against Bethune-Cookman this season and had surgery after that contest. He had one rush for 5 yards and a 21-yard reception in that game.
"We wanted to make sure he'd be back for spring," Walters said. "We've got to get him healthy, ready to go."
Jaimes coming on strong: Nebraska left tackle Brenden Jaimes has been "playing at a pretty high level" of late, according to Austin.
"He's doing his job way more consistently than he was at the beginning of the year, in the run game and the pass," Austin said.
The sophomore's progress has been particularly pronounced since the 56-10 loss Sept. 22 at Michigan.
"I can tell you one thing about him, he's been way more consistent with his assignments, his eye discipline, his set lines," Austin said. "His athleticism speaks for itself, but he's developed into a pretty good player."
Austin said Jaimes' increased familiarity with the coaching staff has helped matters.
"I always say it, man — in order for you to correct a guy, you have to first connect with him," the coach said. "Over the course of the spring and even fall, there's always been that connection with not only me, but with other coaches on the staff. As he's been more comfortable with us, now we can really dig into him, so to speak.
"Everything is constructive criticism, but it's more, 'Hey, the buck stops here, let's get this stuff done.'"
Planning recruiting visits: Nebraska has two home games remaining, which means two more chances at hosting recruits on game weekends. Saturday against Illinois will be difficult for many prospects because of the 11 a.m. kickoff, which makes Nov. 17 against Michigan State a potentially huge weekend.
Not only could that be a later kickoff, but junior college regular seasons will be completed.
"The thing we don't want to do is bring in 20 guys," running backs coach Ryan Held said, confirming that coaches will try to bring some transfer candidates in. "You can't entertain 20 guys on a weekend where we have a huge Senior Day, big game. We want to be able to get these guys, as many as we can, up to see our venue and everything, but also you want to be smart and not put yourself in a position where we can't do a good job."