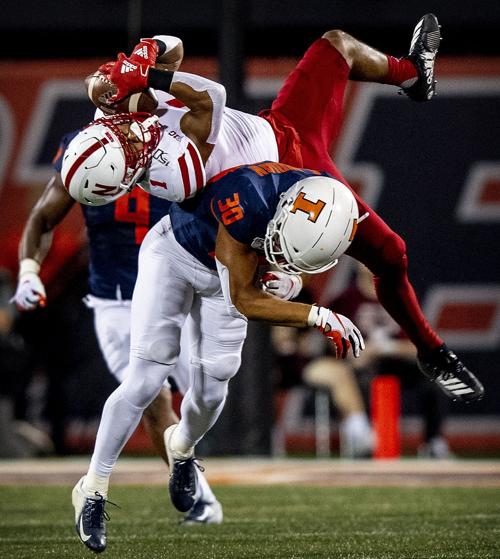 Nebraska found itself in a new position this week as it prepared to host Illinois on Saturday at Memorial Stadium.
Its task was to handle success for the first time this fall, as opposed to trying to bounce back from a loss or a canceled game.
"I think we're ready," coach Scott Frost told reporters Thursday. "That was the message all week, that you can't relax after a win. You have to be that much more committed to being really good and to getting better during the week.
"Defensively, I think we're doing a really good job of that because we're more veteran on defense and I think those guys get it. Offense, I think it's been a process of bringing the young guys along the whole year and trying to lean on our veterans, but I was pleased with the intensity and the attitude this week."
12 Blackshirts handed out: Nebraska waited until this week to hand out Blackshirts. Essentially, the starting unit earned them.
Frost said Thursday that he thought players were given them maybe too quickly the past couple of years.
"They don't have them permanently," Frost said. "If they don't live up to the standards of a Blackshirt, they won't keep them. I don't want this to be like Halloween where you just walk up and knock on the door and get a piece of candy. It's got to be a little harder than that."
The 12 recipients: defensive linemen Ben Stille, Damion Daniels and Ty Robinson; outside linebackers JoJo Domann, Caleb Tannor and Garrett Nelson; inside linebacker Collin Miller and Will Honas; and defensive backs Dicaprio Bootle, Cam Taylor-Britt, Deontai Williams and Marquel Dismuke.
"Those kids won us a game last week with their play at the end of the game and they deserve them," Frost said. "But they have to keep doing the things that they need to do to continue to deserve them."
Adjusting to adjustments: Frost said Thursday that he and his coaching staff need to do a better job of adjusting when defenses throw them different looks than they're expecting.
The third-year coach thinks the nature of his offense, which relies heavily on quarterback read and quarterback run game, tends to lead defenses to try unique things that they don't show against other teams.
"I said a lot of complimentary things about Northwestern. When you watch them, they're in pretty much the same look, a lot, and they're really good at it," Frost said. "We got in the game against them and they did some things that we've never seen them do. Again, we have to be able to adjust a little better to that, and that's kind of what we've always dealt with running the offense that we run, with a little more heavy read and quarterback run and those things.
"Illinois definitely played us different last year than they did the first year and I kind of expect maybe some change-up this week, so we just have to be ready to manage it."
Ball carriers beware: One thing that will not change from Illinois will be its attempts to take the football away.
The Illini are tied for second in the Big Ten with four fumble recoveries so far this season and are fifth overall in takeaways with eight. A year ago, Lovie Smith's defense led the conference in both takeaways (28) and recovered fumbles (16).
A quarter of those recovered fumbles came in Nebraska's 42-38 win in September.
"They've caused about as many fumbles as anybody in the country this year, and going back, and we need to take care of the football," Frost said. "We won the turnover battle Saturday (against Penn State), but we fumbled five times up there last year, lost four of them, gave them a lot of points off those.
"They're scoring a lot of points off those against everybody, so we have to be really good at taking care of the ball and the young guys need to know that."