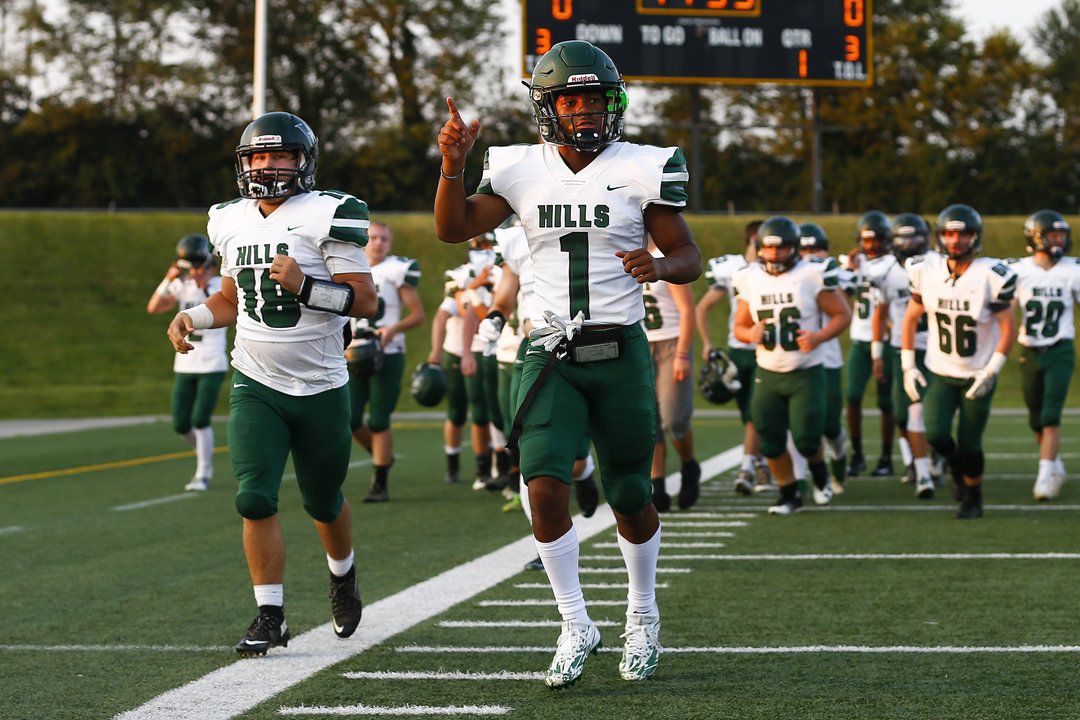 Nebraska's coaching staff took a family road trip to Kentucky on Monday, and just about everybody was invited.
Husker coach Scott Frost and at least seven of NU's 10 assistants hopped on the jet in Lincoln and made for Frankfort, Kentucky to see their most recent verbal commit, running back Wandale Robinson.
Along with Frost on the visit were offensive coordinator Troy Walters and running backs coach Ryan Held -- Robinson's two main recruiters -- offensive line coach Greg Austin, tight ends coach Sean Beckton, defensive line coach Mike Dawson, linebackers coaches Jovan Dewitt and Barrett Ruud. 
It's the first the Nebraska coaches have been by to see Robinson since he flipped his commitment from in-state Kentucky to NU on Wednesday and the last time they will see him before he wraps up high school and signs his National Letter of Intent on Dec. 19.
It won't be long until the group is re-united, though, as Robinson is enrolling at Nebraska in January and will be on campus shortly after New Year's Day.
Typically, assistants spread out this time of year in order to cover the most ground possible, but it's clear the Husker staff felt a celebration was in order for Robinson, who originally settled on NU but flipped to Kentucky the night before a Nov. 1 ceremony at his school before wavering and eventually choosing the Huskers again on Dec. 5.
The staff will spread out after visiting Robinson, heading south to Georgia and Florida and assuredly more locations as the final week of the contact period moves along.
Stretch run: Nebraska begins the week with 22 verbal commitments and a whole lot of moving pieces still on the recruiting board.
Not all of them will be put in place by the time the final week of travel and final weekend of visitors — for now — is over, but at least a few will crystallize between now and National Signing Day on Dec. 19.
How much is settled in the next nine days and how much carries over into January, though, remains to be seen. The Huskers have up to eight spots to fill and have targets at positions across the board that have visited or could visit.
You have free articles remaining.
Among the groups that's seen the most recent activity is wide receiver. NU, of course, got a verbal commitment last week from Kentucky standout Robinson, who the coaching staff envisions lining up all over and filling a number of roles, who joined Jamie Nance (Blanchard, Oklahoma) and Darien Chase (Vancouver, Washington) at that spot.
NU still appears to be actively pursuing more options, too. On Sunday, the Huskers offered Charles Njoku (Wayne, New Jersey). The younger brother of NFL tight end David Njoku, Charles is listed at 6-foot-5 and 200 pounds and is a different body type than anybody the Huskers have committed this cycle. Really, he's different than anybody on the roster, especially now that freshman Justin McGriff announced he's transferring.
Njoku, who had more than 1,100 yards and 16 touchdowns during his senior season, was committed to Missouri until late November, but is now considering his options. Look for NU to try to get him on campus in January. He is considered a four-star prospect by Rivals and a three-star prospect by 247Sports and the 247Sports composite ranking.
It will be interesting to see if they can get a January visit, too, from recent Texas decommit Demariyon Houston (Oklahoma City). He visited Minnesota last weekend.
Throw in the possibility of exploring the transfer market — graduate, junior college or otherwise — and there would seem to be plenty of action remaining at receiver over the next few weeks.
Wallace picking up more interest: There's still plenty to sort out in the secondary, too. 
The Huskers hosted Tony Wallace (Independence (Kan.) C.C.) earlier in December. Wallace visited Minnesota last weekend and picked up an offer from TCU on Sunday.
Elsewhere, four-star Noa Pola-Gates isn't expected to announce his decision until Jan. 19 at the Polynesian Bowl, but he's the kind of player NU would gladly take regardless of when he decides.
The Huskers also have other defensive back prospects who they've hosted on visits during the season like Jamel Starks (Decatur, Georgia) and Tavian Mayo (Leesburg, Georgia).
| Name | Pos. | Ht. | Wt. | Hometown (School) | Stars |
| --- | --- | --- | --- | --- | --- |
| Matthew Anderson | OT | 6-7 | 250 | Leesville, La. | *** |
| Brant Banks | DL | 6-8 | 285 | Houston (Westbury Christian) | *** |
| Bryce Benhart | OT | 6-9 | 305 | Lakeville, Minn. (North) | **** |
| Desmond Bland | OL | 6-4 | 300 | Flossmoor, Ill. (Arizona Western C.C.) | **** |
| Darien Chase | WR | 6-1 | 175 | Vancouver, Wash. (Union) | **** |
| Myles Farmer | DB | 6-3 | 180 | Atlanta (Westlake) | *** |
| Jimmy Fritzsche | OL | 6-7 | 250 | Greenville, S.C. | *** |
| Jamin Graham | OLB | 6-6 | 240 | Attalla, Ala. (Etowah) | *** |
| Jackson Hannah | ILB | 6-3 | 220 | Nashville, Tenn. (Montgomery Bell) | **** |
| Nick Henrich | ILB | 6-4 | 210 | Omaha (Burke) | **** |
| Chris Hickman | TE | 6-5 | 220 | Omaha (Burke) | *** |
| Rahmir Johnson | RB | 5-10 | 170 | Oradell, N.J. (Bergen Catholic) | **** |
| Michael Lynn | OT | 6-7 | 300 | Englewood, Colo. (Cherry Creek) | *** |
| Luke McCaffrey | QB | 6-3 | 185 | Littleton, Colo. (Valor Christian) | *** |
| Dedrick Mills | RB | 5-10 | 227 | Waycross, Ga. (Garden City C.C.) | *** |
| Jamie Nance | WR | 6-0 | 170 | Blanchard, Okla. | *** |
| Garrett Nelson | OLB | 6-3 | 235 | Scottsbluff | *** |
| Mosai Newsom | DE | 6-5 | 260 | Waverly, Iowa (Waverly-Shell Rock) | *** |
| Quinton Newsome | DB | 6-2 | 180 | Suwanee, Ga. (North Gwinnett) | *** |
| Ethan Piper | DL | 6-4 | 275 | Norfolk (Catholic) | *** |
| Ty Robinson | DE | 6-6 | 285 | Gilbert, Ariz. (Higley) | **** |
| Wandale Robinson | RB | 5-9 | 180 | Frankfort, Ky. (Western Hills) | **** |
| Garrett Snodgrass | ATH | 6-3 | 225 | York | *** |
| Ronald Thompkins | RB | 6-0 | 203 | Loganville, Ga. (Grayson) | *** |
| Javin Wright | DB | 6-3 | 195 | Chandler, Ariz. (Hamilton) | *** |