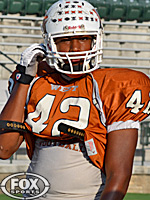 Nebraska dinged one of its old Big Eight rivals Sunday when defensive end Dimarya Mixon completed his commitment flip, switching allegiances from Missouri to Nebraska.
One of three recruits visiting Lincoln this weekend, Mixon said he knew where he was leaning after lunch Saturday with coaches.
He called Nebraska his "dream school."
"Nebraska was a school I always liked, even back in the spring," Mixon said before catching a flight back to his home in Mesquite, Texas. "After I got the chance to speak with coaches and sit down with Coach (Bo) Pelini, I just felt it was the right thing to do."
Rated a three-star prospect, Mixon had a healthy list of offers, including from Arizona State, Ole Miss, Baylor, West Virginia, Syracuse, Colorado, Illinois and Purdue.
Mixon once was committed to Arizona State, before swtiching to Missouri on Dec. 8. He found himself on the fence again when Nebraska came with an offer last Tuesday.
By Saturday night, when news spread that Mixon had decommitted from Missouri, the writing was on the wall.
Although the Nebraska offer came late in the process, Husker defensive line coach Rick Kaczenski was no stranger to Mixon. He'd known him since they started communicating back in the spring.
Mixon's uncle, Horace Phillips, helped advise his nephew as he decided what to do. And he knew Nebraska was going to be tough to beat once the offer arrived.
"C'mon, now, if you're a kid that grew up watching football, you know about Nebraska — you know about that 'Big Red,'" Phillips told BigRedReport.com. "It's a big-time program with so much history and tradition. Once they came into the picture, it was hard to pass."
Husker coaches have been on a mission to build depth on the defensive line in this class after finding themselves somewhat short-handed on the front four at the end of last season.
Of the 25 pledges now in the Husker class, six are defensive linemen.
The 6-foot-3, 265-pound Mixon joins Ernest Suttles (Tampa, Fla.), A.J. Natter (Milton, Wis.) and junior-college prospect Randy Gregory (Arizona Western Community College) listed as defensive ends in this class.
While listed as an end for now, Mixon said coaches have discussed the possibility of his adding more weight and moving inside to tackle at some point.
Mixon gives Nebraska its third commitment since Wednesday, with athlete Drake Martinez and offensive lineman Chongo Kondolo also committing this week.
Husker recruiting news — good and bad -- has been coming at a frenetic pace the past month. Since playing in the Capital One Bowl, Nebraska has lost three commitments — Marcus McWilson, Dan Samuelson and Dominic Walker. But the Huskers also have added 11 players.
The class could have as many as 28 recruits, though it might not reach that size with national signing day Wednesday.
But very realistic additions still remain on the table.
On Wednesday, there will be at least two players announcing decisions that involve Nebraska.
Athlete Jacquille Veii (Gaithersburg, Md.), who was one of the visitors to Lincoln this weekend, tweeted Sunday that he will announce his school of choice at 10:30 a.m. Wednesday. Maryland and Iowa also are in the running with Nebraska for Veii.
And according to HuskerOnline.com, offensive lineman Dwayne Johnson of Houston will announce Wednesday his decision between Nebraska and Arkansas.
The recruiting website reported that he already has told both coaching staffs of his decision.
Another option for Nebraska is wide receiver Devin Scott (Harvey, La.), whose visit to Lincoln this weekend was his only recruiting visit anywhere.
Scott, who visited without any relatives, is committed to Louisiana-Lafayette. He's now faced with the decision of staying close to home or playing for a bigger program.
He wants to talk things over with his mother and high school coach. He told HuskersIllustrated.com he didn't know when he'd make a decision.