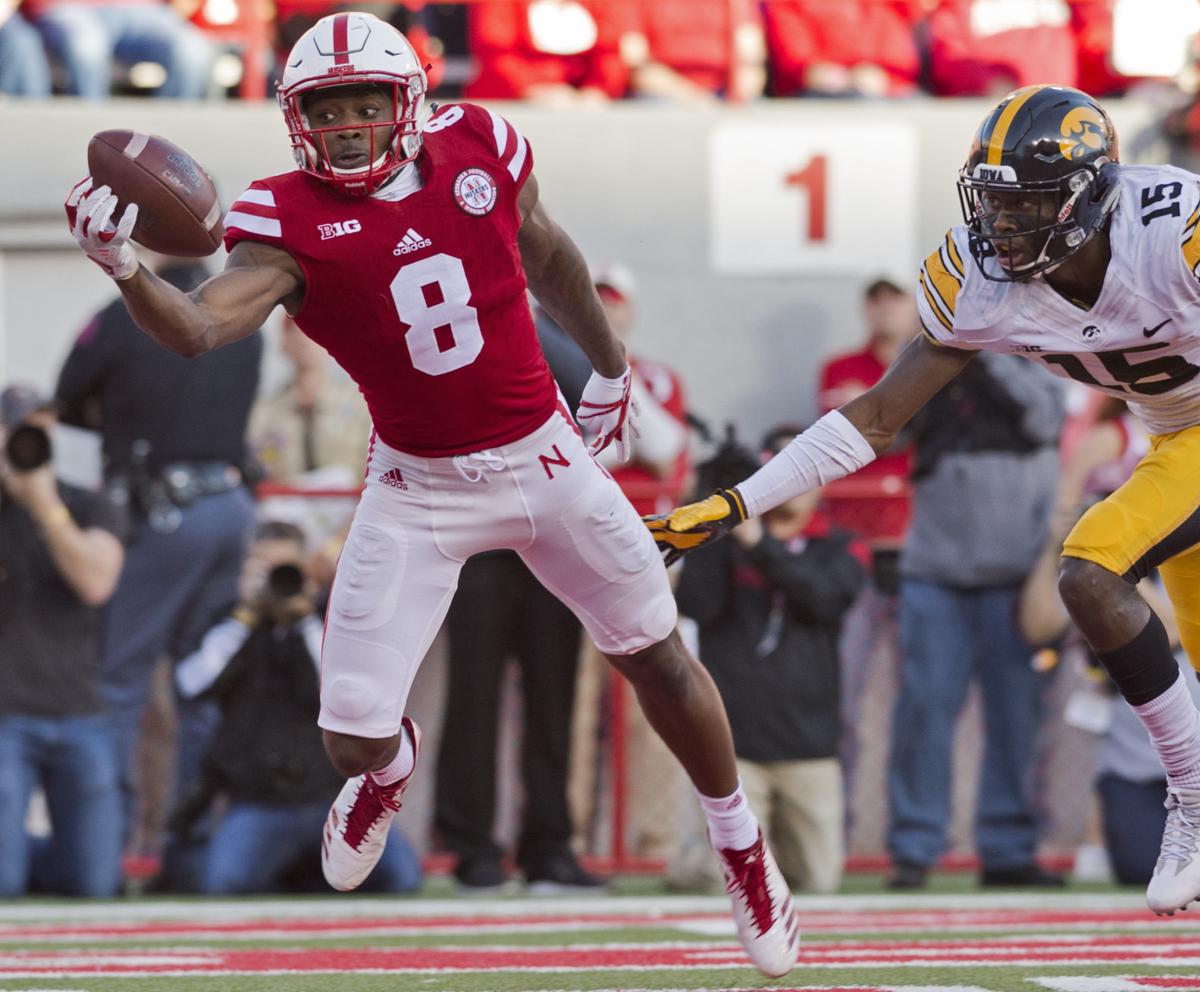 Stanley Morgan is a dude, and you need to be a dude to excel in Scott Frost's uptempo offense. 
The top returning statistical receiver in the Big Ten has already made an impression on Nebraska's new coaching staff, inspiring one of the more memorable quotes from spring workouts, which are all of 3 practices old.
"Stanley's a real guy," Frost said after Nebraska's first spring practice. "He's what we want in this offense. He's taken over a leadership role and done a good job with that. We're glad to have him on the team, and he's going to be a big part of what we do."
As the go-to man last season in Nebraska's attack, Morgan set a new school record with 986 receiving yards (on 61 catches) to go with 10 touchdowns as a junior.
The numbers were big enough that talk of Morgan leaving for the NFL quickly began, and only intensified after Mike Riley was fired. Morgan said this week he never seriously considered leaving, and that the hiring of Frost only solidified his decision today.
"I mean, you saw the offense last year," Morgan said of Central Florida's attack. "They throw that thing, they open it up for everybody."
Tre'Quan Smith took advantage for the Knights, finishing the season with 1,171 receiving yards and averaging nearly 20 yards per catch. New Husker offensive coordinator and receivers coach Troy Walters has made it clear Morgan can put up the same type of numbers in Lincoln, calling Morgan one of the best he's seen in his 10 years as a coach.
"He's right at the top. He's been there and done that. Has great size. Great ball skills. Physical player and plays with an attitude. He's really come in and grasped the offense," Walters said. "We're going to count on him to be the guy. At UCF we had Tre'Quan Smith, and he was our guy. Our featured player. And Stanley will be that guy."
The 6-foot-1, 195-pound New Orleans native has gone head-first into learning the playbook and adapting to the speed at which his coaches want him to play. His excitement after Tuesday morning's workout was clear. Still sweating after the two-plus-hour practice that began at 7:45 a.m., Morgan grinned his way through nearly 10 minutes of questions. He had the enthusiasm of a rookie, and the knowledge that comes with being a senior.
The offseason was spent polishing his already strong fundamentals. "Getting back to basics," as he put it.
Morgan was one of the many beneficiaries of Nebraska's new offseason workout plan, adding 6 pounds of muscle and taking on a leadership role both among his fellow receivers and the rest of his teammates.
"That first workout, man, it was crazy. I couldn't walk for a week," Morgan said. "Just preparing myself for practicing. Preparing myself like a pro, and preparing myself like a leader. 
"I've got to come ready every day. I've got to come ready to lead the guys, so I can't take no days off."
The end goal in all this? Become even more of a go-to player than he was last year. He figures to get plenty of chances.
"Just prove to myself that in and out, every week, I'm that guy," he said.