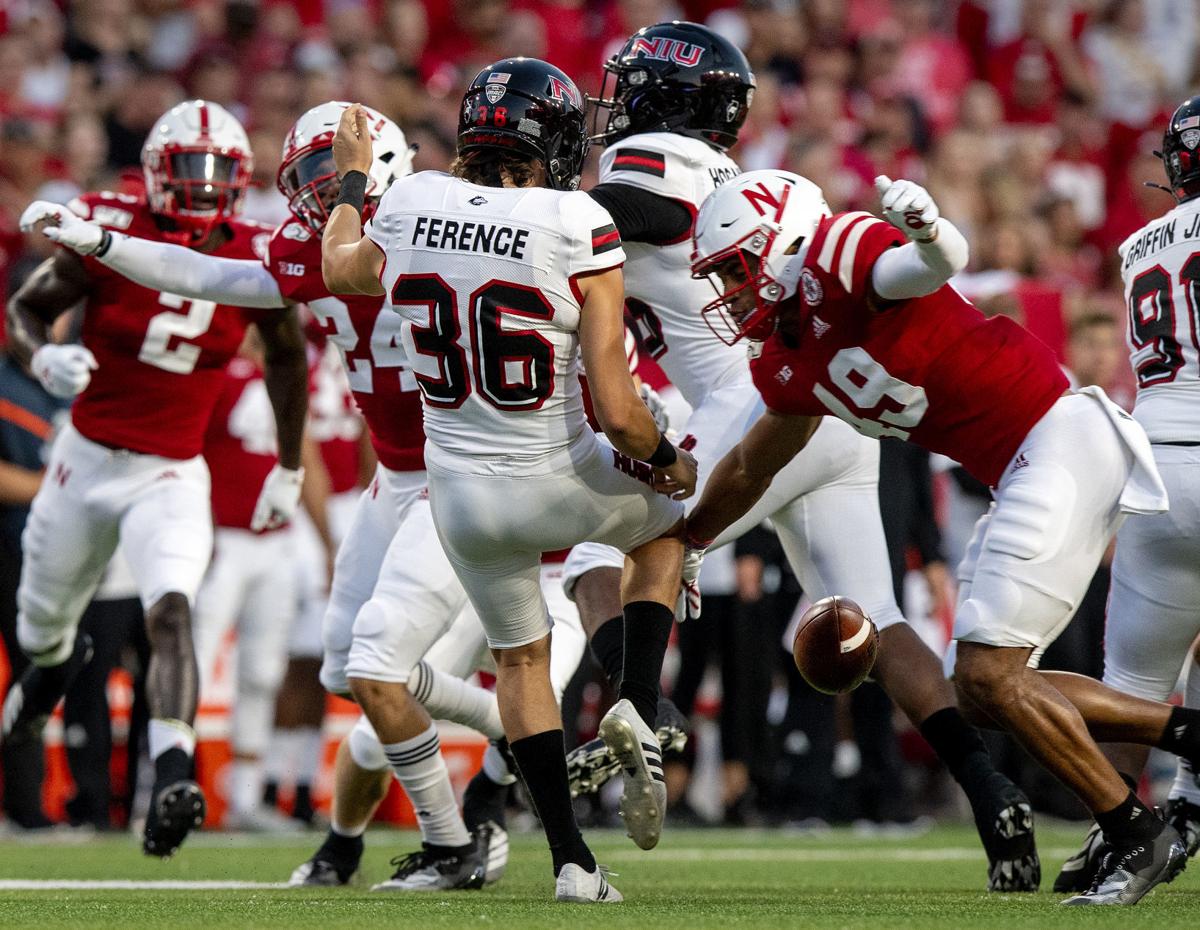 Isaiah Stalbird has a pretty good idea of what the reaction was after the first depth chart of the Nebraska football season came out before the South Alabama game, and Stalbird was listed as No. 2 at one of the safety spots.
"For people outside, I think it was a surprise. They're probably like, 'Who is this kid?'" Stalbird said on Tuesday.
The answer is a redshirt freshman from Kearney who began to make a move during fall camp after sitting out last season as a redshirt.
Stalbird played Class A football in high school at Kearney but wasn't a big name until his senior year. As a sophomore and junior he says he mostly played on special teams.
But as a senior he was a Lincoln Journal Star Super-State defensive back. He had 77 tackles, four fumble recoveries and two interceptions.
Stalbird was kind of late to the college recruiting process, so he was probably headed to Wyoming as a preferred walk-on until he got invited to a walk-on recruiting event at Nebraska.
"He was another kid who was unsure about where he would be or how we felt about him," defensive backs coach Travis Fisher said. "I had to pull him to the side and say, 'Hey, look, you're doing a great job, just stick with me.' He's done everything I've asked him to do and even more. He's made such huge strides on special teams and because of special teams, he's making huge strides on defense at a very young age."
Now Stalbird is making plays on special teams for the Huskers. Against Northern Illinois he was disruptive on the punt team, forcing a fumble when the punter tried to avoid Stalbird, and then blocking a punt.
Stalbird got to the punter before he could kick the ball in the first quarter and was credited with a 9-yard tackle for loss and a forced fumble.
"The first one I kind of just hit his leg and he dropped it. He got scared and dropped it," Stalbird said. "It was still a pretty cool experience. The second one we were just going again and I came off the edge and blocked that one. That's just something special to have happen in a game twice, pretty much. It was awesome. And then later in the game getting in on defense, that was pretty cool, too. I'm just trying to capitalize on every opportunity I get on the field."
Stalbird has five tackles, including three on special teams and two from his safety spot.
And he has some high praise from his position coach.
"He's going to be a special player here," Fisher said.
Youngsters get a shot: With Nebraska's top unit putting a game away early for the first time since last season, the Huskers got their first real chance Saturday to trot some younger players onto the field under game conditions.
You have free articles remaining.
Both sides of the ball had good moments, with the No. 2 offense driving for a touchdown and players such as Braxton Clark stepping up on defense.
"That was huge. It's the fine line of growing up as a football team; when do you start subbing those guys out?" defensive coordinator Erik Chinander said Tuesday. "Maybe when you're to the point where we'd like to be here down the road, you get those guys out there earlier and let them go out with a little bit smaller lead and go operate and do some things.
"But it was good to have the ones finish a game off, it was good to get some of those young guys in there. Obviously, Braxton Clark got a pick and that was good; he got a taste. He's probably watching extra film now."
Teammates described Clark, a redshirt freshman, as emotional as he came off the field after his pick.
"I think any time a young guy gets in and makes any play, it's huge, and when you make a pick as a DB it's a really big thing," Chinander said. "The only thing we talked to him about was, he's got to score a touchdown, right? If he runs the play like we talk about all the time we score another one, and next time he's going to do that. So it was good film, good and the bad part of that. Great for that kid to get in the football game and get a pick and make a great play, and that probably helped his confidence tremendously."
Standing tall: Nebraska's goal line stand Saturday, which ended with walk-on junior safety Eli Sullivan's pass breakup on fourth down, was more than just a big moment for the Blackshirts in keeping the Northern Illinois offense out of the end zone.
"That's a huge play to grow up, especially for some of those young guys,"  Chinander said. "Not only is it big schemewise and big for our confidence, but those guys see some players that aren't starters out there making big-time plays, so the trust in those guys, the confidence in those guys, the confidence that we can be put in any situation and get the job done, it was huge for our team."
Nebraska had several younger players in the game for the series, Chinander said, including Sullivan and defensive lineman Damion Daniels.
Corbin a big challenge: Nebraska has seen Illinois junior Reggie Corbin up close and personal, and knows what kind of challenge it has this weekend in stopping the talented running back.
"He's the best back we've faced this year and he might be the best back we face all year," inside linebackers coach Barrett Ruud said of the 5-foot-10, 200-pound back. "He has the ability to test your leverage — he can bounce the ball outside — and he blocks for guys, too. He's a complete running back."
That's high praise considering the likes of Ohio State's J.K. Dobbins and Wisconsin's Jonathan Taylor both come to Memorial Stadium as the season goes along.
Corbin was putting together a special performance against NU last November before an injury knocked him out with 5 minutes, 25 seconds remaining in the first half.
At that point, he already had 59 rushing yards on nine carries and a 34-yard reception.
Corbin had just six carries in Week 1 against Akron and then didn't play against UConn, but bounced back strong last week with 144 yards and a touchdown in a loss to Eastern Michigan. He's averaging 7.5 yards per carry so far this fall.
"I think he's, and I don't watch the teams that we're not playing, so I haven't seen the film, I know there's a couple other good running backs in the league, but I think he's right there with all of them," Chinander said. "He's a really, really good football player; he can cut on a dime; he's fast, he's hard to tackle, he can do a lot of things in the pass game."