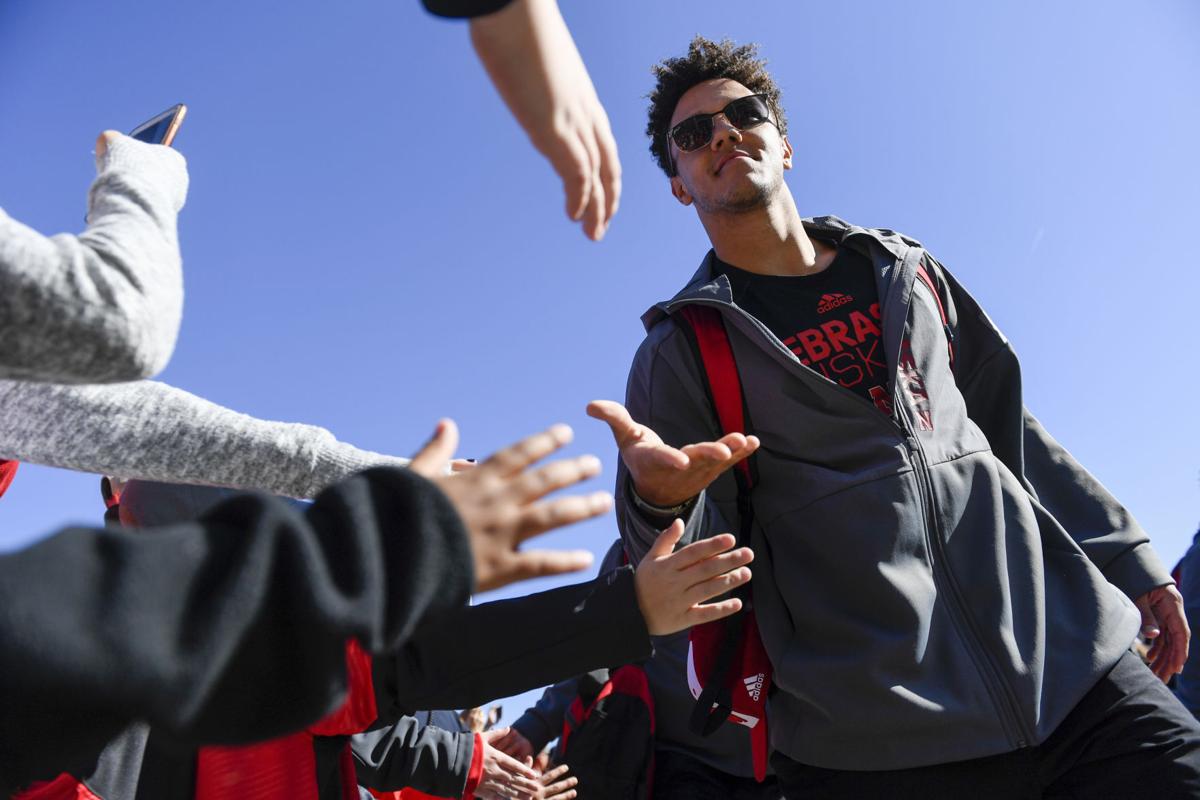 All the way back in July 2019, long before the coronavirus pandemic prevented us from gathering in large groups, a very large one formed just outside the West entrances to Memorial Stadium early on a Sunday morning.
The Husker Road Race was about to be off and running and nearly the entire Nebraska football team was there to volunteer and hang out. Wandering players took photographs and signed autographs and sometimes answered questions like, "What position do you play?"
The experience was a little different for Adrian Martinez. The Nebraska quarterback coming off a promising freshman season found himself squarely amid the conversation about who might win the Heisman Trophy. That, of course, didn't pan out over a disappointing 2019 campaign all around, but on this day, hopes were high.
And the line just kept growing.
Wherever Martinez went, a line of fans behind him formed. The supply of Husker faithful who wanted a photo with No. 2 seemingly never waned. Martinez joked about getting used to flashing a "soft smile" so as not to wear out the facial muscles.
Nebraska players well know, though, that you don't have to be wearing a jersey within a first-down's throw of Memorial Stadium to run into fans who can spot the starting quarterback or the No. 3 tight end whether it's around the block or halfway around the globe.
Even future Huskers know it. Take now-freshman Turner Corcoran, for example. He verbally pledged to Nebraska in April 2019, and when he told head coach Scott Frost at the Watering Hole, the place exploded and the fight song played. Walking around Lincoln before the Red-White Spring Game the next day, he and his family would get stopped and asked, "You're Turner, right?" "When are you committing to the Huskers?" Countless others have had random interactions. Junior college transfer Eteva Mauga-Clements and his dad got chatted up by folks on the plane from San Francisco to Omaha last fall and undoubtedly knew a lot more about the Huskers when they landed than when they took off.
Then it gets more random.
Take former offensive lineman Spencer Long, for example.
"I'm just always able to find (Husker fans)," he said. "Like, my girlfriend's grandmother's chiropractor is a diehard Nebraska fan. It's crazy. You just never know. …
"I don't know if there's anything specific. But I will say no matter where I go in the country, no matter where I've been, I've met people who have had either personal experience with the university or our fans, and for whatever reason just love everything about Nebraska."
The Elkhorn graduate played six years in the NFL — his last full season in 2019 with the Buffalo Bills — after becoming a third-round draft pick in 2014.
"Whether I was in D.C., Virginia, Maryland, New York, Buffalo, California — it seems like you can always find someone with a Nebraska connection, and a strong one — not just a, 'Oh, I know that school,'" Long said. "I used to go down to the D.C. 'Husker bar' to watch games sometimes, and it was like being at Barry's in Lincoln. It's cool to see how far-reaching this university's presence is, and I hope people know that and have pride in that when they're going places, because I have as I traveled around the country."
Sometimes, fans have resorted to unique tactics when a random interaction happens.
Take Brandon Busselman, for example. He was 16 years old in the early 2000s, working at a pizza shop in southwestern Missouri when none other than Heisman Trophy winner Eric Crouch wandered in.
"I froze. And I stared. Awkwardly I'm sure. I couldn't believe what I was seeing," Busselman told the Journal Star. "Crouch? In my little Missouri town? Eventually, the words, 'You're ... you're Eric Crouch,' stumbled out of my mouth. He replied, 'Yes, I am.'
"I immediately ran out of the building (on the clock!) And ran to Walmart to buy a Husker hat (they had them in stock!) and a throwaway camera. Headed back to the pizza parlor, got his autograph, picture, and he was gracious enough to visit with me for nearly an hour while he and his associate ate dinner. It turned out, he was starting his playground equipment company and was in town checking out a large corporation in the same business in our town."
Busselman said he also got him to sign a table number for the parlor.
"A moment that a loyal, out-of-state fan will never forget," he said.
You never know when you're going to run into a Husker.
Be the first to know
Get local news delivered to your inbox!