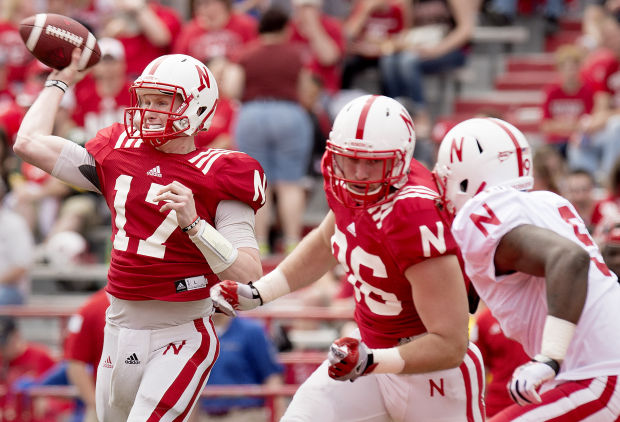 What was Ryker Fyfe thinking about the first time he put on a Husker practice jersey? Honestly, this: "How am I going to stack up with these guys?"
Fyfe had been something special his senior year at Grand Island High School, racking up more than 2,600 yards of offense, with a hand in 34 touchdowns, and being named an honorary captain on the Journal Star's Super-State team.
But now he was swimming in a big pond, a walk-on wearing the "N" on his helmet, wondering what so many before him have wondered: Will I be good enough?
It didn't take him long to find an answer.
"Right away, I was like, 'I can fit in with these guys,'" Fyfe said. "I can compete here with the best at Nebraska."
The sophomore quarterback has not looked back, climbing the ladder from scout-teamer in 2012, to a travel-roster spot in 2013, to being in the same conversation as scholarship players Tommy Armstrong and Johnny Stanton in 2014.
A surprise to you, maybe. Not to him.
There's an edge to Fyfe as he discusses the quarterback competition. It becomes clear in a hurry he has much grander intentions than simply being in the mix.
"That's why I walked on here, because I knew there was an opportunity when Taylor (Martinez) left," Fyfe said.
And after 15 practices, the 6-foot-2, 210-pound Fyfe has done enough to show he's not just some feel-good story to take up space in the spring.
During Saturday's Red-White Spring Game, with the curtain pulled up for all Husker fans to see, Fyfe was ready to perform, completing 9 of 12 passes for 89 yards, and tacking on another 44 running the ball.
The first instinct may be to refer to Fyfe has "lanky" or "gangly," or some word that brings to mind a quarterback who can't run the football. And while Fyfe isn't about to be confused with Eric Crouch, he likes running the ball just fine, thanks.
"People haven't seen me run," he said. "They probably think I'm just like a pro-pocket passer, but I can run too. I'm not a 4.4 (second) guy, but I can make guys miss."
Still, his best feature may be his strong arm — "a cannon," Ameer Abdullah has said — which was put to good use during Fyfe's first drive Saturday. He hit 5 of 6 passes on a 70-yard drive that ended with a 5-yard TD strike to Taariq Allen. Later, pitted against the No. 1 defense, Fyfe guided another workmanlike drive that reached the end zone.
At day's end, Husker coach Bo Pelini said Fyfe and Stanton — who also performed well — "are pretty much co-No. 2s" heading into fall camp, with the more experienced Armstrong retaining the edge at No. 1.
But clearly the backups had made the most of Saturday's opportunity, and Pelini left the door cracked open for all involved, saying, "There are no jobs won in the spring, as far as I'm concerned. … There's a lot of football to be played before we kick it off."
It was the last two weeks of spring ball, after a 10-day break, when the quarterbacks really started to show the coach something.
During the time off, Pelini reviewed each quarterback's film, analyzing their efficiency and decision-making. What he saw was everybody trying to force the action too much.
"But I think over the last two weeks, what I started to see was them becoming more efficient and letting the offense work for them," the coach said.
"I think as long as we continue down that road, we have a lot of playmakers on this offense, and a lot of guys that are going to play well around the quarterbacks. They don't have to have that feeling where they have to go out and win the game by themselves."
Part of the issues early in the spring, Fyfe thinks, stemmed from players still getting used to new terminology.
On the first day of practice, the offense sometimes looked like a group that couldn't tell up from down.
"Now we all have it down," Fyfe said. "You can go out and play football now. You don't have to think as much. Just see things and go and play."
That's what Fyfe has planned for the months ahead: Just go play. You can't get caught up worrying about the guy next to you.
"Obviously, Tommy had a lot of experience last year, so it's going to be favored his way, but you just have to keep competing in practice and keep getting better, because you never know when your number's going to get called," Fyfe said. "Nobody was expecting Taylor to go down last year."
Indeed, 2013 served as a lesson about how quickly the quarterback depth chart can shift, with three different quarterbacks starting games in a year that began with Martinez on all the magazine covers. Among the men who started was walk-on Ron Kellogg III.
That's motivation for Fyfe, who passed up a scholarship offer from Nebraska-Kearney to see what he could get done at NU.
"I figured I'll give it a shot at Nebraska and try to make a name for myself here," Fyfe said. "Just give it a shot. That's all you can do, right?"