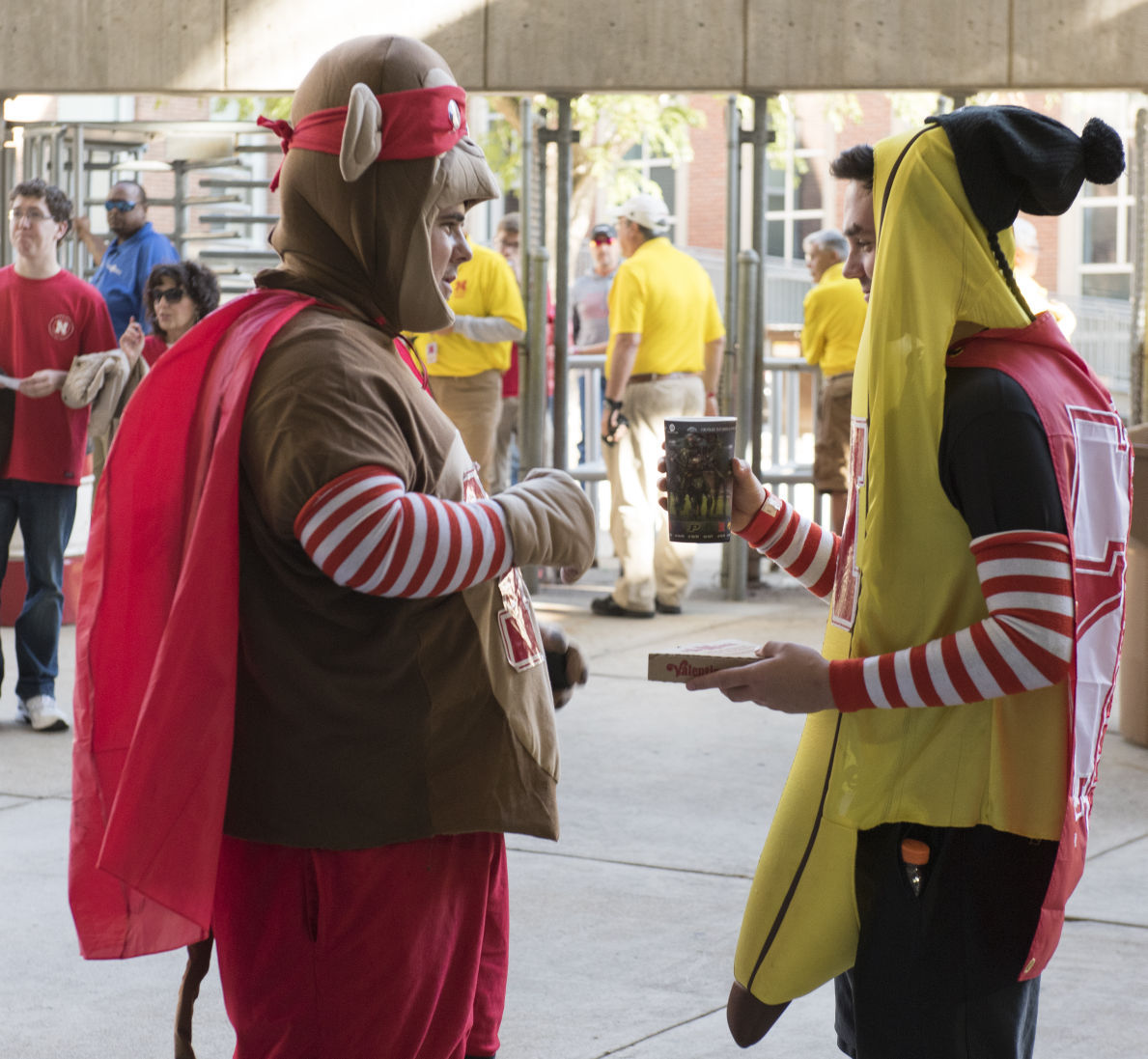 Get yer pork, water, beef, potassium lactate, sodium diacetate, sodium erythorbate, meat tube in an unbleached, enriched flour, malted barley flour, calcium sulfate enzymes, reduced iron thiamine mononitrate bun.
By the end of every home football game, Nebraska has cooked, bunned (put into a bun), wrapped and sold 16,000 to 17,000 red-dyed magic meals.
Nebraska lists the ingredients, the nutritional value and cost of its 45 concession items online.
"We want people to know what they're getting, if they want to know," said Janell Hall, director of concessions at Nebraska. "We know they like it no matter what."
And who knew nachos are only two-thirds the calories of a Milky Way?
The Nebraska Dog is a legend. It formerly was made in Fairbury, then by Wimmer's in Wayne and now is made by Land O'Frost, based in Munster, Indiana.
Hot dogs at Memorial Stadium live on and on through Der Viener Schlinger, the kid hawkers, and the old-timers such as Wayne Schaefer in a hot dog hat.
Hall and director of concession events Rox Rasmussen noted that at a typical home Husker game, sales will hit:
* 23,000 pieces of Valentino's hamburger pizza.
* 13,000 Runzas. (You can spot a visiting team fan, "What's a Runza?" Hall said.)
* More than 7,000 boxes of popcorn, popped from the kernels provided by Colby Ridge. (That sales number doesn't include the hundreds of bags of sweet red/white popcorn).
* Thousands of gallons of Pepsi products, and on hot days, thousands of bottles of water.
Hall and Rasmussen, the only two full-time employees for Husker concessions, direct an army of 1,250 workers, including the hawkers, who work the stands as subcontractors, and concession-stand workers. Hawkers make up to $175 a day "if they hustle," Hall said.
You have free articles remaining.
Concessions also rent more than 17,000 back-rest seat cushions. "We rent them out and then have to pick them up after every game," Rasmussen said. "But people like them, just like they like their red hot dogs, Runzas and pizza."
Hall said she and Rasmussen hear the same phrase every game, "I'll get my Runza here and get Val's on the way home. Or get my Val's here and get a Runza on the way home. Our fans have their traditions and we're not going to mess with that."
Deb Hammond, who in her regular life is director of Choices Treatment, offering counsel for certified disordered gambling, has run Deb's Hamburger stand for 28 years.
She and her loyal staff sell hot dogs and the famous burgers shaped like the state of Nebraska from four grills on the southwest corner outside the stadium.
"We have very long days, but we have fun, get a lot of people coming back game after game, and we make a lot of friends," Hammond said. "We picked up the idea for a Nebraska-shaped burger long ago. It's pretty popular. We have become a meeting place for a lot of people over the years."
Gamedays for the private concession sellers outside the stadium start early to set up grills, chop onions, prep relish and set up the water station.
Laurie Novak, who has been in the business of hot dogs, brats, burgers, polish dogs and foot-longs, has worked her Lolo's trailer for 50 years. She has had two sites, one east and one west, at the stadium for 15 years.
"Everybody thinks you throw the hot dog on the grill and, bingo, but there's purchasing, packaging, staffing, to make the gameday work," said Novak, the daughter of former Husker Tom Novak. "It's a young-person's business, but heck, you can have a very good time and people are usually in a great mood."
She has banners of her dad, "Train Wreck" Novak on each of her grill sites.
"People who know the name love to talk and people who don't know ask about him. It's pretty cool," the former nutritionist said. "I know the irony of when I worked at the Vet's Hospital, teaching nutrition during the day and selling chili dogs at night. But this business has become so busy for us with the state fair, county fairs, car shows and everything else, I stuck with this business."
People make the whole system work, said Hall, who has worked for Nebraska since 1979.
"You meet such great people," Hall said. "We have loyal customers. Our hawkers are full of enthusiasm. We have groups working the concession stands for charities and we try to keep everybody trained and ready for pregame, for halftime."
You have to be at least 14 to sell pop in the stands. "Those Pepsi racks, full, weigh 40 pounds, and you have to be in pretty good shape to sell on a hot day," Rasmussen said.
The five Memorial Stadium ovens are on from seven hours before every kickoff, baking the Runzas and Val's, cooking hot dogs, bratwursts and hamburgers.
"It's amazing to think we help feed 90,000 people six, seven times a year and they keep coming back," Rasmussen said.