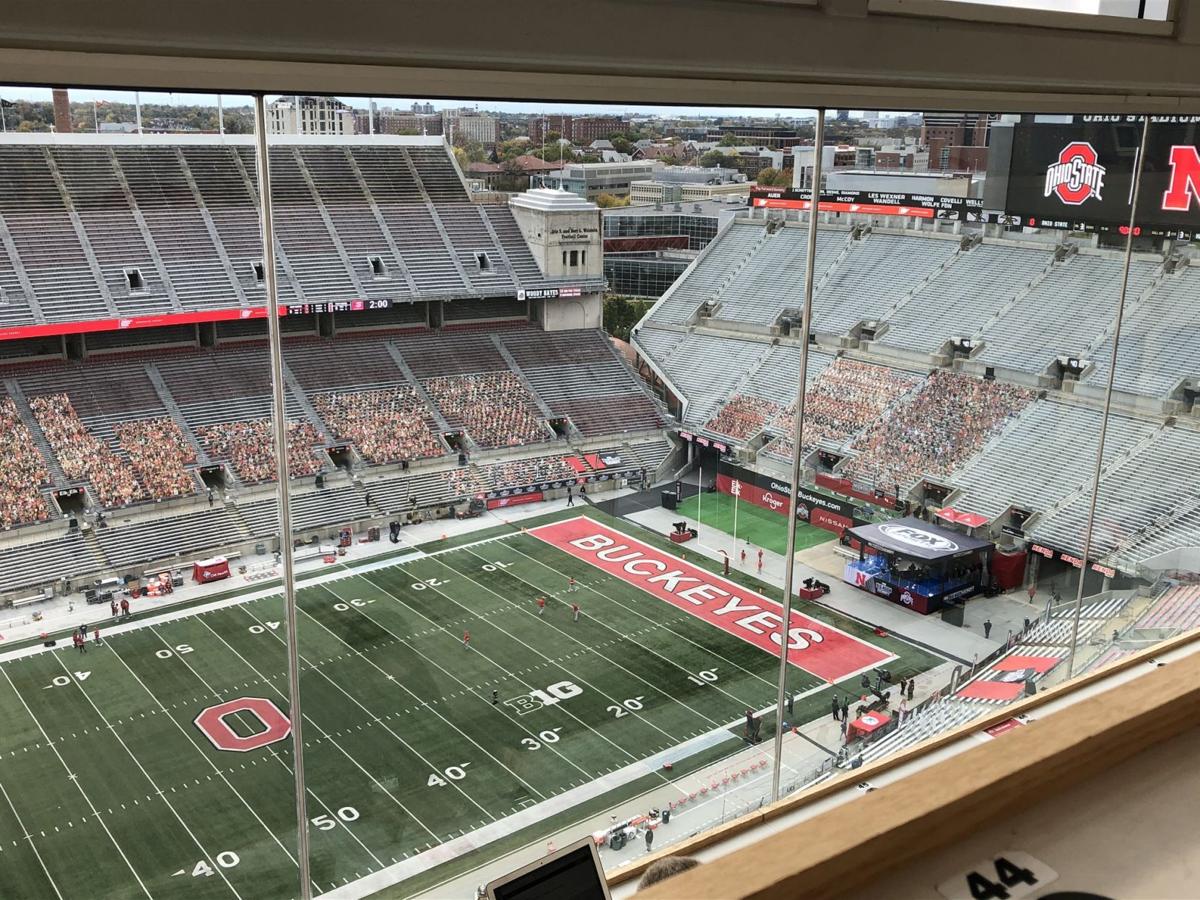 COLUMBUS, Ohio -- As Nebraska and Ohio State near kickoff, here are a couple of brief observations.
*Sophomore Luke Reimer did not make the trip. The former North Star standout was not warming up with the linebackers about an hour before kickoff. Redshirt freshman Nick Henrich warmed up with the outside linebackers.
*WR Omar Manning did not make the trip. Meanwhile, juco defensive lineman Jordon Riley made the trip, according to the Husker Sports' broadcast pregame, but is injured and may not play. He was not in uniform for pregame warmups. 
*Nebraska brought four quarterbacks: Adrian Martinez, Luke McCaffrey, Logan Smothers and Matt Masker.
Here's a running travel roster compiled by reporters from the Journal Star and Omaha World Herald, which unofficially accounts for all 74 available spots. NU did not provide a travel roster as it has in past years. 
| Name | Position | Year | Number |
| --- | --- | --- | --- |
| Ronald Delancy III | DB | Freshman | 0 |
| Wan'Dale Robinson | WR | Sophomore | 1 |
| Caleb Tannor | OLB | Junior | 2 |
| Adrian Martinez | QB | Junior | 2 |
| Will Honas* | ILB | Senior | 3 |
| Keem Green* | DL | Junior | 4 |
| Alante Brown | WR | Freshman | 4 |
| Cam Taylor | DB | Junior | 5 |
| Quinton Newsome | DB | Sophomore | 6 |
| Marcus Fleming | WR | Freshman | 6 |
| Luke McCaffrey* | QB | RS Freshman | 7 |
| Dicaprio Bootle* | DB | Senior | 7 |
| Denotai Williams* | DB | Senior | 8 |
| Logan Smothers | QB | Freshman | 8 |
| Marquel Dismuke* | DB | Senior | 9 |
| Jackson Hannah* | ILB | RS Freshman | 10 |
| Austin Allen* | TE | Junior | 11 |
| Tamon Lynum | DB | Freshman | 12 |
| JoJo Domann* | OLB | Senior | 13 |
| Rahmir Johnson* | RB | RS Freshman | 14 |
| Zavier Betts | WR | Freshman | 15 |
| Matt Masker* | QB | Sophomore | 18 |
| Myles Farmer* | DB | RS Freshman | 18 |
| Tyler Crawford | PK | Freshman | 21 |
| Noa Pola-Gates | DB | RS Freshman | 21 |
| Eteva Mauga-Clements | ILB | Junior | 22 |
| Cooper Jewett* | RB | RS Freshman | 22 |
| Isaac Gifford | DB | Freshman | 23 |
| Marvin Scott III | RB | Freshman | 24 |
| Ronald Thompkins* | RB | RS Freshman | 25 |
| Dedrick Mills* | RB | Senior | 26 |
| Bennett Folkers | WR | Sophomore | 29 |
| Collin Miller* | ILB | Senior | 31 |
| Niko Cooper | OLB | Sophomore | 32 |
| Connor Culp | PK | Senior | 33 |
| Simon Otte* | OLB | Sophomore | 34 |
| Brody Belt* | WR | Sophomore | 38 |
| Garrett Snodgrass* | ILB | RS Freshman | 41 |
| Nick Henrich* | ILB | RS Freshman | 42 |
| Garrett Nelson | OLB | Sophomore | 44 |
| Lane McCallum* | DB | Junior | 48 |
| Pheldarius Payne | DL | Junior | 49 |
| Cameron Jurgens* | OL | Sophomore | 51 |
| Bryce Benhart* | OL | RS Freshman | 54 |
| Boe Wilson* | OL | Senior | 56 |
| Ethan Piper* | OL | RS Freshman | 57 |
| Nouredin Nouili | OL | Sophomore | 63 |
| Christian Gaylord* | OL | Senior | 65 |
| Will Farniok* | OL | Sophomore | 68 |
| Turner Corcoran | OL | Freshman | 69 |
| Matt Sichterman* | OL | Junior | 70 |
| Matt Farniok* | OL | Senior | 71 |
| Broc Bando* | OL | Junior | 73 |
| Brant Banks* | OL | RS Freshman | 74 |
| Trent Hixson* | OL | Junior | 75 |
| Brenden Jaimes | OL | Senior | 76 |
| Kade Warner* | WR | Junior | 81 |
| Kurt Rafdal* | TE | Junior | 82 |
| Colton Feist* | DL | Sophomore | 82 |
| Travis Vokolek* | TE | Junior | 83 |
| Wyatt Liewer* | WR | Sophomore | 85 |
| Jack Stoll* | TE | Senior | 86 |
| Chris Hickman* | WR | RS Freshman | 87 |
| Jordon Riley | DL | Junior | 87 |
| Levi Falck | WR | Senior | 88 |
| William Pryzystup* | P | Sophomore | 90 |
| Cameron Pieper* | LS | Sophomore | 91 |
| Tate Wildeman* | DL | Sophomore | 92 |
| Damion Daniels* | DL | Junior | 93 |
| Cade Mueller* | LS | Sophomore | 94 |
| Ben Stille* | DL | Senior | 95 |
| Deontre Thomas* | DL | Junior | 97 |
| Casey Rogers* | DL | Sophomore | 98 |
| Ty Robinson* | DL | RS Freshman | 99 |