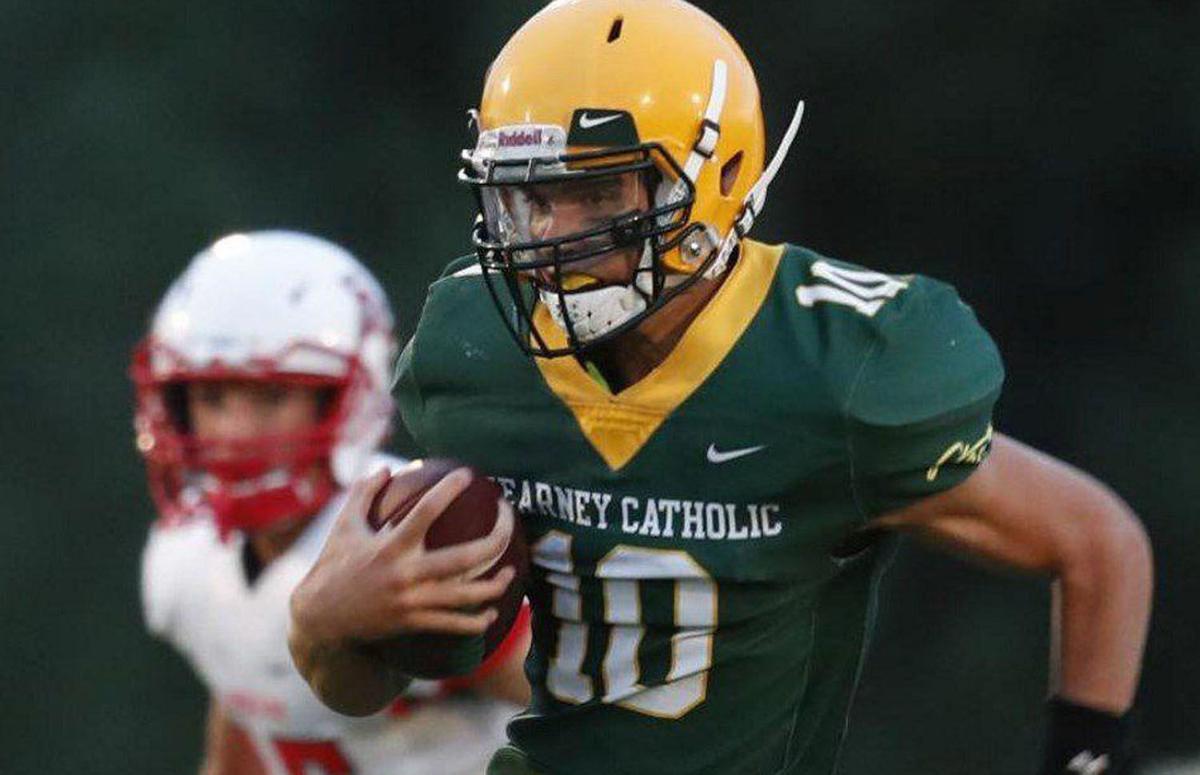 They let him have his space during the recruiting process.
Praising Nebraska head coach Scott Frost and quarterbacks coach Mario Verduzco's even-keeled recruiting approach, Kearney Catholic quarterback Heinrich Haarberg announced Saturday his verbal commitment to join the Huskers' scholarship recruiting class of 2021.
He's set to become the first in-state player to sign with Nebraska as a quarterback since Mike McLaughlin of Millard North in 2001.
"Coach Frost and Coach Verduzco were always texting or calling," Haarberg told the Journal Star. "But they kind of let me have my space. If I was going to commit, they wanted me to be all-in. They said, 'Take as much time as you need to take visits.' That's one thing that really made an impression on me. They were going to wait on me to make sure I was all-in with my decision. 
"That's something that gave me a lot of confidence in them."
He added, "I've done a lot of research and talked to a lot of coaches, and I trust Coach Verduzco and Coach Frost with my development."
Frost offered Haarberg a scholarship Monday, marking an escalation in the recruitment between Nebraska and the 6-foot-5, 190-pound player. His recruitment has been on a steady climb recently — he also received offers from Vanderbilt and North Carolina State on Monday, while Clemson and Iowa, among others, have shown interest.
He ultimately chose Nebraska over finalist Boston College. 
"The new Boston College coaching staff was recruiting me really hard," Haarberg said of Jeff Hafley's crew. "They have some really good things going for them, and I think they're going to build an awesome program. But I just can't see myself living in Boston." 
The son of former Nebraska fullback Rod Haarberg, Heinrich Haarberg has made three unofficial visits to Nebraska's campus, the latest on March 9 for the team's first spring practice — less than a week before the remaining sessions were canceled because of the coronavirus pandemic. The pandemic also eliminated the chance for recruits to make campus visits until at least June, according to an NCAA mandate.
Check out Haarberg's highlights
So Haarberg never visited Boston. 
"In the end, I just wanted to get on board with Nebraska," he said, noting that things "really began to click" for him during his March 9 visit. "I wanted to give myself adequate time to make a decision that I felt comfortable with. I didn't think it'd be this early. I really thought it would be June or maybe later in the summer. That's why I really didn't want to set a timeline. I just wanted to commit when I felt like it was the best choice."
Rated as a three-star prospect by both Rivals and 247Sports, Haarberg threw for 1,869 yards and 23 touchdowns last season. Nebraska coaches wanted to see him throw at one of their Friday Night Lights recruiting camps in June. But there's a chance those camps won't be held because of the pandemic.
The Huskers clearly liked what they saw of Haarberg on film. In addition to his prowess as a passer, he ran for 458 yards (5.5 per carry) last season. He ran in the 4.6-second range in the 40-yard dash at a camp last summer and was expected to run in the 100 meters in less than :11 this spring before the track season was canceled. What's more, he has a 36-inch vertical jump.
Haarberg makes clear that part of the appeal of playing for Nebraska is his "unique relationship" with Frost, the Husker great who was a standout quarterback at Class C-1 Wood River, just 30 miles east of Kearney. 
"He played against Kearney Catholic," Haarberg said. "He came from the same spot that I did. It's definitely unique."
In addition to his offers from Power Five schools, Haarberg drew offers from Buffalo, Central Michigan, Northern Illinois, Ohio and Wyoming, among others. It's likely he'll continue to receive offers, and perhaps some enticing ones. 
What would Haarberg say to folks who wonder if he'll waver on his commitment to Nebraska?
"I would just say it goes against all my morals to commit to something and a few months later change course," he said. "That's not the way recruiting should go."