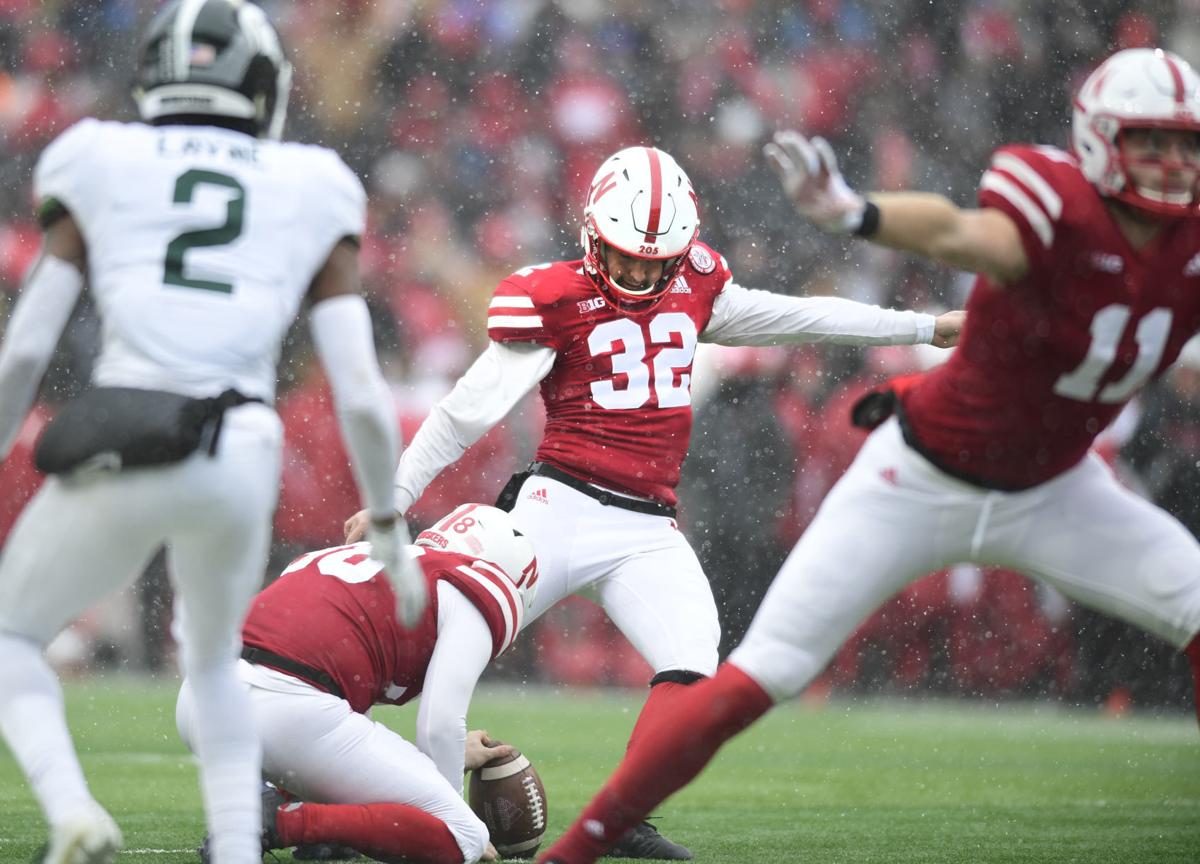 Nebraska place-kicker Barret Pickering perhaps knew the question was coming.
It was teed up for him, so to speak.
What does the team think of the lofty expectations in preseason magazines, many of which pick the Huskers to capture the Big Ten West Division and finish in the Top 25 nationally despite finishing 4-8 overall last season, including 3-6 in league play?
Pickering took the conversation a couple of steps farther, saying he thinks Nebraska can compete for the national championship. 
"I just definitely feel like coming off of last year we're 10 strides better," the sophomore said Wednesday, approximately three weeks from the start of preseason camp.
Pickering met with a group of reporters in part to promote the seventh annual Nebraska Football Road Race that will take place Sunday. The 1-mile fun run begins at 8 a.m. and a 5K will follow at about 8:30 a.m. Both races will start and finish on Stadium Drive just west of Memorial Stadium.
The history of the road race is directly tied to the inspirational relationship created in 2012 between former Nebraska running back Rex Burkhead and Jack Hoffman, a young cancer patient. Because of the relationship, the Husker football team has been committed to raising awareness and funds for pediatric brain cancer research. In the six previous road races, a total of just over $230,000 has been raised.
"It's just a great event to come support the community and support these kids who need to be the star for the day," Pickering said. "It's just great to see a smile on their faces."
A native of Birmingham, Alabama, Pickering said he's not much of a runner. But he certainly showed proficiency as a kicker last season. Ranked as the nation's No. 4 prep kicker coming out of Hoover High School, he won the starting job as a true freshman and connected on 14 of 18 field-goal attempts, including each of his final 10. He also made 40 of 41 extra-point tries on the season.
"I'm just working on cleaning stuff up and getting faster and stronger -- working on my kickoffs," he said. "Just working on being as consistent as possible. That's the biggest thing."
He was 2-for-4 on field goals of 40 to 49 yards and 0-for-1 from 50 yards or more. He feels his leg has gotten stronger in Zach Duval's strength and conditioning program.
Pickering served as the kickoff specialist in the final three games, booting six touchbacks. His directional kicking helped limit opponents to only 16.9 yards per return.
He was perhaps at his best against Michigan State in the season's second-to-last game. He accounted for all nine points in a 9-6 triumph as Nebraska won a game without scoring a touchdown for the first time since 1937.
"It was definitely great confidencewise," he said of the 2018 season. "But it really doesn't affect my next kick now. So I'm just going to go out there and keep worrying about the next kick because that's all that matters."
Sunday's road race clearly matters to Pickering. Fans can register for the races by going to www.huskers.com/roadrace. Online registration is open until 6 p.m. Wednesday. The cost until that point is $25 for the one-mile fun run and $30 for the 5K.
Runners can still register after 6 p.m. Wednesday by going to the Lincoln Running Company (1213 Q St.) and paying a $40 late-registration fee for the 5K and $30 late-registration fee for the one-mile fun run. Registration at the Lincoln Running Company closes at 5 p.m. on Saturday. Runners can also sign up on race day for either the 5K or the one-mile fun run for $40 at the check-in table located near the start/finish line, but will not be listed in the results due to chip timing.
All proceeds will benefit the Buffet Cancer Center at the University of Nebraska Medical Center and its pediatric brain cancer research efforts.
Be the first to know
Get local news delivered to your inbox!