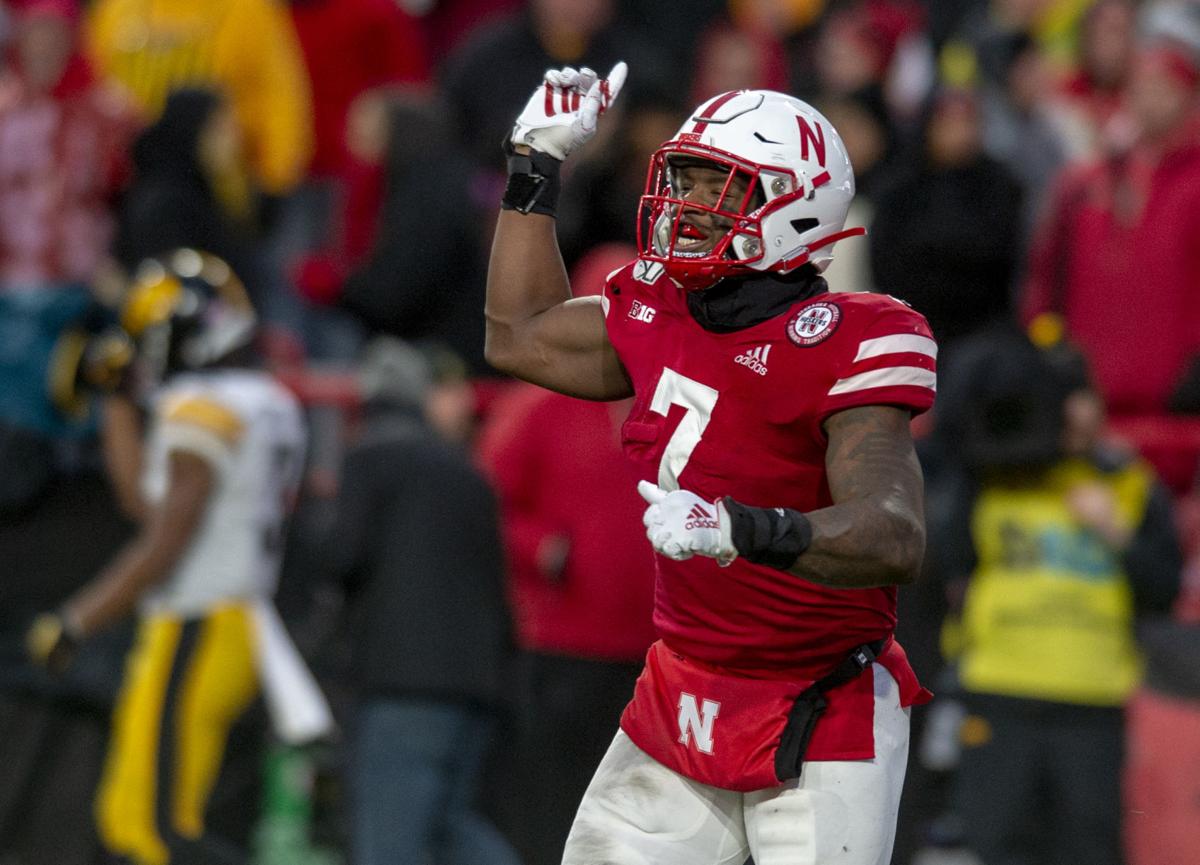 Nebraska football writer Parker Gabriel offers his extra points from the Husker football team's 27-24 season-ending loss to Iowa on Friday.
Turning point: Nebraska left time on the clock for Iowa to get one final crack with the ball, in part because sophomore quarterback Adrian Martinez stepped out of bounds on a second-and-20 play with less than a minute remaining.
Still, Iowa started its possession with two straight incomplete passes before senior Nate Stanley hit receiver Ihmir Smith-Marsette for 22 yards on third-and-10. That play was followed by another 22-yard completion and put the Hawkeyes in field goal range.
It was over when: Iowa junior kicker Keith Duncan's 48-yard field goal sailed between the uprights with a single second remaining on the clock, giving the Hawkeyes a 27-24 lead.
Quotable: Senior inside linebacker Mohamed Barry, moments after his final game at Nebraska ended, on what the future looks like.
"The last three games, the formula is set. We can't ever play without the energy we played with the last three games. That can't be something that's even questioned. Every game, we have to have the most energy. We have to have passion, we have to play with fire. That's the missing key. Then just coming out hot, executing these little plays. We have to win those little-play battles. That's the biggest thing. Progress to me is just making sure the younger generation, the future Huskers, the people under me understand that this thing has to go up every year. That's the expectation. If that happens, then I would say this year is a success. …
"I just think the players just said, 'I'm going to go out there and I'm going to love this game hard. I'm going to play as hard as I can.' The biggest thing is playing with passion and not only playing hard and keeping that to yourself, but showing so other people can feed off of you. We have to play with passion and we have to play harder than any team. That's always going to be the winning formula for Nebraska. We're going to have great recruits here, but I don't think it's ever going to be a hotbed of recruiting like we're Alabama or Georgia. Our formula will always be outworking teams, playing harder than teams playing with fire and desire. That formula will win us games in the future."
Game ball: A.J. Epenesa, man. The junior Iowa defensive lineman showed why he's a near-certainty to be a first-round NFL Draft pick in the spring. He finished with 14 tackles, five for loss, and two sacks. He had an impact on so many plays it's hard to point to just a couple as standouts.
Game ball: NU sophomore defensive back Cam Taylor-Britt closed his second season in Lincoln on a strong note, returning an interception for a touchdown in the second half and securing a fumble recovery in the fourth quarter that gave the Huskers one of several chances to take the lead.
Hat tip: Duncan. The junior Iowa kicker has made a ridiculous 29 field goals this season. NU's six place-kickers combined to make 12 this fall.
You have free articles remaining.
Deep connection: Luke McCaffrey hit JD Spielman on a pass up the left sideline for a 39-yard touchdown on the freshman's lone pass attempt of the afternoon.
In his rookie season, McCaffrey completed 9-of-12 for 142 yards and two touchdowns.
Numbers for the road
5: Straight wins for the Hawkeyes over the Huskers.
55: Yards on Nate Stanley's first 22 pass attempts Friday, an ugly 2.5 yards per attempt.
22: Yards per attempt on Stanley's final two attempts of the day, back-to-back 22-yard completions on Iowa's game-winning drive.
14: Nebraska's longest rush of the day, compliments of junior Dedrick Mills on NU's first possession of the third quarter.
10: Punts for Husker senior Isaac Armstrong, a season high.
898: Receiving yards for junior JD Spielman on the season, his career best after 830 in 2017 and 816 in 2018.
4: Straight field goals made by Matt Waldoch to close the season for the Huskers, including a career-long 41-yarder Friday.
14: Out of 30 first-down plays run by NU, 14 went for 0 or negative yardage.
40: Total yards on 30 first-down plays for NU, an average of 1.3 yards per play.