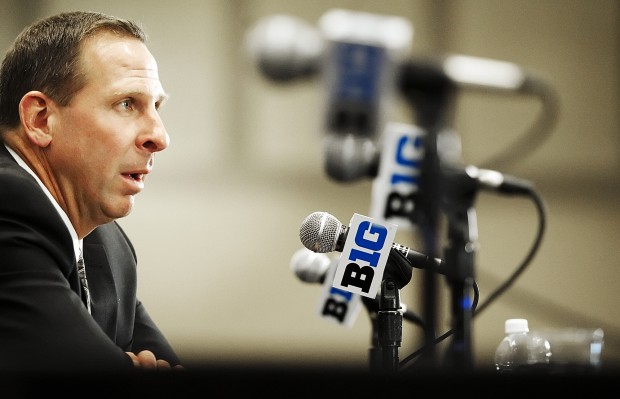 Bo Pelini described it as riding a wave. Will Compton, a roller coaster.
Whatever your preferred metaphor, Pelini believes that the waves can be as big in Lincoln as they are anywhere.
"You tell your players: Don't read the blogs, don't do this and that. But they're human, they hear it, they see it," the Nebraska football coach said at the recently concluded Big Ten Media Days. "I as much worry about it when things are going good as when things are going bad … because they ride the waves.
"You guys know. Not just the media, but I'm talking with the fan base, or in town. You play good and you're the '85 Bears. You lose and the sky is falling. Or you don't play well and the world's coming to an end. There's not a lot of middle ground."
That can make it tough, Pelini said, because it's a contradictory message to the one stressed within the program — a message that focuses on staying with the process, of maintaining an even keel whatever the previous week's result.
And, yes, he thinks the local attention to Husker football is probably even greater at times than it is at other big-time programs such as LSU or Oklahoma, two places he coached at as an assistant.
"LSU is into it, Oklahoma was into it," Pelini said. "But the constant seven days a week, 365 days a year, it's different here than those places. It's not as constant a barrage of it at some of the others places I've been. It's kind of compartmentalized a little bit where the players aren't slammed over the head with it every day of the year. That is a challenge here.
"But it just is the way it is. It's not going away. And believe me, the fans' passion for it, and the media, that's a positive. But there are issues with that, too, that relate to our football team and how you keep them focused and heading in a certain direction."
Compton, a senior linebacker who will be a leading voice of the defense in 2012, said blocking out the hype after wins is something this year's team must learn to do.
He recalls last year when Nebraska beat Michigan State 24-3 and "you get put on this pedestal."
"And then what happens is you buy into it, and then you get humbled real fast," Compton said.
Nebraska lost 28-25 to Northwestern in Lincoln the next week.
Similar letdowns happened in previous years. In 2009, the Huskers got a big road win on national television against Missouri only to lose at home the next two weeks, to Texas Tech and Iowa State. In 2010, Nebraska followed a dominating win at Kansas State with a bitter loss to a struggling Texas team.
"And when you get humbled real fast, the next thing you know, you're the worst Nebraska team ever assembled," Compton said. "It's good and bad. It sucks because you want positive support from fans all the time, but then at the same time, it's also a good thing your fans are so passionate. You want it like that.
"We need everybody (on the team) to understand, 'Hey, we can't ride the roller coaster throughout the season.' … And we can't buy into the hype. We have to understand that we're on a mission to restore stuff and take care of ourselves."
Compton thinks this team, led by a senior class loaded with players now in their fifth year in Pelini's program, is going to do just that.
The games will tell soon enough, but Pelini sees encouraging signs. He said players are holding their peers more accountable than in past years.
That's always been around to some degree, he believes. But he said that accountability has been growing more in the last year, and never more so than with this team.
When a player sees another player doing something wrong, Pelini said leaders on the team are now sometimes taking care of the discipline themselves.
"Then they'll come up to me (and say), 'This is what happened, Coach. You need to know this. We already took care of this. You don't need to worry about it.'"
One of the best parts, Pelini said, is that "young guys are learning from the older guys."
It's a growing maturity on his team that he believes is helping limit distractions off the field, too.
"One thing I'm proud of with our team is you don't see our guys in the paper for the wrong reasons," Pelini said. "Our kids represent themselves and the program pretty well right now. … I'm not saying there hasn't been a stumble here and there, but it's few and far between.
"When I first took over here, you'd lay down to go to bed and it'd be like, 'What am I going to get called about tonight?' And that's gone away. And that's a testament to the kind of kids that we have in our program."