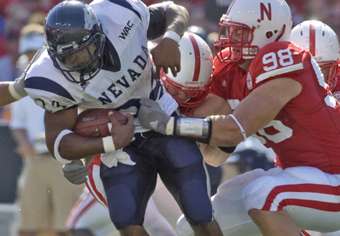 Just when Nevada started feeling comfortable in Memorial Stadium, the Wolf Pack got a rude awakening.
Jonathon Amaya gathered in a Husker pass tipped by teammate Jerome Johnson and raced 80 yards to give Nevada a 10-7 lead early in the second quarter.
"It was an exciting play, a great play, and it gave us the lead and gave us an opportunity," Nevada coach Chris Ault said. "But that kickoff that they brought back was a momentum burner. That's the kind of thing you just can't do. You had something going for you and you've got to find a way to sustain it."
Cortney Grixby's 42-yard kickoff return set up the Huskers in Nevada territory. Nine plays later, Nebraska went back on top for good.
"One touchdown is not going to win a game. I would have felt a lot better to put our name out there," Amaya said. "After the touchdown, we got momentum our way and we didn't sustain that."
Ault and his players used the same key phrases to describe the day — "critical mistakes", "sustain momentum", "missed offensive opportunities", "defense worn down." They all added up to disappointment for Nevada.
"Our offense held our defense out to hang in that first half, not getting first downs, not converting some opportunities we had. Our defense was on the field too much," Ault said. "Nebraska did a nice job exploiting things with their fronts. Their offensive front dominated our defensive front and we couldn't find a way to get up."
The Nebraska offense had nearly double the number of plays in the game (96 to 51). The Huskers more than doubled Nevada's time of possession (40:38 to 19:22). And Nebraska had more than three times the total yards than the Wolf Pack (625 to 185).
Still, Wolf Pack quarterback Nick Graziano pointed to his team's miscues.
"It was more our offense not doing what we can do. Not enough first downs, getting delay of game, that all set us back in yardage into third-and-long situations," Graziano said. "We felt comfortable out there, but with those critical errors, we kept shooting ourselves in the foot.
"They kept consistent pressure most of the game. But I had my reads and I should have gotten rid of the ball a little quicker."
Ault said Graziano, a sophomore, showed some encouraging signs.
"When he made mistakes, he knew what he did. We had some critical first-down mistakes that put us behind the chains that he just misread," Ault said. "We weren't good enough on third-and-long to convert."
Ault credited Nebraska for many of the problems the Wolf Pack encountered.
"Their power game just took over. Offensively, They took over the game with their power running game and play-action pass," he said. "Our defense was just on that field so long, I don't think we were able to play hard.
"They're a sound defense. I was just disappointed we couldn't execute a little better on the offensive side."
Still, he couldn't disguise his competitive side.
"I'm very disappointed that we couldn't stand on this stage and give them a better ball game. They're a fine program and a fine football team," he said. "I just expected more out of our team."
The atmosphere of Memorial Stadium also took some getting used to. With 84,078 on hand, it was a sea of red with a sprinkling of Nevada navy blue.
"When you play in an environment like this, you can't make those mistakes," Ault said.
"It's a crazy atmosphere and the first time we've experienced it. But after the first few minutes, you're just playing football," defensive lineman Matt Hines said.
"It's really loud, your adrenaline's pumping and you kind of thrive on it," said kicker Brett Jaekle. "You try to block it out and it makes you play better and harder."