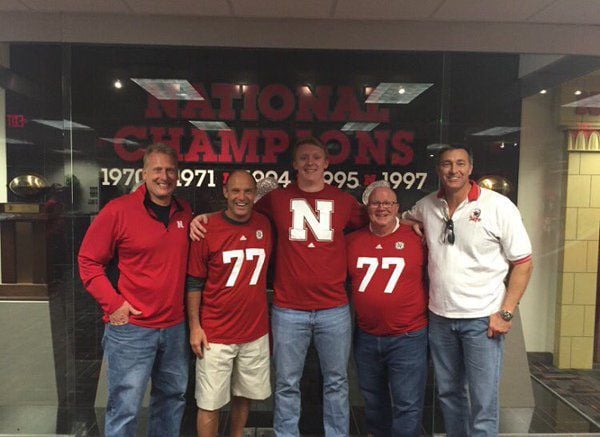 When you arrive and the head coach and offensive line coach are sporting red T-shirts with a No. 77, your number, they probably really want you.
"That was crazy when we rolled up and they were all wearing those," said recruit Matt Sichterman. "That was an awesome way to be greeted. A welcome party to Lincoln."
The greeting was good. The farewell was better, as the offensive tackle from Kings Mills, Ohio, told Mike Riley and Mike Cavanaugh before he left town that he's committed to Nebraska.
Sichterman becomes the ninth pledge of the 2017 Nebraska recruiting class, and second offensive lineman, joining Brenden Jaimes of Austin, Texas.
Funny. It was another Big Red school that Sichterman actually rooted for most of his life. While he lives in Ohio now, he spent a good part of his youth growing up in Wausau, Wisconsin. A big Badgers fan. His family used to go to Wisconsin spring games often.
"But once I started looking at Nebraska and what they're offering ... I just found that Nebraska brings an even more storied past," Sichterman said. "Obviously Nebraska has the best fans in college football and it's got a lot going for it right now. Nebraska was a good fit for me."
Being a standout athlete runs in the family. Sichterman is a triplet. His brother, Dan, is a strong player on the defensive side of the ball at Kings High School. His sister, Megan, is a state swimming champion and holder of many school records. Yeah, plenty of schools are after her talents.
Their father, Mark, was a football player at Drake. Their mother, Judy, was a swimmer at Clemson. Athletic genes, indeed.
Standing 6-foot-5, 265 pounds, Matt Sichterman is a consensus three-star prospect. He had a pretty full offer list: Michigan State, Pittsburgh, Northwestern, Boston College, Cincinnati, Colorado State, Duke, Illinois, Indiana, Iowa State, Purdue, Maryland, Rutgers, Kentucky and Virginia, among others. Also Harvard and Yale.
Sichterman was on the trip to Lincoln this weekend with his dad. It was an unofficial visit in title, but the lineman clearly arrived here with the Huskers high on his list.
Though the recruit and his dad talked on the trip in about the possibility of him committing in Lincoln, he didn't know whether it would happen. His mom wondered if he should go on a few more visits that were scheduled before making the final call.
They talked it over. She was on board. The family are fans of a new Big Red.
Of Nebraska's nine commitments, they come from eight different states. Two from California. One each from Nebraska, Ohio, Texas, Florida, Oklahoma, Missouri and Delaware.
Two of those nine are big ol' lineman who have the position group's coach, Cavanaugh, smiling.
"The biggest thing I liked about him is the mentality he brings to coaching the O-line," Sichterman said. "Really good guy and easy to talk to, but he's also a tough teacher on the field and has developed a lot of guys."
Hey, it also can't hurt when the coach already owns a T-shirt with your number on it.