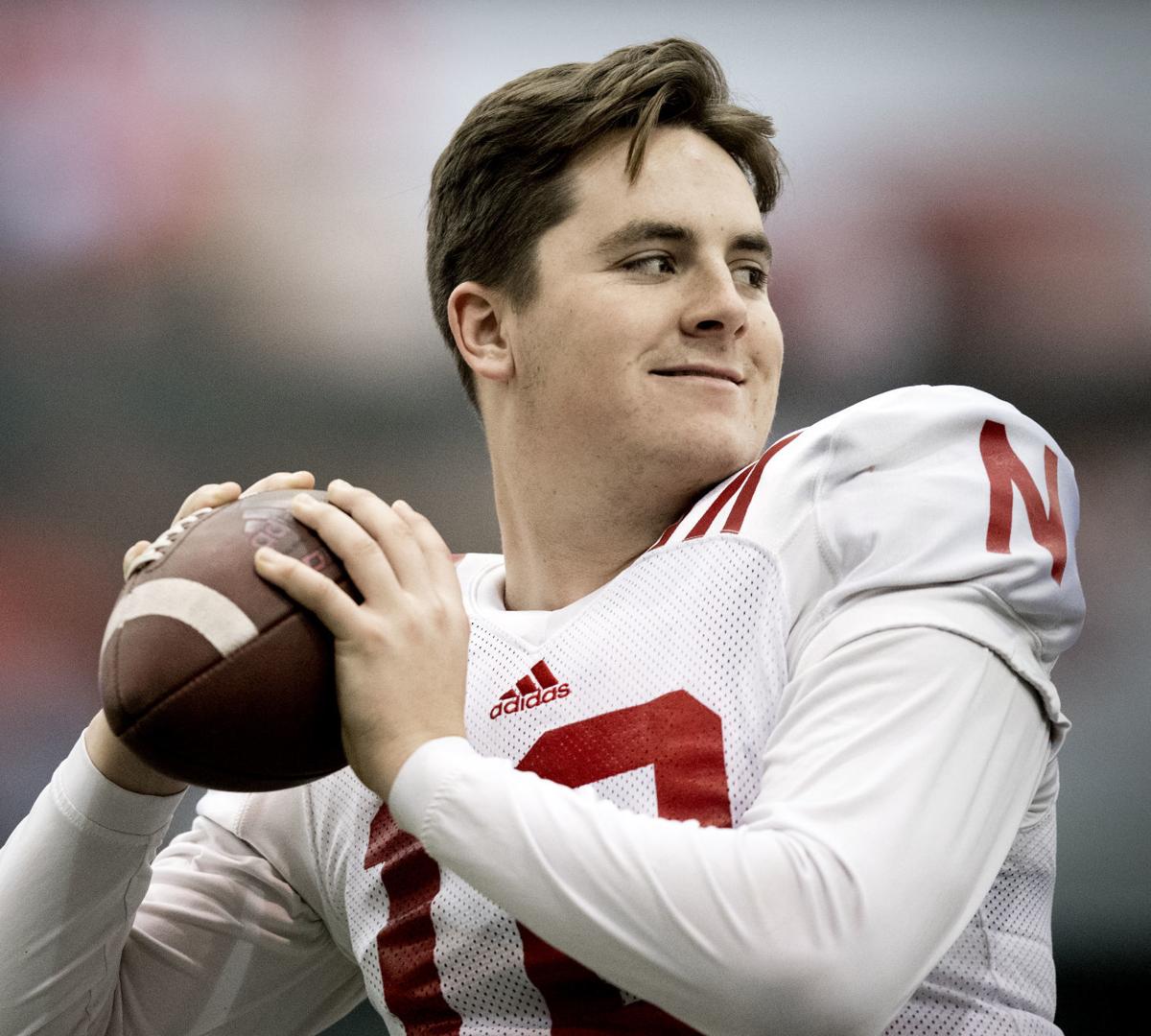 Patrick O'Brien happens to be quite familiar with Beaver Stadium.
The 110,000-plus-seat cavern in State College, Pennsylvania, is less than 200 miles from Philadelphia, where Paul O'Brien, Patrick's dad, grew up.
The redshirt freshman Nebraska quarterback spent his childhood in Orange County, California, where he became a four-star prospect at San Juan Hills High, but he's been to a handful of Penn State games and attended a camp there, too.
On Saturday, he may also make his first career start in Happy Valley.
"It would definitely mean a lot, especially with my whole family coming out," said O'Brien, who told reporters Tuesday he had 21 relatives trekking to the game.
Husker starter Tanner Lee is currently in the concussion protocol after a player fell on his head late in the first half of last weekend's 54-21 loss at Minnesota. Coach Mike Riley said Lee moved past one hurdle Tuesday, but it's unclear whether he will make enough progress to be cleared to play against the No. 10 Nittany Lions.
"Patrick is a talented guy that has never really taken a back seat and just floated back there as a backup quarterback," Riley said Tuesday. "He's been engaged and really, really wants to be a player. He's stayed engaged and worked hard in practice (Monday). It was actually rather seamless with him taking the snaps."
To be fair, practice was likely much less hectic than being thrust into duty Saturday with, O'Brien estimated, about three minutes' warning.
"Once you're out there it's the same game and you can't really be nervous, because then you won't play well," O'Brien said.
Overall, coaches and teammates think he did. 
The good: He completed 12-of-18 for 127 yards, scrambled five times for 41 yards and looked comfortable pushing the ball downfield. He found completions of 23 yards to JD Spielman, 21 to Stanley Morgan and 26 to Spielman again.
The not-so-good: He was sacked six times, missed some throws, failed to get a half-yard on a fourth-and-short sneak and led an offense that only put seven points on the board as the Gophers steadily pulled away.
"It's a horrible time to have to play in the game where you're just passing almost all the time," said Riley on Monday after O'Brien dropped back to pass on 28 of 36 second-half snaps. "They're teeing off on blitzes and rushes so they get pressure. I thought he hung in there and made some beautiful throws and appeared to have a lot of poise as he played, so I was impressed with that."
"Getting thrown in there is kind of tough, but that's expected of you as a backup quarterback," O'Brien added. "You're not going to be given the most perfect situation of all time and you've just got to make plays with it and go with it."
The conditions as Saturday afternoon bleeds into evening in State College may not line up a whole lot better for a young quarterback making his first start. Penn State on Tuesday evening was a 26-point favorite — the line jumped up a couple of points after news of Lee's uncertain status. NU has lost four of five and is a steadily increasing long shot to even qualify for a bowl game and indications that Riley's tenure at the school is drawing near an end only seem to grow stronger by the day.
Riley and offensive coordinator Danny Langsdorf said Monday that they don't think the playbook will change much if O'Brien starts.
"I think it will all come down to the preparation of the quarterback and what he knows well," Riley said Monday. "And if that ends up being a little smaller package, that's probably smart. We're obviously going to be playing a good defensive front that we're going to have to block and execute against, so less may be more in a game like this for our new quarterback, if indeed he is our quarterback."
Asked how much of the playbook he's comfortable with, O'Brien said flatly: "Everything. There's not a single thing that I'm not."
In 30 minutes against the Gophers, he also scrambled for gains of 9, 6, 14 and 12 — each longer than Lee's season-best 5.
O'Brien says the two haven't raced. He doesn't know why he wound up rushing more. Riley suggested maybe it's because of inexperience: Lee as a veteran sees deeper into progressions and therefore doesn't hit the eject button in the pocket as quickly.
It's a fine attribute, of course, though Langsdorf joked that the staff won't have to reprint the playbook.
"You've got to be a little careful of thinking that he's Deshaun Watson," he quipped, referring to the former Clemson Heisman Trophy finalist and current Houston Texans quarterback.
Said O'Brien with a laugh, "Maybe like a slow Carson Wentz, but I try my best."
Either way, if he does take off, he'd better tuck the ball away.
"I kind of run like Michael Vick (with the ball)," O'Brien said, holding his arm away from his body. "So that's obviously not a good thing."
Even if it might seem like NU needs a Watson-like or Wentz-like or Vick-like performance to beat the Nittany Lions, they're not asking O'Brien for that. They're asking him to be ready to step in, start, run the offense and try to make plays. He says he's ready for it, cavern and noise and long odds be damned.
"I've been there a few times, I know what to expect and it's just football at the end of the day," he said. "Just go out there and play."