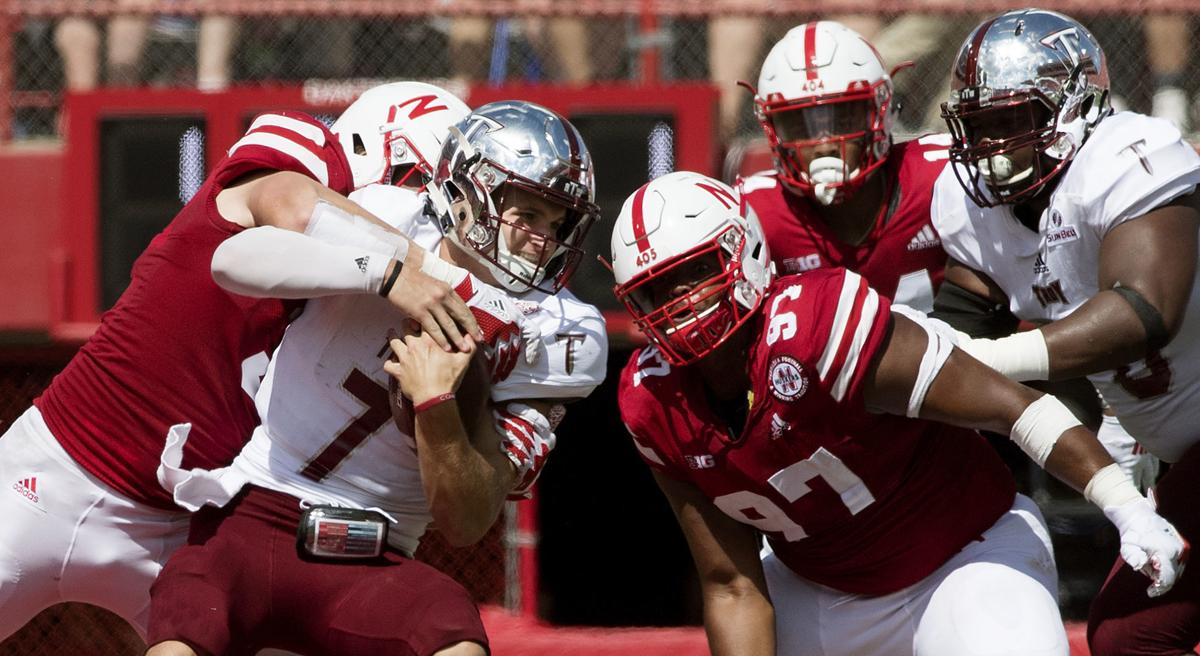 Deontre Thomas shares an example of how life isn't always black and white.
He sat out the final eight games of 2018 after injuring his hand. Sure, it was difficult watching his fellow Nebraska defensive linemen battle every Saturday. He wanted to be on the field with them.
But there were benefits to sitting out. He played in only four games, meaning he preserved a redshirt season. All the while, he could focus on both schoolwork and learning Husker defensive coordinator Erik Chinander's 3-4 system. But perhaps the biggest benefit was that he could get bigger.
The 6-foot-3 Thomas, now a third-year sophomore, gained 20 pounds and checks in at 300.
He says he's stronger, too.
"I've always kind of been confident," he says. "But now that I'm way bigger, I'm even more confident. I can trust myself. I'm big, I'm strong. I weigh about the same as the offensive linemen. So I'm real confident."
Thomas' confidence this offseason will be critical as he fights for playing time on what many regard as the strongest and deepest unit of the Nebraska defense. During much of the recently completed spring practice season, first-year Husker defensive line coach Tony Tuioti referred to five linemen that separated from the pack.
During the final five practices or so, Thomas became the sixth, Tuioti said. Those six are Khalil Davis and Carlos Davis; Damion Daniels and Darrion Daniels; Ben Stille and Thomas. The Daniels brothers likely will share time at nose tackle.
But get this: When Nebraska last week received a verbal commitment from Jahkeem Green of Highland (Kansas) Community College, the defensive line competition became that much stiffer. After all, the 6-4, 300-pound Green in 2018 recorded 67 tackles, including seven for losses, as a sophomore at Highland. He was recruited by several SEC schools.
You have free articles remaining.
So it's probably a good thing Thomas no longer weighs in at 265 pounds, as was the case in 2017. He drew frequent praise from former Husker head coach Mike Riley that season while recording 14 tackles in 10 games for a 4-8 squad.
Thomas had arrived on campus as three-star prospect from Mustang, Oklahoma.
"I was 265 playing nose guard at Nebraska! Ooohee!" Thomas recalls with a smile. "That wasn't big enough. I mean, I think I was holding my own. But being on the line, you can't be that small. This is the Big Ten. Everybody else across the line averages, what, 310 or 315."
Tuioti agrees that Thomas' weight and strength gains were essential.
"At that weight (300 pounds), he's able to be more stout for us in the run game," the coach says. "Obviously, you guys hear me say it over and over -- I spend a lot of time talking about defending the run because in this league it's all about that. We have to have that physical mentality. So he's more stout in the run game and doing a better job of striking and using his hands. But he's also athletic enough to transition and help us in the pass rush."
Tuioti emphasizes improvement in stopping the run because Nebraska last season allowed 5.0 yards per carry to tie Tulsa for 107th in the nation. The Huskers allowed 195.8 rushing yards per game to tie UTEP at No. 96. 
Thomas played in the first four games last year, recording four tackles, including one for a loss. This spring, his effort to the ball has been good, Tuioti says.
"That's non-negotiable for us," the coach says. "We talk about it in our room all the time. Effort is non-negotiable. He's been doing a great job with that."
And what if a Nebraska defender isn't rallying hard to the ball?
"He can't play for the Blackshirts," Tuioti says. "It's simply that. He can't play for us. He's going to be standing right next to me. That's a standard we have. Our guys hold each other accountable to that. If you can't play our style of defense, which is running to the football, then you have to stand on the sideline. You're not a Blackshirt."
That part of life is black and white.