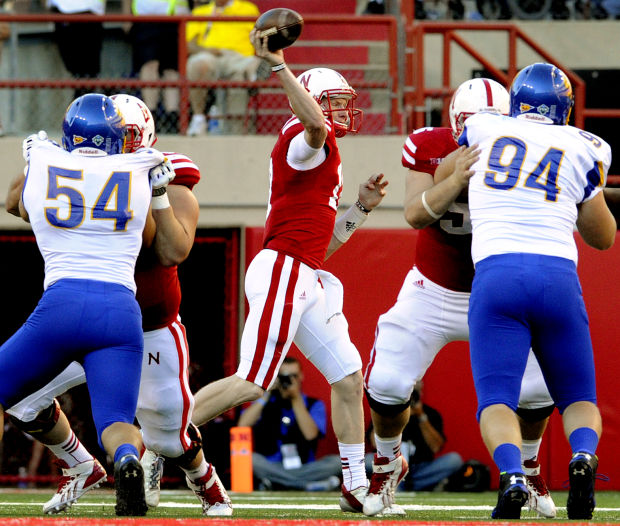 Nebraska sophomore walk-on Ryker Fyfe makes no bones about it: He has considered trying to become a starting quarterback elsewhere.
"I feel like all the walk-ons have that thought (of transferring)," said the Grand Island native. "There's always that thought that maybe I can go somewhere else and get (scholarship) money and play right away.
"Then, when you look at it, there are too many opportunities here, with academics, football and life in general after football."
The 6-foot-2, 210-pound Fyfe has a nice opportunity right in front of him. Although fellow sophomore Tommy Armstrong has taken the vast majority of snaps with the first-string offense through six spring practices, Fyfe feels he and touted redshirt freshman Johnny Stanton essentially occupy the same plane at No. 2.
"I'm not going to lie, Tommy's being a great leader out there for us," Fyfe said. "We need that at the quarterback spot. But, I mean, me and Johnny are right behind him. We're all competing."
Armstrong, an eight-game starter last season, has practiced well and will be difficult for anyone to overtake, Fyfe acknowledged.
"Tommy doesn't make too many mistakes," Fyfe said. "He sees blitzes. He sees coverages. Then, he makes plays. He's a great player. That's why it's tough to compete. I mean, I feel like I'm right there with him. But he makes those plays. …
"He's got experience over us," Fyfe added. "Me and Johnny know that."
Fyfe practices with confidence and makes clear he isn't content to be a backup. He feels capable of directing the first-string offense when he gets those chances. He feels good about his arm strength. He says his height also comes in handy — he can see over linemen, read coverages and find receivers. What's more, Fyfe shows good mobility.
Fyfe learned a lot last fall. Although he appeared in only one game (briefly against South Dakota State), he was on the travel roster the entire season — a promotion from scout-team duties in 2012 — and came to understand offensive coordinator Tim Beck's system and how the coach drew up game plans. Fyfe helped signal in plays.
Stanton, of Rancho Santa Margarita, Calif., directed the scout team.
Said Fyfe: "I was on the headset (during games) so I could hear everything they were saying. That helped me understand what Coach Beck is thinking during the game."
This spring, Husker quarterbacks are running the same plays as last year, but with a different type of verbiage — in essence, fewer words are being used to call plays, Fyfe said. There also are fewer signals, which has helped increase tempo.
Fyfe, captain of the Journal Star's 2011 Super-State team, has no concern about Nebraska coaches showing favoritism toward scholarship quarterbacks. Both Beck and head coach Bo Pelini told Fyfe from the start he would be on even footing with the scholarship players. Fyfe noted the respect coaches showed walk-on Ron Kellogg, who completed his eligibility last season.
Bottom line, Fyfe apparently has earned the respect of his coaches and teammates.
"He has a cannon, really," said All-Big Ten running back Ameer Abdullah. "He has a really good arm. Once we translate his physical attributes to the mental side, he's really going to come along and be a great quarterback for us."
Yes, for Nebraska. Fyfe did strongly consider attending Nebraska-Kearney, and South Dakota State also was prominent in the picture.
"I just decided I wanted to play at the highest level and give it a chance," he said. "I mean, that's what I've been doing my whole life … And I knew financially it wasn't a big problem.
"I thought I'd give it a shot after Taylor (Martinez) leaves, and see if I can get that starting job. The big deal was trying to play at the highest level."
Fyfe characterizes this spring as being "huge" for him. He wants to progress toward earning a scholarship.
"I'm not trying to sit around all five years here," he said. "I'm going to keep competing for the (starting) job. We'll see how it plays out. Beck knows what he's doing."