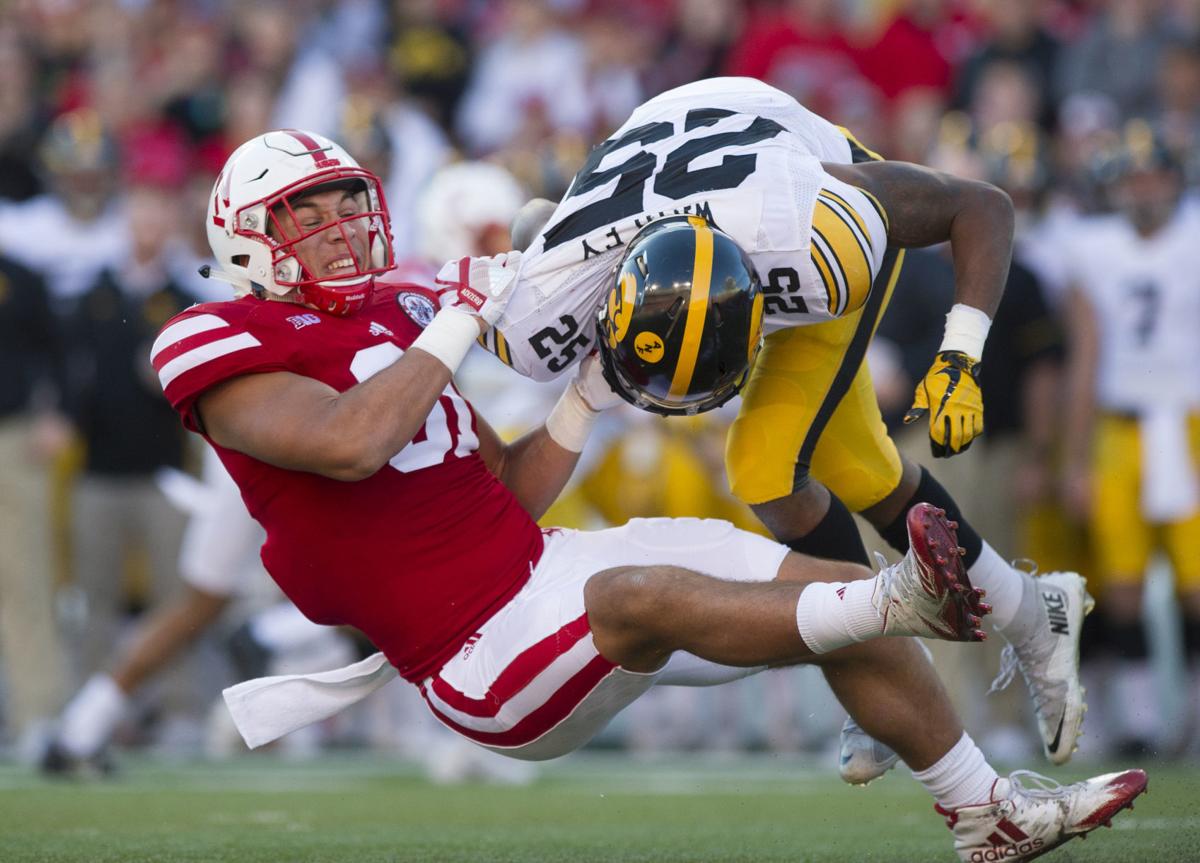 Asked about the Iowa football team Monday, Nebraska players generally didn't deviate too far from standard lines.
The Hawkeyes are tough and well-coached. They play with discipline. They don't beat themselves.
But Husker inside linebacker Collin Miller, when asked about his program's four-game losing streak to the Hawkeyes, engaged in some real talk.
"Definitely, that's on our mind," Miller said as Nebraska (5-6, 3-5 Big Ten) continued preparations for Friday's home game against its border rival. "I mean, it sucks, those guys not respecting us. They come into Lincoln and think they can win this with ease, that this isn't a real rivalry, you know?
"It definitely hurts. But we just use that as momentum. I think the guys are really focused in, dialed in, knowing this is a big week. We really want to show everybody we're here.
"I just think they don't have respect for Nebraska anymore," he added. "They have a couple games on us."
Nebraska linebacker Collin Miller shares his thoughts on the relationship between the Nebraska and Iowa football programs.
Iowa, in fact, has beaten Nebraska in five of the last six games in the series. In the last four contests, the Hawkeyes averaged 249.0 rushing yards (5.9 per carry), compared to the Huskers' 108.5 (3.5).
Former Iowa star tight end George Kittle appeared on ESPN's "SportsCenter" following the San Francisco 49ers' win Sunday night against the Green Bay Packers. Kittle and Scott Van Pelt discussed the Niners' big victory. Then, college football came up.
Kittle, who was 3-1 against the Huskers, did not hold back with his comments about the rivalry.
"You know, I'm pretty sure if we win this one it'll be five straight, and I think (fellow former Hawkeye) Chad Greenway said something about taking over the state of Nebraska. But honestly, I don't even want the state of Nebraska," Kittle said. "We're just going to go in there and win that game and get five in a row and just let it be. That's all I have to say about it."
Nebraska did push Iowa to the limit last season in Iowa City, falling 31-28 in driving rain. Miguel Recinos drilled a 41-yard field goal as time expired as the Hawkeyes prevailed despite blowing a 15-point lead in the second half.
Iowa rushed 45 times for 266 yards (5.9 ypc) against Nebraska last season despite struggling on the ground throughout the 2018 schedule. This season, the Hawkeyes are ranked 101st nationally in rushing, averaging only 131.7 yards.
But Miller said Nebraska defenders are mindful of Iowa's determination to establish the ground game.
"I definitely think the defensive linemen really just have worked hard knowing this is going to be a stretch game," Miller said of Iowa's propensity for using stretch plays in its run-game scheme. "It's going to be a big trenches game. We've just got to bring physicality more than ever."
The teams' tradition of playing on Black Friday will take a two-year hiatus beginning next season. They will square off Nov. 14 in 2020 and Nov. 6 in 2021 before resuming the Black Friday tradition in 2022.
Miller seems to have a healthy respect for Iowa, which this season will bring an 8-3 record (5-3 Big Ten) to Lincoln.
However, "You don't like anybody that's in the Big Ten, you know?" Miller said. "Everybody's pretty good in the Big Ten. Minnesota, you could say. Iowa. Wisconsin. It doesn't matter where they're at. I just think, years and years, we haven't liked (Iowa), and they haven't liked us too much."
Head football coach Scott Frost previews the Black Friday battle with Iowa, announces a key injury and gives player updates.
Be the first to know
Get local news delivered to your inbox!