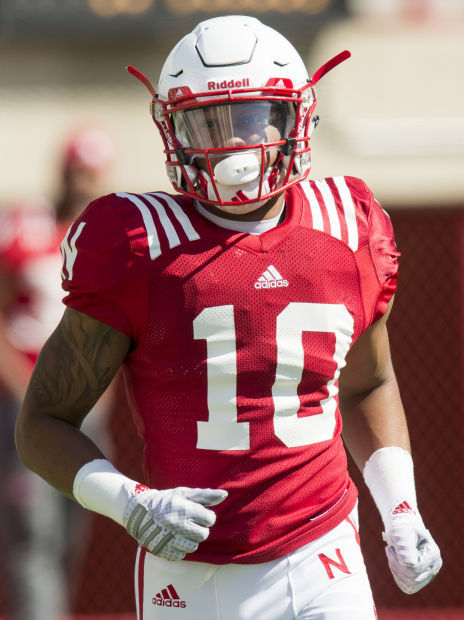 Here's a memory of Spring Games past: True freshman Jamal Turner, only a couple of months into his Nebraska football career, back-flipping into the end zone to the delight of a sun-drenched crowd at Memorial Stadium.
Yet, that touchdown feels nothing like four years ago to Turner, a senior receiver who will play in his fifth Spring Game on Saturday.
"It feels like I just got here," Turner said.
The journey, however, has been long and sometimes arduous for Turner, granted a medical redshirt season after he missed all but two games last season because of a torn Achilles tendon.
Some of the road bumps included the injury-plagued Turner, who's already earned his bachelor's degree, wondering whether he wanted to continue playing football, and, if he did, if he should do so at Nebraska.
The chance at a fresh start with a new coaching staff helped solidify Turner's decision to return.
"When the other coaches were here, I was thinking about transferring, just to go to a better offense," said Turner, who has 64 career receptions for 799 yards and four touchdowns.
No offense to the old offense, Turner said.
"I just didn't feel like I was getting the ball as much. I was having problems with that," Turner said. "We're all athletes, we all want the ball. It's just kind of how it was.
"I love my old coaches. I didn't have a problem with them at all. But I just kind of want the ball. It's just how it is. I feel like I could help the team out and I wasn't given that opportunity."
Turner believes that could change under new head coach Mike Riley and offensive coordinator Danny Langsdorf.
"I feel like the receivers are going to play a big part in the offense this year," Turner said. "Before, we kind of did, like on third downs. I didn't like that. Who wants to be a second option, you know?"
Turner, who missed the final five games of the 2013 season with a hamstring injury, tore his left Achilles tendon in last season's second game, against McNeese State.
There were times during his rehabilitation when Turner, even though receiving a fifth year by the NCAA seemed a slam dunk, considered starting a new chapter in life, forgetting about football and focusing on himself and his family.
"I'm not going to lie," Turner said. "When (the injury) happened, I was really depressed. I was going to rehab every day and stuff like that, but I remember telling myself, I don't even have the passion anymore to play football.
"I just prayed about it, talked to friends, family, my girlfriend. They were like, 'You should come back, it's a blessing in disguise, God does everything for a reason.' I just kind of went with that."
Fully recovered from the Achilles tear, Turner this spring underwent arthroscopic knee surgery — his second such procedure on his left knee — and is still working his way back to full-speed.
"I feel like I'm 95 percent. But they (the coaches) feel like I'm 75 percent," Turner said. "They're like, 'No, don't do that,' and I'm like, 'I can do it.'"
Since he's returned to practice and is working out more often, the 6-foot-1 Turner has lost 11 pounds in the past two-plus weeks to get back to 190 pounds.
He's eager to impress the new staff, knowing he's among several receivers trying to make a name for himself, hoping to be "that guy" in a new offense in 2015.
It's what keeps Turner motivated as he's overcome — and sometimes continues to overcome — periods of doubt.
"It's still hard," Turner said. "I wake up some days, my back hurts, my knee hurts, my Achilles hurts. I'm like, 'Why am I doing this?' But I just think about my team, my coaches, my friends, my family, and I just keep going."