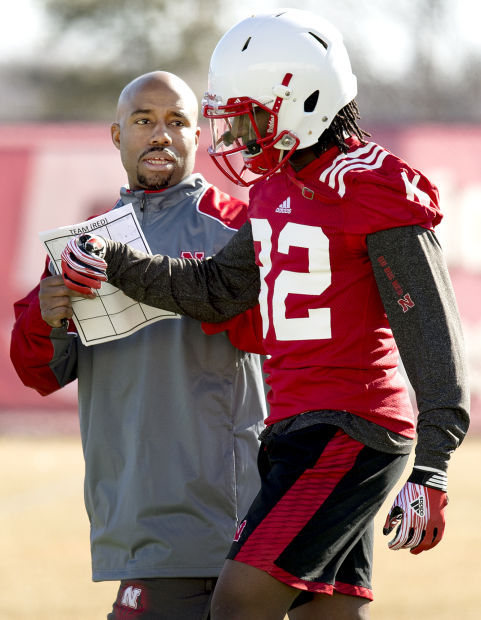 To the best of our knowledge, Alonzo Moore won't be calling football plays for Nebraska this season.
And what the offense does will be based on what works on Saturdays in the fall, not weekdays in the spring.
The Husker junior wide receiver from Winnfield, Louisiana, just knows he's been running numerous deep pass plays in the first few spring practices.
"It's going to be like a track meet," Moore said last week. "Deep balls are all around. If you would have seen (Wednesday), I ran I don't know how many go-routes — deep balls. I probably ran over 10.
"I love it, but when you have to run one, and come back and run another one, it gets kind of tough. Other than that, I love it."
Along with a new position coach and offense, Moore is trying a new approach.
In his first three years in the program, he's gained some attention by what he's been able to do in practice, but hasn't always been able to carry it over to games.
Moore says he'd get on the field and his mind would be racing.
"I think since I started spring ball, I've just been relaxed and just having fun," Moore said. "I'm out there playing football. Last year, I don't think I was relaxed playing football. I was doing too much thinking."
Moore has been on the cusp of being a lead contributor, but hasn't reached that point yet.
He was fifth on the team last year with 10 receptions for 136 yards, but no touchdowns. Now that Kenny Bell is gone, guys such as Moore will get a chance to prove they can make plays.
He's had breakout plays on his fingertips, like at the end of the Michigan State game last season, that didn't quite work out. Michigan State won 27-22. Moore did have a 43-yard reception in the Huskers' final drive of that game.
In their conversations, wide receivers coach Keith Williams has told Moore he wants him to play fast and use his athleticism and make plays.
Williams made a quick impression on Moore.
"He's very energetic. He's fun," Moore said. "He brings a lot of energy, and that energy that he brings, it just automatically comes out of us, because we see Coach hyped, and we just get hyped. He just makes the game fun."
Williams has his players' attention. He played the position at San Diego State. Eight of his wide receivers were in the NFL last season.
"We put our full trust in him because, from my view, he knows what he's talking about," Moore said. "I can dig that he knows what he's talking about."
What does Williams want to see from Moore as they get started together?
"Intensity," the coach said. "I want to see him come out mentally intense. Because he's kind of an outgoing guy, he likes to have fun. He doesn't goof around, but I want him to be intense when he gets out here and focus on improving every day, in every aspect. But he does have all the tools."