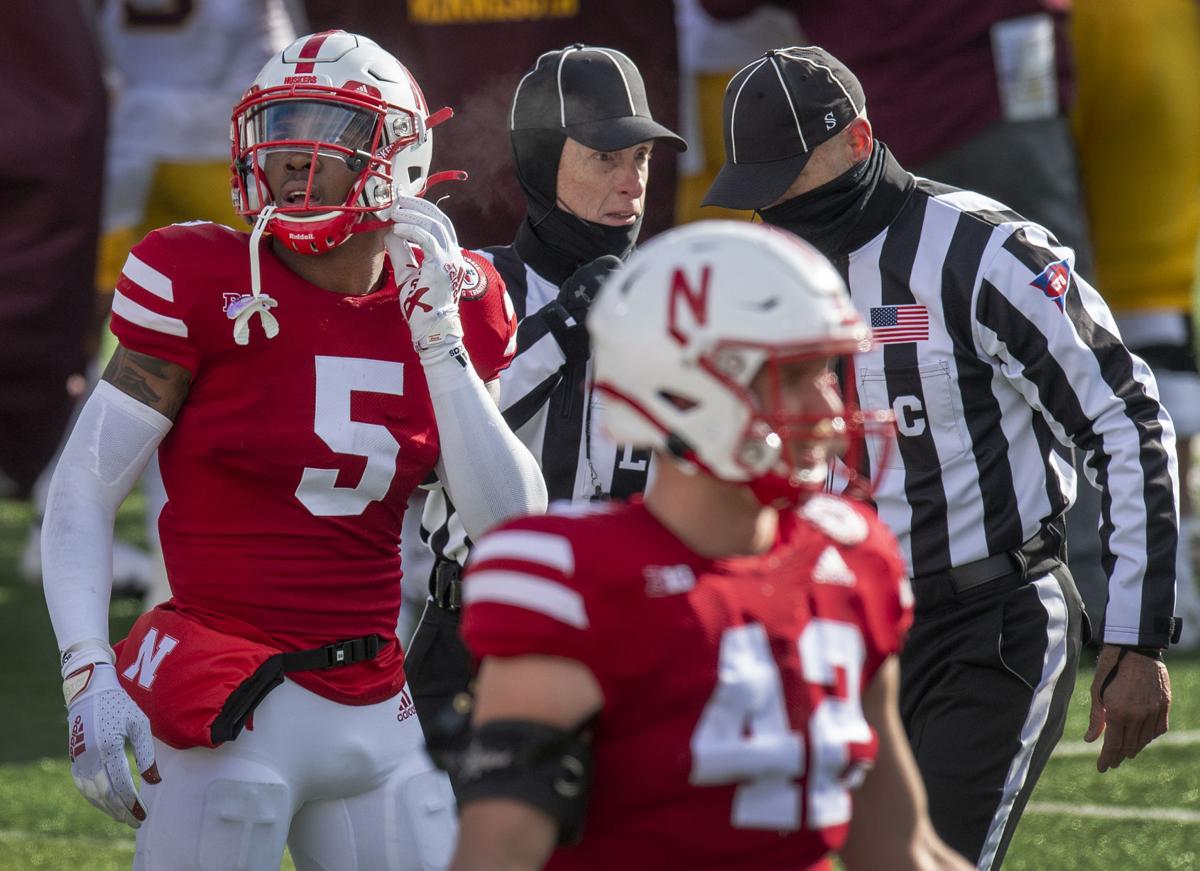 All Cam Taylor-Britt could do late in the first half Saturday was take out his anger on a trash can on the Nebraska sideline.
The junior cornerback had just been ejected for targeting on a hit to Minnesota quarterback Tanner Morgan that did not draw a flag in real time, but elicited a review from the officials' booth.
Taylor-Britt hit Morgan from the side on a third-down run that came up short at the NU 13-yard line, and Minnesota was momentarily faced with a field-goal attempt to get within 14-13 of the Huskers shortly before halftime.
But the hit, in which it looked like Taylor-Britt made initial contact to Morgan's chest before his helmet hit the side of Morgan's helmet, drew a penalty upon review, and a targeting penalty comes with an automatic disqualification.
Taylor-Britt punched a trash can on the sideline, knocking it over. He sat down and put his head in his hands, then got up and paced around, yelling in frustration. 
He watched as Minnesota turned a field-goal attempt into a touchdown, took a 17-14 lead into halftime and eventually beat the Huskers 24-17.
"A guy like him, who put so much into the game and is so passionate about the game, I'm sure that hurts him to have the game taken away from him," senior cornerback Dicaprio Bootle said. "We just let him know (to) keep his head up and he'll be back."
Rough end for seniors: Nebraska's senior class is in a weird spot. At least some will likely return for the 2021 season, but some will not.
That made the postgame sting all the more acute for the group, which was recognized pregame on the field.
"It didn't really hit me before the game, but definitely after the game started and then especially at the end of the game, it really started to sit in," senior outside linebacker JoJo Domann said. "You know guys have decisions to make. They've got to do what's best for their future. But, for all intents and purposes, that was our last game, and it stinks."
NU says wind not a factor: The wind blew briskly out of the north on Saturday, but head coach Scott Frost and junior quarterback Adrian Martinez insisted it didn't affect the way the Husker offense operated.
One particularly curious sequence came late in the third quarter when Nebraska took over with 37 seconds left in the frame. The Huskers would have had the wind at their backs to start the fourth quarter, meaning they could have run the ball once and ended the quarter.
Instead, Martinez threw back-to-back incompletions and then dropped back again on third down, only to be hit and fumble. All told, the three plays took only 16 seconds off the clock.
"We talked about that on the headsets," Frost said. "In that situation in the game, first of all, it wasn't that windy on the field. We talked about that at the beginning of the third quarter and we didn't think the wind was really a factor in the passing game."
"It did not cross my mind during that game," Martinez added. "Obviously, I would know which direction the wind was blowing, but it wasn't something I'd think about when throwing or on a drive during the game."
Third-down woes: Nebraska's offense did a good job on third down early in the game, converting four of its first six chances.
After that, though, the Huskers missed on their last eight attempts, including an 0-of-7 second half.
All four of Nebraska's conversions came on third-and-4 or less. Its last eight chances averaged 9.25 yards to go.
"Right now I really can't point to anything besides us as players needing to make things work a little bit more," Martinez said. "I'd say I made a few mistakes, some other guys made mistakes. Just all 11 guys as one unit executing and being detailed, and I think a couple times we got a little unlucky and also just weren't detailed enough in that.
"That's Big Ten football and that's on us."
Crawford up and down in debut: Nebraska starting punter William Przystup was "not available," head coach Scott Frost said after the game.
In Przstyup's place, freshman walk-on Tyler Crawford made his collegiate debut. He had one bad shank that resulted in an 8-yard punt, and also hit a 61-yarder that netted NU 63 in the fourth quarter.
In all, Crawford punted five times and averaged 38.1 per punt.
Przystup is also Nebraska's regular holder. Walk-on punter Grant Detlefsen handled those duties against Minnesota.
Reimer exits: Also on the injury front, sophomore inside linebacker Luke Reimer was involved in a head-to-head collision in the first half and exited the game.
The Lincoln North Star graduate was on the sideline for the rest of the game, but did not have his helmet with him after the collision.
In his place, redshirt freshman Nick Henrich played nearly every snap alongside senior Will Honas.
Domann shows versatility: Most of the big plays Domann has made from his outside linebacker spot this year have come behind the line of scrimmage.
The senior on Saturday showed a glimpse of his versatility, breaking up a deep ball from Minnesota quarterback Morgan to Daniel Jackson that looked like a potential 61-yard touchdown.
Morgan threw a perfect ball, but Domann recovered just enough to knock the ball out of Jackson's hands.
"I'm in zero coverage on that post," Domann said after the game.
"I was playing catch technique, I was playing the sticks, so I did get beat with speed. I saw the ball thrown out of the corner of my eye, and, I mean, those three seconds were just bliss. It was just, you know, find a way to knock this ball out.
"Thank the good Lord that he didn't catch it."