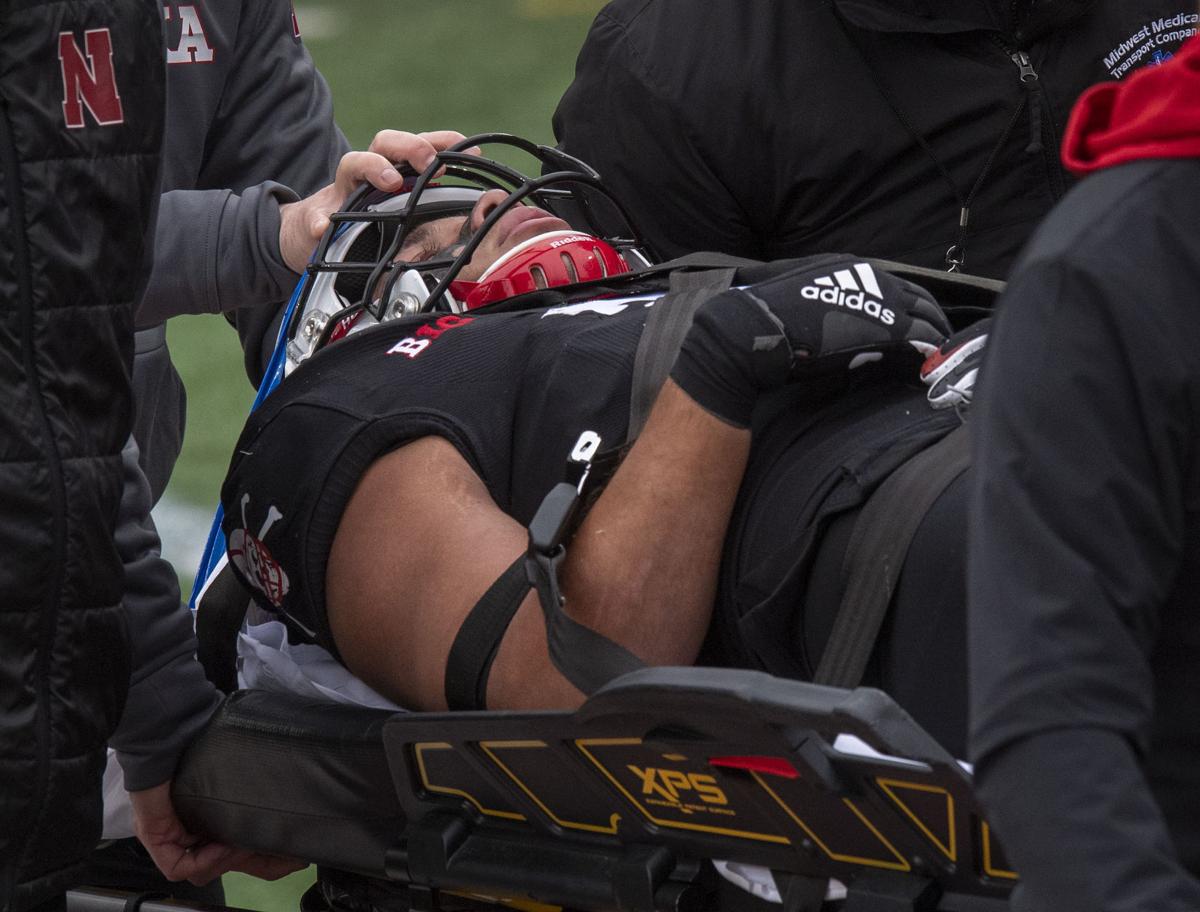 A frightening scene played out at Memorial Stadium in the second half Saturday against Illinois when Nebraska senior inside linebacker Collin Miller suffered an injury after an apparent helmet-to-helmet hit and had to be transported to a local hospital after a lengthy delay.
Head coach Scott Frost said after the game that initial reports on Miller's status were "cautiously optimistic," and that Miller had movement and feeling in all of his extremities and had been talking as he was transported off the field on a stretcher.
"Collin's been the heart and soul of our defense, probably been our best leader," Frost said. "Right now, cautiously optimistic that everything looks good. From what I hear, he's got feeling everywhere, full range of motion, movement. The preliminary examination looks pretty good.
"So our prayers are with him."
After the game, NU released a statement saying Miller was going to stay overnight at Bryan West hospital in Lincoln for "precautionary reasons."
"The results of all diagnostic imaging and testing on Miller were normal," the release said. "He will stay overnight at the hospital for observation and at this point the prognosis looks promising."
Miller took to Twitter himself and said, "I want to thank everyone for the thoughts and prayers as they definitely worked. God was with me."
Miller, a native of Fishers, Indiana, collided with Illinois running back Mike Epstein on a third-and-1 play early in the fourth quarter. His head appeared to take the brunt of the impact and he fell back.
As trainers and medical staff tended to Miller, players from both teams gathered around and took a knee. Fellow NU inside linebackers Will Honas and Luke Reimer kneeled together at the goal line, held hands for a moment and looked at the ground.
"At the end of the day, that's part of the game. You put on those helmets and shoulder pads and you understand the risk of potentially being in a bad position," said senior defensive back Dicaprio Bootle, a classmate of Miller's. "It's the game we love. Just to see Collin down there like that, my friend and my brother since we came in, it really hit me. It's heartbreaking knowing how much that guy puts in."
Questionable call: Nebraska turned the ball over on its first play Saturday against Illinois when a Luke McCaffrey pass was ruled by the officiating crew to have traveled backward.
It appeared McCaffrey was beyond the line of scrimmage when he let go of the ball and that it traveled slightly forward in flight.
"When in the open field the quarterback threw a backward pass, I can't remember who the receiver was. The covering official ruled it a backward pass," referee John O'Neill said after the game in a statement to a pool reporter. "The play was reviewable, but we didn't have a camera with a shot right down the line of scrimmage. The replay official let it stand because there would have been no indisputable evidence."
Illinois took over and scored the first touchdown of the day three plays later.
Frost said he thought the pass was forward from his vantage point but also said McCaffrey made a bad decision to try to throw the ball at all in that situation.
"When I first saw it on the replay I thought it was for sure forward, so I was getting ready to call the next play," Frost said. "I mean, we started out with a simple motion from empty to a base formation and a simple outside zone play."
Added McCaffrey, "I thought it was a pass, but I can't make a critical error like that. If something's there, I probably should have just ran that and got what I could. I got stuck trying to make a play, and you can't try to make plays. You just have to do your job."
Change at center: Senior Matt Farniok took over at center for sophomore Cameron Jurgens at halftime.
Jurgens has been dealing with a foot injury. He didn't play against Northwestern and was clearly playing through pain last week against Penn State. As the game last week proceeded, Jurgens had several errant snaps, which also cropped up often in 2019.
He airmailed McCaffrey once on a first-down play in the first half and then later on had another one to McCaffrey's right that was bobbled.
"Cam is going to be a phenomenal player for us," Frost said. "He kind of aggravated his foot, couldn't push off it, and I think that might have contributed some to the snap issues that we continue to have and have to get fixed as a coaching staff.
"He just wasn't full speed and we had to make a change."
When Farniok moved to center from right guard, senior Boe Wilson filled in at right guard.
RB room shorthanded: Nebraska played Saturday without its top two running backs from the start of the season.
The Huskers were without senior Dedrick Mills and redshirt freshman Ronald Thompkins.
Mills was on the field during early warmups walking around and taking in the sights, but when the offense came back out in uniform, he was not in pads. He missed most of last week's game after suffering what appeared to be a right knee injury. Frost said after the game that the injury was minor.
Thompkins played sparingly last week but did not make the trip to Northwestern after serving as the Huskers' No. 2 back against Ohio State.
Freshman Sevion Morrison, who dealt with injury issues in camp, also was not in uniform. That left freshman Marvin Scott, redshirt freshman Rahmir Johnson and sophomore receiver Wan'Dale Robinson to handle the backfield duty.
"We went into the game with only freshman running backs and Wan'Dale," Frost said. "Those guys are going to be good players, but we've got to get them to the point where they can execute well and carry the load for us."
Scott finished with eight carries for 22 yards and Johnson had one for 3. 
Martin's solid debut: Oliver Martin, a transfer walk-on receiver from Iowa, made his Husker debut and turned in a solid performance overall.
The former four-star recruit hauled in both of his targets for 30 yards and also had a solid downfield block on a 32-yard rush by Wan'Dale Robinson, NU's biggest offensive play of the day.
Martin rotated through regularly and also was part of NU's two-returner look on punt returns alongside junior defensive back Cam Taylor-Britt.
Also in the debut department, junior college defensive back Nadab Joseph suited up and played for the first time at Nebraska.
He was one of the top-ranked junior college prospects in the country this past offseason and came out of high school as a top-100 recruit nationally before ending up in junior college. He mostly had special teams duties and was flagged for holding on Taylor-Britt's first return attempt of the day.
Fellow ILBs Will Honas and Luke Reimer are kneeling together at the goal line, holding each others hands and looking at the ground as medical personnel prepares Miller for the stretcher. Just brutal.

— Parker Gabriel (@HuskerExtraPG) November 21, 2020