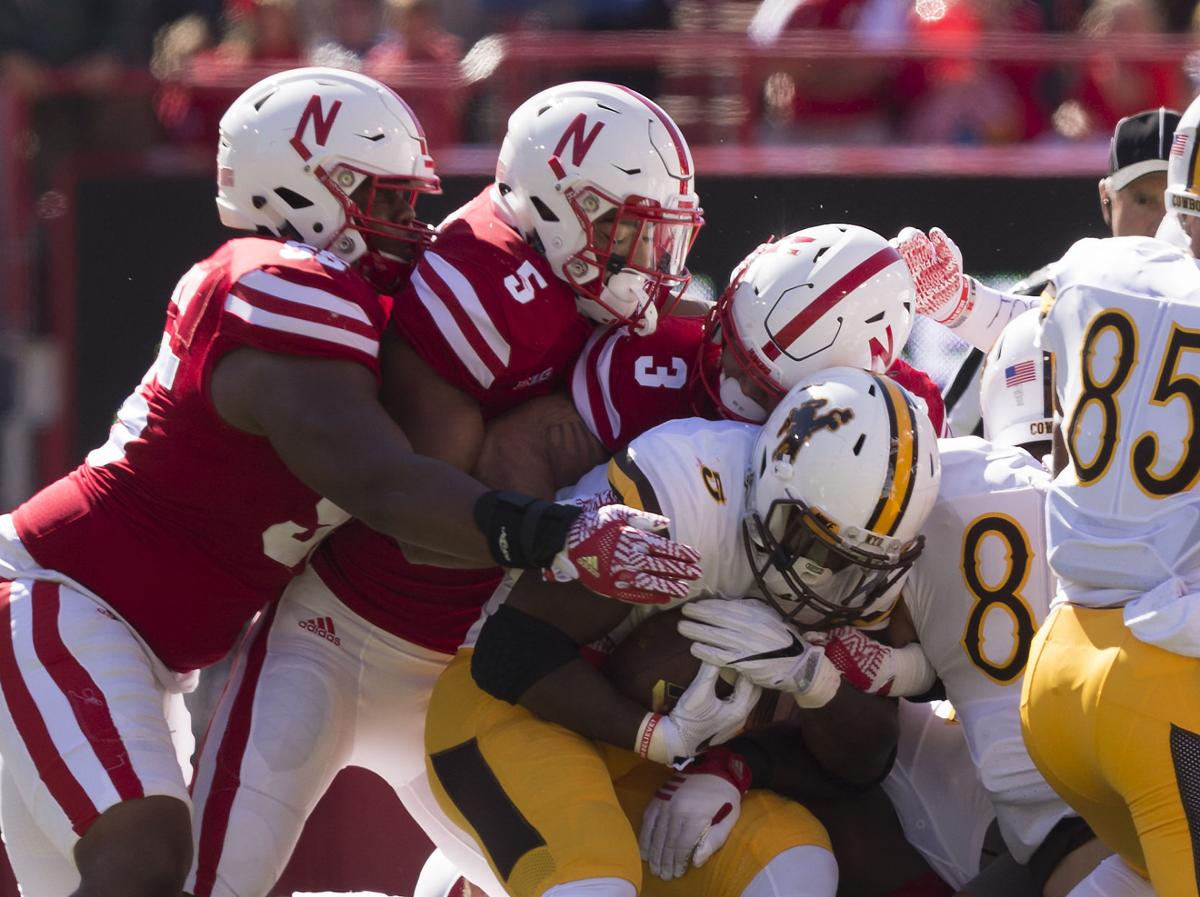 The problem wasn't that Caleb Lightbourn panicked. Quite the opposite, in his view. Nebraska's true freshman punter said he actually got too comfortable when he attempted to run for a first down on a fake punt Saturday.
He stunned everyone. Yeah, everyone.
"That was probably as surprising to me as it was to you," said Mike Riley.
The Husker head coach could smile about it after his team pulled away to beat Wyoming 52-17.
But the failed improvisation by the punter on fourth-and-10 from the NU 45-yard line didn't have the Huskers feeling too hot when it happened early in the third quarter and Nebraska up only 17-10. Lightbourn gained just 4 yards.
"I was trying to read the defense before the snap, and I saw that guys were backing off," Lightbourn said. "I saw nobody was coming, and I thought I had a good chance to get a first down."
Special-teams coordinator Bruce Read certainly didn't expect to see that.
"We were just trying to delay the punt a little bit to get our coverage down, and there was nobody there," Read said. "He looked up and there was nobody there. He thought he could get the first down, I guess."
Read said Sam Foltz would have been given "the green light to go," but that liberty does not apply to the freshman.
NU's punt game struggled in the first half. Lightbourn's first two punts traveled just 50 yards total and Wyoming had a 25-yard return on one of them, giving Nebraska a net punt average of 12.5 yards at halftime.
Lightbourn bounced back with a strong 44-yarder that pinned the Cowboys at their 10 with 5:09 left in the third quarter. Two plays later, Kieron Williams picked off a pass and scored, giving NU a 24-10 lead.
Read said Lightbourn, whose redshirt season was nixed because of the tragic death of Foltz, is doing well despite a challenging situation.
"It's gotta be hard on him," Read said. "He didn't hardly punt last year. He punted a little bit, but he was hurt most of the year, and he's been a kicker most of his career.
"So being in front of that crowd and this environment, trying to fill in for Sam, he's handling it very well as far as the pressure of the game and the preparation. He's tough enough mentally to do it."
Penalty problems: The Huskers racked up big penalty yardage for the second week in a row — seven flags for 93 yards.
"We had some really bad penalties," Riley said. "I'm really disappointed in that. We have got to clean that up, so that is our goal."
The Huskers again were called for multiple 15-yard penalties, including one on Nate Gerry for handing the ball to Wyoming quarterback Josh Allen after a pick, offensive tackle Nick Gates for hitting a Cowboy after the play, and defensive tackle Carlos Davis for unnecessary roughness on the quarterback.
"He is a freshman, and you are supposed to let him off the hook, but that is not good for him," Riley said of the Davis penalty. "I just sat with him right there, pulled him off the field and said, 'Look where the ball is right now.' In a close game, that loses you the game."
Shutting down Hill: Wyoming running back Brian Hill ran for a school-record 1,631 yards a season ago.
Saturday, he had just 49 yards on 17 carries.
"When they got their runs, I got fancy with the calls," said Husker defensive coordinator Mark Banker. "When we were just playing base (defense), we dominated the line of scrimmage. He was a good running back and we rose to the task. The backs will get bigger and better and fast as we go along this season."
Addicted to takeaways: No way could Banker have projected his defense to have eight takeaways in just two games.
Sometimes "it just falls your way," he said. "It's good to see. At the same time, the thing I dwell on is, 'What do we got to do to correct some of these errors?'"
The errors were few for the Husker defense in a fourth quarter where it allowed just 24 yards of offense and had three interceptions, and a fumble recovery by Ross Dzuris that he returned to the Wyoming 1.
NU piled up five interceptions in a game for the first time since 2010 against Idaho.
"It's real energizing," Dzuris said. "We made them pretty uncomfortable. They're not really a team that likes to sling it around a whole lot."
The Huskers also notched their first defensive touchdown of the season when Kieron Williams intercepted a pass and returned it 23 yards for a score.
"It's always fun to say, 'You have an interception, I want one,'" Williams said.
It's all about giving yourself a chance to make the play.
"I think we've just been blessed to be in the right position," Williams added. "Coach Banker and those coaches, they prepare us Sunday until Friday to be in the right position, to study those guys. I think it's just starting to work out."
Fighting back: Junior cornerback Chris Jones was down on himself for getting beat on a 35-yard touchdown pass on a fourth-and 12 play just eight seconds before halftime.
The connection from Wyoming QB Josh Allen to Tanner Gentry made it a 17-7 game.
"I thought that the play before the half was such a big play in the game," Riley said. "The score didn't have to be like that, but we made it that way."
Jones felt that way, too.
But "when adversity comes, it's how you respond, how you bounce back. I'm glad that we really bounced back and we had fun in that second half."
That included a fourth-quarter pick by Jones, his second interception in as many games.
This and that: With two picks Saturday, Gerry is now fourth on NU's career interception chart with 11. ... Gabe Rahn's first catch of his career, a 35-yarder, was also a touchdown. ... NU's 97-yard touchdown drive in the second quarter is the longest since a 99-yard drive against Minnesota last year. ... Nebraska had at least seven plays of 25 yards. ... Jordan Nelson's 45-yard kickoff return was the longest since Ameer Abdullah had a 76-yarder against Rutgers in 2014.