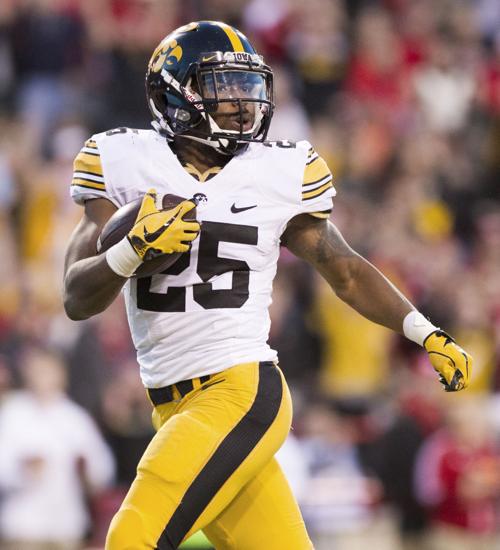 For the second straight week, Nebraska found itself on the battered end of a 28-0 quarter. Last weekend, it was the second against Penn State. This week, it was the third against Iowa.
Ihmir Smith-Marsette returned Drew Brown's kickoff to the NU 12 before a penalty moved the Hawkeyes back 10 yards. The Hawkeyes promptly scored in five plays before the Huskers went three-and-out. Iowa covered the next 56 yards in two plays — 44 to sophomore Omaha native Noah Fant, a tight end, and then 12 on the ground from Akrum Wadley.
Then Tanner Lee threw a third-down interception and, two plays later, Wadley burst through shoddy tackling for a 29-yard touchdown run.
Even then, the third-quarter onslaught was not over.
The Hawkeyes scored again late in the third quarter on a 68-yard touchdown pass to Fant, who finished with three catches and 116 yards against his home state's university.
"From where I look at it, from what I've seen, it was just little mistakes here and there," senior cornerback Chris Jones said. "Little mistakes turn into big plays and big plays turn into points."
The Hawkeyes only needed the ball for 6 minutes, 49 seconds to put four scores on the board. Nebraska meanwhile, rushed four times for 15 yards and Tanner Lee threw it 16 times to gain 44. He also threw the first of his three second-half interceptions.
"I felt like we were still doing the things that we were doing in the first half, but we struggled to get back into that rhythm," Lee said. "We faltered a few places executionwise and keeping drives going. We just kind of let it get away from us there."
Counting a late second-quarter score, NU went from up 14-7 to down 42-14 in 14:05.
Diaco says, "I've had my skull crushed": Bob Diaco never raised his voice, never showed emotion on his face.
But it was clear the strain of a difficult, to say the least, season weighed on him heavily when he answered a reporter's question near the end of his 10 minutes of availability after the game.
The question itself was simple: Looking back, would Diaco have done anything differently this season?
The answer showed the man's frustration.
"That's one of those questions that I answer, and I get painted in a nonsensical. … Actually the image of me is 180 degrees opposite of what's real," Diaco said. "I'm not sure you guys know that.
"I've tried to answer these questions like this and I've had my skull crushed in for each time I ever do it."
Diaco has his own way with words, certainly. He's admitted that he isn't always comfortable answering questions in a group setting. He'd prefer to focus on his craft.
Now with an uncertain future ahead of him and a disappointing season at its end, his frustration showed.
"I want to be better, I want to get better, I feel bad I didn't help the players more than I could have," he said.
Lee joins 3,000 club, unsure of what future holds: Lee became the fourth NU passer to throw for 3,000 yards in a season and looked in the first half like he was on track for a big night.
He finished the year with 3,143 yards — 54 short of Zac Taylor's second-place mark (2006) — and understandably didn't have a clear picture of what his future held immediately following the game.
Asked if he planned to return to Nebraska for what would be his sixth and final collegiate season, he said, "I don't know. I think so, but again, I'm really not even really prepared to talk about things like that because I don't know. I've been so locked in this year, but we'll see, I guess."
More immediately, Lee said he'll spend time with his teammates as they await word on the future of head coach Mike Riley and the staff.
"Just get back to it, get back to work," Lee said. "I'm not sure what 'next' is. I'm sure we'll have a team meeting here pretty soon and we'll be told from there. Just hang out with my teammates for now and enjoy their company."
Huskers miss Spielman, in-game injuries sting: Junior slot receiver Keyan Williams made his first career catch count with a 19-yarder over the middle on an early third-and-10, but overall NU missed the services of redshirt freshman JD Spielman, who missed the game due to a shoulder injury.
"He's such a dynamic player and so great for us all year, it was obviously tough not having him out there," Lee said.
Spielman finished his first season on the field with 54 catches for 830 yards and two touchdowns in 11 games.
Elsewhere, the Huskers lost linebackers Marcus Newby and Collin Miller to injuries, as well as redshirt freshman safety Marquel Dismuke and junior defensive tackle Mick Stoltenberg.
"It was hard to find some healthy bodies as we went through the ballgame today," Riley said afterward. "We lost both of our field linebackers pretty early and then (usual boundary linebacker) Sedrick King had to play there, and there were some moving parts that were balancing acts."
None of the players above returned to action after going down. Stoltenberg was seen on the sideline in the second half in street clothes and sporting an air cast on his right foot. Trainers appeared to be working on Miller's right knee on the field.
Crowd earns praise: Sure, many people left Memorial Stadium as Iowa pulled away in the third quarter. And yes, some sections looked rather sparse by the time Iowa's 56-14 Black Friday rout was complete, but overall Husker fans earned pointed praise from Weber and others.
"The fans were — I grew up here so I know what they're like — but they're incredible," Chris Weber said of an announced crowd of 90,046. "Obviously, we had a difficult season, so for them to still show up and be loud like they were, I'll never take that for granted. We obviously have the best fans in college football for that."
Diaco echoed those sentiments.
"I'm sitting there before kickoff, and I'm looking at that stadium, and it's awe-inspiring — to watch the people of Nebraska, in that stadium, on Friday, after Thanksgiving, in what would be a hard year — might be the understatement of the century," he said. "To see everyone there is spectacular. And I've been in football my whole life, and I've been at the highest level. And this is unreal. The people, the supporters, the former players. It is so cool and awesome.
"I think that this is a very special place. It's a very special school with special supporters and a very special state. And the people that live in it are very prideful, salt-of-the-earth, class and character, kind. And the boys that are on the team are good people. And they want to do well."
Hawkeyes go 99: Of the many gut punches from Iowa on Friday, a key one came early in the game when the Hawkeyes drove 99 yards to tie the game early in the first quarter.
After Nebraska's first score, Drew Brown kicked a ball perfectly to the northwest corner of the field. Ihmir Smith-Marsette fielded the kick at the 1-yard line but took a step backward and stepped out of bounds. But Nate Stanley pushed ahead for 2 yards and Akrum Wadley broke free to the right for 19 yards.
Thirteen plays later, Wadley scored from 20 yards out to tie the game at 7-7.
It was Iowa's lone 99-yard drive of the year.
"The offense really responded there, and I think that's the story for our team and that was representative," Iowa coach Kirk Ferentz said. "We haven't really been moving the ball with great consistency, so to take that thing and go 99 yards was huge."
Hoppes reaches record: Senior Tyler Hoppes had four catches for 37 yards, which gave him 34 for the season. His season catch total is a record for a Nebraska tight end. Mike McNeill caught 32 passes in 2008.