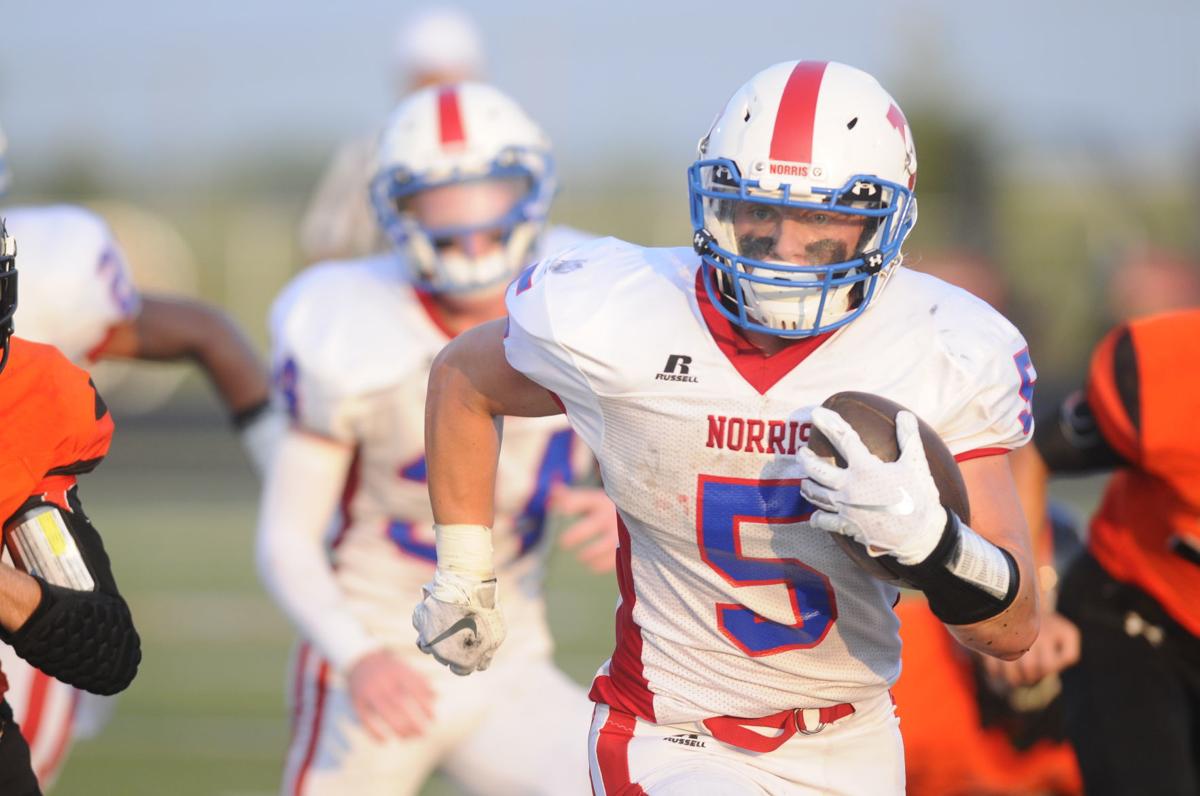 When Ashton Hausmann became the first member of Nebraska's 2020 walk-on class last summer, he couldn't have predicted the reunion that is now on the table.
The Norris standout gave his pledge in late June, becoming the charter member for a class that now, eight months later, has 23 known members. At that time, his Norris teammate and housemate Nouredin Nouili's recruitment took off, going from an unknown German exchange student living with the Hausmann family to a scholarship offensive line signee with Colorado State in a matter of months.
"He's super excited about it and I'm super excited about it," Hausmann told the Journal Star on Tuesday afternoon during the Shrine Bowl's media day.
Hausmann is one of a dozen 2020 Husker walk-ons on the North and South rosters and was one of the many players and coaches participating in the 62nd installment of the game on hand south of Lincoln at the Shrine Center on Tuesday. 
Nouili ended up starting seven games for the Rams in 2019 before transferring. Remember, he only played one year of high school football in the United States — his senior season at Norris — and hadn't lifted weights much before he moved to the country. That made his rapid ascension surprising even to Hausmann.
"He was a good player, one of the most athletic people I've ever seen, but he hadn't lifted much," Hausmann said. "To see him do that and to see how much he improved, it was cool. I was proud of him."
Then Mike Bobo left CSU and Hausmann saw an opening.
"My brother and I talked to him and asked if there was any way he'd come back, and he was like, 'I'd love to if they have a spot for me,'" Hausmann said. "So I was thinking, we have a good offensive lineman who can come in and probably do some damage right away."
Hausmann says Nouili is "like an older brother to me," and added the offensive lineman offered to live in the dorms an extra year to be his roommate, though that didn't end up happening. Between now and arriving on campus, Hausmann will attempt to defend his Class B gold medals in the 100 meters and the 400 relay in track, and then will play in the Shrine Bowl before enrolling at NU for summer workouts.
"I'll be playing safety and then probably moving to some kind of nickel or hybrid," Hausmann said. "I can't wait. I want to be there so bad."
The other Nebraska walk-ons on the Shrine Bowl rosters include offensive linemen Bladen Bayless (Beatrice), Keegan Menning (Fremont) and Eli Simonson (Archbishop Bergan), tight end Nate Boerkircher (Aurora), wide receivers Ty Hahn (Johnson-Brock) and Broc Douglass (Grand Island), running back Isaiah Harris (Millard South), linebackers Braden Klover (Southern) and Grant Tagge (Omaha Westside), running back Trevin Lubin (Wahoo) and athlete Mason Nieman (Waverly).
"It's awesome," Hausmann said. "Every kid grows up wanting to play at Nebraska, even if it's walking on."
Overall, Nebraska head coach Scott Frost said Sunday night on his television show that he thinks this is the most decorated walk-on group of his tenure so far.
"We're always looking for the next guy that's going to come in and earn a scholarship and end up starting," Frost said. "Really excited about this group. … A lot of size in this group, too, that I think when we get with (head strength coach) Zach Duval and get to working with, they can end up helping us on both sides of the ball. Of all the walk-on groups we've had, I'm maybe the most confident in this one of getting some guys in here that will eventually help our football team win games."
Be the first to know
Get local news delivered to your inbox!