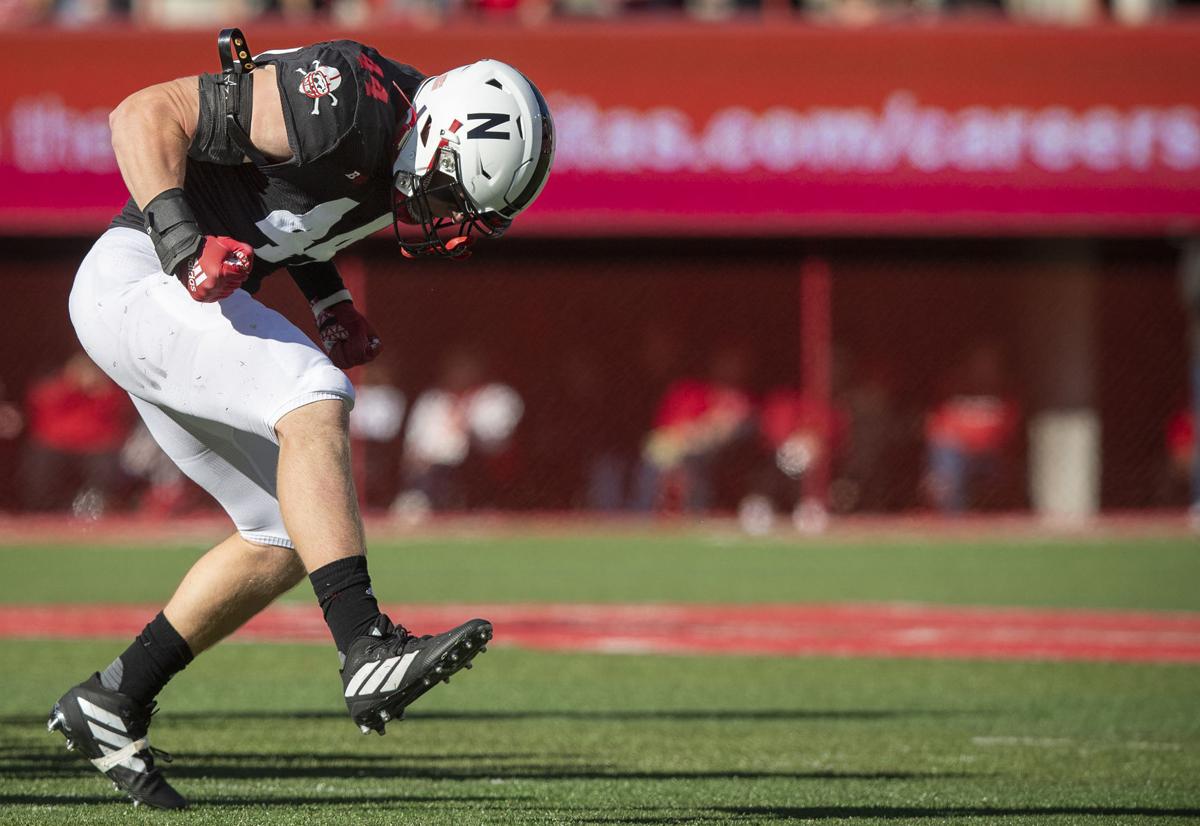 Garrett Nelson struggled to get the words out as he described what was a simple and yet poignant scene when he arrived for practice Tuesday morning. 
The Nebraska freshman outside linebacker had a black jersey hanging in his locker.
"It, uh, coming to my locker, it felt pretty good seeing it in my locker. It meant a lot," Nelson said, dabbing tears out of his eyes with practice gloves still on his hands. "It meant a lot to me."
The Scottsbluff native was one of two players to receive Blackshirts this week, joining sophomore walk-on defensive lineman and former Navy SEAL Damian Jackson.
Nelson has a regular role in NU's defense, but isn't a starter. Jackson, meanwhile, has appeared in just two career games and made his season debut against Purdue on special teams, logging a pair of tackles.
Head coach Scott Frost and his staff, though, have clearly identified the pair as part of their model going forward.
"It's a big deal, especially with a newer staff, when you see guys that are exactly what you want on and off the field from a character standpoint and a mentality standpoint, and those guys are that," inside linebackers coach Barrett Ruud said. "They're the hardest workers. They've got a smile on their face, they love it. They love everything about it. That's what we're looking for, we want 150 guys with that mentality."
"Being a Blackshirt's about more than just performing on Saturday," defensive coordinator Erik Chinander added. "And I think Coach Frost and the staff felt like those guys were deserving. They do things the right way on the practice field, off the field, on gameday, taking over a little bit of a leadership role, so those guys were deserving of it."
You have free articles remaining.
Nelson said he didn't think there was one thing he's done in particular that earned him the designation that he's wanted all his life.
"This shirt doesn't represent perfection. It represents attention to detail and giving 100 percent on every play," he said. "Blackshirts mess up all the time, but it's not like they disregard the mistake. They fix it and got better. It's just working hard every day and wanting it every day."
For outside linebacker coach Jovan Dewitt, that's how a part-time player earns such respect in such a short amount of time. Dewitt knew before the season that Nelson wasn't a redshirt candidate. That said, he's seen over the past months a player that has had an impact that goes beyond Nelson's 10 tackles and 1½ tackles for loss.
"Have you ever watched Garrett practice? Have you ever watched Garrett prepare for a game? Have you ever watched Garrett run out on the field pregame? Have you ever seen Garrett do anything he's not supposed to do consistently?" Dewitt said. "Garrett does things right off and on the field, and that's what's given Garrett an opportunity to get a Blackshirt. And that's why his snaps have gone up game to game to game."
Nelson said he didn't realize Jackson also had new practice gear until they were out on the field before practice going through a drill together. When he saw it, he said they both started "freaking out" and hugging each other.
"I'm pretty close to him, so that was pretty special," Nelson said. "I'm so happy for him. He works harder than anybody I know. I try to emulate that and try to follow him. He deserves it 100 percent."
Nelson said immediately following practice that he hadn't had the chance to tell his parents yet, and that he hoped his mom didn't cry. For his part, though, he said he never worried about whether he would become a Blackshirt or when it might happen.
"I just knew I had to work hard every day and kept coming back to work as hard as I could, do the right things on and off the field and that day will come," Nelson said.
"And it came today. I'm happy. But now rent's due every day and I have to go pay it."
Watch: Domann on preparation for Wisconsin standout running back Taylor
Watch: Domann talks matching up against a 'big' Badgers offense
Watch: Martinez rehashes Purdue game, takes responsibility for loss
Watch: Taylor-Britt says there is "new spirit" in the locker room after second bye week
Watch: Frost looking for more consistency, decision-making from Martinez
Watch: Frost on awarding final scholarship to Mazour