As expected, the most experienced signal-caller on the field made a big splash.
Making his first appearance in a Nebraska uniform, junior quarterback Jeff Sims was the catalyst for most of the offensive sparks in Saturday's Red-White Spring Game. Sims threw for 138 yards and ran in a touchdown as the first-string offense led the White team to a 21-7 win in the annual spring scrimmage at Memorial Stadium.
"Jeff's really cool and calm out there; I like his demeanor and feel," Nebraska head coach Matt Rhule said. "He's played a lot of football, so I thought he looked pretty good."
From the get-go, it was clear that Sims has already established a rapport with some of his top receiving options. A 38-yard pass to sophomore tight end Nate Boerkircher led to a quick field goal on the game's opening drive, a feat which the White team replicated on its second drive.
To get there, Sims first had to find senior wide receiver Billy Kemp for a pair of first-down completions that included an impressive 24-yard gain from a play-action pass.
"He definitely is a guy who knows how to get open and work against one-on-one coverages," Red team cornerback Quinton Newsome said of Kemp. "He's one of the guys that we want to get the ball to."
Kickers Timmy Bleekrode and Spencer Pankratz each converted a field goal for the quick 6-0 lead that soon turned into a two-score advantage.
Making the most of excellent field position, it took the White team just three plays to go up 14-0. Sophomore quarterback Heinrich Haarberg ran the ball twice, including a 23-yard gain, before sophomore running back Gabe Ervin Jr. shook off a tackler for a 7-yard rushing score.
A flurry of first-half turnovers from the Red team's second-string offense enabled the White team to take control of the game early on.
First, it was redshirt freshman running back Ajay Allen coughing up a fumble that led to a White team field goal. On the Red team's very next play, a completed pass from redshirt freshman Richard Torres to sophomore Ty Hahn resulted in another fumble when redshirt freshman linebacker Gage Stenger jarred the ball loose.
"To me, on offense, there's no excuse for fumbles," Rhule said. "I can live with an interception here or there, and it'll result in you not playing, to be honest. You have to have the ability to protect the football."
And after going down 14-0, a botched handoff exchange between Torres and redshirt freshman running back Emmett Johnson resulted in a third fumble in three drives. The White team eventually punched in another score when it lined up with an empty backfield set, leading Sims to plunge into the end zone for a 7-yard touchdown on a designed quarterback run.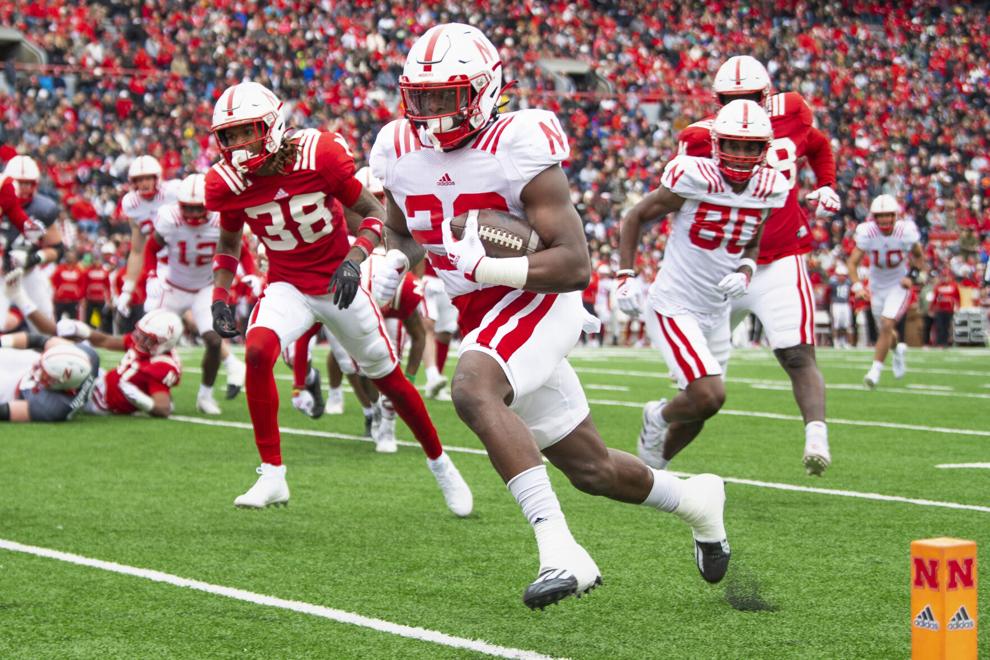 The White team might have very well taken a 21-0 lead into the half if not for a ruling that would have received far more scrutiny in the fall than it did during a spring scrimmage. Amidst a heavy pass rush from the Red team, Haarberg appeared to throw an incomplete pass that was instead ruled a fumble and returned 53 yards for a touchdown by the Red team's Michael Booker.
"I knew we were going to play a lot of plays today and I didn't want to be out there for four hours with instant replays," Rhule said.
The fumble issues continued for both teams into the second half, with Nebraska's two squads combining for six total turnovers via fumble in the scrimmage. Despite the "lulls" of a second half that confirmed to Rhule that his Huskers still need to learn how to deliver consistent effort over the course of three hours, NU's head coach still found plenty of positives to take away from the scrimmage.
"These guys have done everything I've asked them to do — they've gotten better and better and better," Rhule said. "Even down to the very end, trying to go down and score and giving Chubba (Purdy) those reps, no one's looking at me and complaining. They like to compete."
Here's the other notable action from Saturday's Red-White Spring Game:
Live tackling: There were no green jerseys for Nebraska's quarterbacks on Saturday – and no taking it easy from the opposing pass rushers.
The White team's quarterbacks faced a steady dose of pressure from the first-string pass rushers on the Red team, including a second-quarter sack of Haarberg. On the play where he was credited with a fumble, Haarberg also absorbed a heavy blow from the defense while releasing the ball. Haarberg carried the ball seven times for 19 yards, though he did have a game-best 23-yard run.
Chubba Purdy, another quarterback with dual-threat ability, gained seven yards on two rushing attempts. And for Sims, who gained seven yards on six attempts, simply being live in the scrimmage was a positive.
"I've always been one to want to be live in practice just because you feel like it's more of a game rep," Sims said. "If you're not live, you're naturally going to dial it back a little back running the ball."
Sims showed his elusiveness in the pocket on multiple occasions, ducking away from defenders by stepping up in the pocket and rolling away from pressure on other occasions. To junior linebacker MJ Sherman, that just shows the craftiness of the Husker quarterback.
"As a pass rusher going against Jeff Sims, you have to be really, really delicate with how you rush," Sherman said. "If you rush past the quarterback, he's going to make you pay every single time. If you don't have a balanced rush he's going to make you pay every single time."
The fullback: The first play of Saturday's scrimmage — an inside handoff to redshirt freshman Janiran Bonner — officially marked the return of the fullback to Nebraska's offense. Sure, it was a scrimmage and not an official game, but Bonner still made a steady impact in his fullback role.
Bonner carried the ball three times for 12 yards, caught one pass for 11 yards and sealed multiple key blocks in the running game.
"Janiran gives us a guy who can run it, and we're still running power and iso with him," Rhule said of his fullback. "He goes in there and then runs option routes on third downs, so he's really a weapon."
The freshmen: Several of Nebraska's freshman early enrollees made an impact in the first action of their collegiate careers. The standouts came on the Red team, led by Princewill Umanmielen's three tackles for a loss that included one sack. Lining up alongside Umanmielen on most snaps was fellow early enrollee Cameron Lenhardt, a player who can fill many spots along the defensive line. Linebacker Maverick Noonan also recorded two tackles, leaving Rhule impressed with all three early enrollees.
"Cam, Princewill and Maverick play like older players," Rhule said. "Cam has this unique ability (where) his hands and feet don't stop, so he's able to push pockets and get pressure on the quarterback. Princewill has a unique ability to get off of blocks — he's really great with his hands — and Maverick's been so versatile. The whole spring they've kind of fit in."