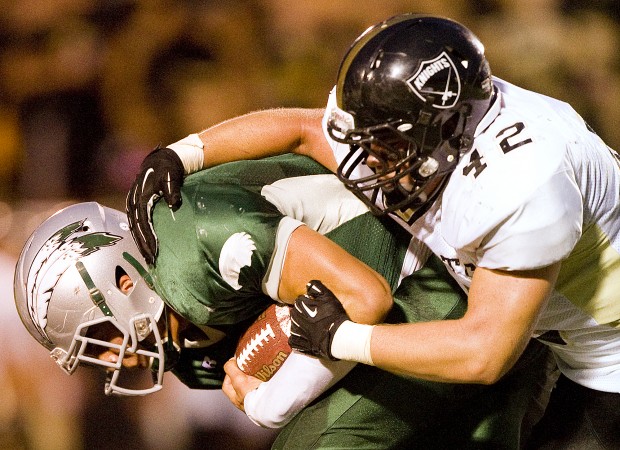 Each week, Husker Extra takes a look at performances by athletes who have committed to or are being recruited by Nebraska.
The senior season of top Husker quarterback recruit Johnny Stanton (6-2, 220) is likely over.
Santa Margarita (Calif.) coach Harry Welch confirmed in the Los Angeles Times that Stanton has a torn ACL in his left knee and will undergo surgery this week. Welch said Stanton injured his knee a week ago but was cleared to play in Saturday's 35-27 victory against Ventura St. Bonaventure. The quarterback ran for 100 yards and a touchdown and passed for 133 yards. He had a 44-yard scoring pass in the third quarter to tie the game at 21, then gave his team a 28-21 lead with a 1-yard sneak in the third quarter.
Stanton is Santa Margarita's all-time total offense leader with 5,558 yards.
Prospect Corey Clement (5-11, 205, RB) broke a 59-yard touchdown run with 7:24 to play to help Glassboro (N.J.) to a 14-7 victory against Woodstown. Clement became Glassboro's all-time leading rusher with 4,288 yards after running for 222 yards on 26 carries.
"I couldn't have done this without my teammates," Clement told the Gloucester County Times. "Throughout this whole game we fought as a team and we were going to leave as a team with our heads up, with a win or a loss. It was a hard-fought game. We had our heads up the whole game and we didn't give up when we were down."
Prospect Terrell Newby (5-10, 180, RB), who made a recruiting visit to Nebraska last weekend, ran for 183 yards, two touchdowns and a two-point conversion in West Hills (Calif.) Chaminade's wild 55-40 loss to Westlake Village Oaks Christian on Sept. 14.
You have free articles remaining.
Prospect Delton Williams (6-2, 200, OLB) scored three touchdowns, including a school-record 99-yard interception return, as Cathedral Prep of Erie, Pa., blasted Athol Springs (N.Y.) St. Francis 69-0. Williams also had a touchdown run and a TD reception.
Recruit Josh Banderas (6-2, 215, LB) ran for 206 yards and two touchdowns on 34 carries, but couldn't come up with the game-winning catch on a tipped ball on fourth down as Lincoln Southwest fell to city rival Lincoln Southeast 21-14. In a new twist, Southwest came out with fellow Nebraska recruit Christian Lacouture (6-5, 250, DE) at fullback, and the tandem worked well together.
Recruit Nathan Gerry (6-2, 205, S) scored four touchdowns as Sioux Falls (S.D.) Washington blasted Watertown 58-7. Gerry scored on receptions of 11, 21 and 88 yards and returned an interception for a score, all in the first half.
"We try to treat every game the same and not underestimate anybody," Gerry told the Sioux Falls Argus Leader. "It was a good game for us because a lot of guys got in the game and got to show what they can do, and we played well as a team. We were pretty solid tonight."
Recruit Marcus McWilson (6-1, 195, S) left the game in the third quarter with a leg injury as Cardinal Mooney of Youngstown, Ohio, lost to Mentor Lake Catholic 24-21 in double-overtime.
Prospect Dashon Hunt (5-9, 175, CB) was limited to 16 yards on seven carries because of an ankle injury as Westlake (Calif.) dropped a 41-17 decision to Encino Crespi.
Prospect David Williams (6-1, 185, RB) had a 70-yard touchdown run, but was limited because of a strained hamstring as Philadelphia's Imhotep Institute topped Springside Chestnut Hill Academy 34-10.
Prospect Torii Hunter Jr. (6-1, 175, WR) had five catches for 132 yards and a touchdown as Prosper (Texas) shut out Mansfield Lake Ridge 57-0.