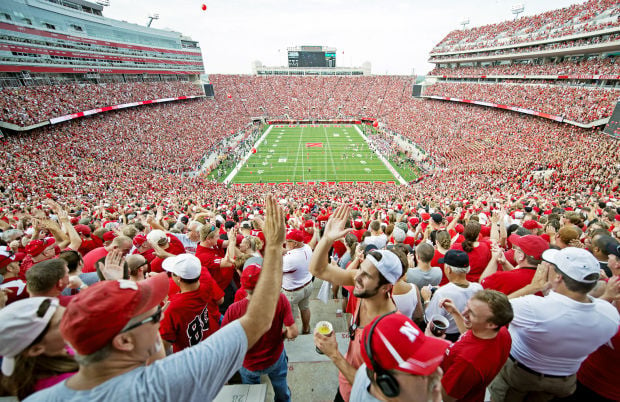 Nebraska is ready to pack the house.
The Huskers announced Wednesday morning that Memorial Stadium will officially be at 100% capacity for the upcoming season. The Nebraska Athletic Department made the announcement on Twitter, asking fans to extend the sellout streak to 376.
Nebraska's first home game is Sept. 4 against Fordham. Memorial Stadium that day will be full for a football game for the first time since Nov. 29, 2019, when the Huskers hosted Iowa on Black Friday.
Outside of family members of players and staff, Nebraska played in front of empty stadiums during a 2020 season affected by COVID-19.
Nebraska announced it is offering $195 three-game ticket mini-plans for the upcoming season, which went on sale Wednesday.
The option allows Husker fans to select any three games from a group of six — Fordham, Buffalo (Sept. 11), Northwestern (Oct. 2), Michigan (Oct. 9), Purdue (Oct. 30) and Iowa Nov. 26). The only game not part of the package is the Nov. 6 matchup with Ohio State.
Nebraska also offered a mini-package sale during the 2019 season. 
An NU official confirmed Wednesday that the season ticket renewal rate for 2021 is above 90%. NU is navigating through a unique renewal process because fans who had already deposited money toward 2020 season tickets when the decision was made to not allow any fans in the Big Ten had several options. Some converted their 2020 payment into credit toward 2021 tickets, some decided to take a refund while retaining the right to buy season tickets in 2021 and some donated their 2020 payments to the athletic department.